When you think of teams that are going to be hit hard by the anticipated flattening of the salary cap, Toronto and Tampa Bay typically come to mind and justifiably so.  They have top-heavy rosters and are going to have to clear some salary in the near future.  If St. Louis re-signs Alex Pietrangelo, they'll be in that mix as well.
One team that doesn't come to mind as quickly is Vancouver.  But the recent reports that the salary cap will remain unchanged for the next two seasons at $81.5MM is going to cause some problems for them both in the short term and long term.
On the surface, things don't look too bad.  Per CapFriendly, they have nearly $63.5MM in commitments for next season to 14 players.  Having roughly $18MM left to fill out the roster isn't great but it's not terrible either.
But let's chip away at that a little.  By virtue of needing LTIR for basically the entire season, they ended the season with minimal cap space which means any achieved bonuses from this season will be charged against the 2020-21 cap.  Postmedia's Patrick Johnston provides some details about what was reached in that regard this season.  Elias Pettersson and Quinn Hughes both hit all of their $850K in 'A' bonuses so there's an extra $1.7MM right there.  Now that cap space is down to $16.3MM.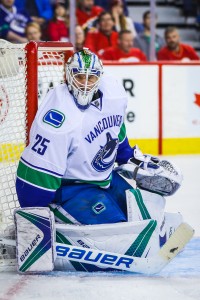 The Canucks have three prominent unrestricted free agents this offseason that they'll be looking to retain or replace.  Chief among those is Jacob Markstrom who has established himself as a capable starting goalie by making 160 starts over the past three seasons, compiling a 2.74 GAA with a ..914 save percentage over that span.  Accordingly, he's going to get a raise on his current $3.67MM price tag even in this depressed marketplace whether it's with Vancouver or another team on the lookout for a new starting netminder.  If they don't re-sign him, they'll still have to spend a similar amount to replace him with another starter so it's safe to budget a sizable amount of their cap room for Markstrom or someone else.
Chris Tanev is a key part of Vancouver's back end after spending the last decade there.  Given his injury history and limited production, he may not be able to get his current $4.45MM AAV on his next deal but it will take a few million to re-sign him as well.  Tyler Toffoli fit in quite well after being acquired from the Kings and they'd love to keep him around but with it not being the deepest of UFA classes up front, he may command at or more than his $4.6MM cap hit on his next deal.
Without even getting into their class of RFAs (highlighted by Jake Virtanen), the Canucks may have to chip away from their roster just to keep their team intact.  But that will be easier said than done.  With a lot of teams wanting or needing to do the same, the price to offload a contract should be steep and in Vancouver's case, the deals they'd want to peddle (Sven Baertschi, Jay Beagle, Loui Eriksson, and Brandon Sutter) are ones that likely already carry negative value.  Micheal Ferland doesn't have much value either after concussions cost him most of the season and if he's healthy, they won't have the ability to put him on LTIR.  They're also not able to trade off their salary cap recapture penalty on Roberto Luongo's deal which runs through 2021-22 at a tick over $3MM per year.
Fast forward to the 2021 offseason.  Pettersson and Hughes will be at the end of their entry-level deals and both project to land substantial raises based on how they've performed so far.  That will eat up the savings from their expiring contracts (headlined by Alex Edler, Sutter, and Tanner Pearson) quite quickly before even factoring in what it will cost to retain or replace the others.  That will have to be in the back of GM Jim Benning's mind as he tries to navigate through the November free agent period and decide who to keep or let go from his current group.
Many teams are going to face some tough decisions as a result of this new marketplace but while Vancouver may not be the first team that comes to mind when you think of teams that may be in cap trouble soon, they're certainly about to be a part of that group.
Photo courtesy of USA Today Sports Images.