With the new year upon us, the NHL season is in full swing. Teams are jockeying for playoff position, and many players with expiring contracts across the NHL are playing games that could ultimately determine what type of payday they might receive in the summer.
In a multi-part series, we'll take a look at each position group of the upcoming free agent class, and do a rundown on how those upcoming unrestricted free agents have performed this year. Which players have increased their odds of landing a massive contract? Which players have potentially hurt their earning potential with their play? We'll break it all down here.
The Marquee Names
John Klingberg, Anaheim Ducks
If we travel back in time to just a year ago, there'd be no doubt that Klingberg would qualify as a "marquee name" for any free agent class. The Swedish blueliner had been an offensive force all season, and he finished the 2021-22 campaign with 47 points in 74 games.
Klingberg had a long record of success as a pace-pushing, offensive defenseman with tons of power play value. He was just the second defenseman in Dallas Stars franchise history to cross the 60-point plateau when he did so in 2017-18, and his 67 points that season ranks just behind the legendary Sergei Zubov's 2005-06 campaign as the best offensive season by a Stars defenseman in history.
But unfortunately for Klingberg, that sterling reputation as an offensive defenseman didn't materialize into a major contract. With a slower-than-expected market for his services, Klingberg took a one-year, $7MM deal with the Anaheim Ducks.
He took that contract presumably in order to put forth a productive season and re-enter the market next summer, as many had projected 2023 to be the year where the salary cap would finally meaningfully rise once again.
Things haven't gone according to that plan, to say the least. Not only is the salary cap potentially slated to stay flat for another summer, but Klingberg is also mired in the least productive offensive season of his NHL career. He has scored just 13 points in 35 games, and the Ducks power play he was acquired to rehabilitate currently ranks as the second-worst in the NHL.
As a result, Klingberg's stock heading into another trip to unrestricted free agency has taken a nosedive. There is potential for redemption, though, as Klingberg remains a likely candidate to be traded to a contending team in the coming months.
If Klingberg gets traded to a contender and plays well for his new team (including hopefully a productive playoff run) that could go a long way toward rehabilitating his stock and landing him a lucrative new contract.
The Solid Contributors
Nick Jensen, Washington Capitals
Stylistically, Jensen is about as far away from Klingberg as one can get, and he is firmly in the running to be the top defensive defenseman available on the open market next summer.
Acquired by the Capitals at the 2019 trade deadline, Jensen has been a high-quality blueliner for Washington, providing stabilizing defensive play at their back end. The Minnesota native is now 32 years old and took a while to reach the NHL. He was a 2009 fifth-round pick and made his NHL debut more than a half-decade after being drafted.
Since breaking into the NHL in 2016-17, Jensen has developed himself into a valuable top-four piece. He's currently slotted on the Capitals' top pairing next to fellow pending free agent Dmitry Orlov and is averaging nearly 21 minutes of ice time per night.
Jensen's defensive play is his calling card, and he leads the Capitals in short-handed ice time, helping Washington's penalty kill to a top-ten ranking leaguewide this season.
While offense isn't what he's getting his minutes to provide, the 19 points in 44 games he's produced this season is certainly appreciated by coach Peter Laviolette.
The total package Jensen offers is one that is likely to garner extensive interest should he hit the open market. While his age may keep him from earning as long of a deal as he might like, blueliners who are as good in their own end and can weather as difficult minutes as Jensen does don't grow on trees.
He'll be a coveted option on the market should he be allowed to walk by the Capitals, and his play so far this season has certainly helped.
Damon Severson, New Jersey Devils
On paper, Severson is having a disappointing season so far this year. He scored 46 points last season and played a whopping 23:36 per night. This year, he's averaging under 20 minutes a night and is only on pace to score 21 points.
But before dismissing Severson's stock as on a major decline, additional context must be added to his profile. The Devils have added significant defensive talent in recent offseasons, and the additions of Ryan Graves, Jonas Siegenthaler, and John Marino have meant that the team doesn't need to rely on Severson as extensively as they once did.
Additionally, the addition of Dougie Hamilton (who is now healthy after suffering an injury-plagued debut season for the Devils) has meant Severson's impact on the team's power play has waned.
But despite the fact that Severson is no longer the Devils' unquestioned top defenseman, he's still managed to play well. His offensive points production is down, but he's still managing to generate his fair share of chances from the back end, and is still moving the puck well.
Defensively, Severson has played a supporting role on a penalty kill that is one of the better units in the NHL. He's not a stalwart defensive force like Siegenthaler is, but he's definitely a capable defender in his own right.
The balanced two-way value Severson provides the Devils is something any team in the NHL could use, and his ability to play higher up in the lineup if needed will help him on the open market.
While he likely won't receive the type of contract next summer that he would have gotten had he repeated his 46-point, 23-plus minutes per night performance, he's still lined up to receive a nice contract from a defense-needy team.
Matt Dumba, Minnesota Wild
The subject of intense trade rumors for the past several seasons, Dumba is on an expiring contract and set to potentially hit unrestricted free agency for the first time in his career.
He'll be 29 when he hits free agency, and he's in a bit of an odd place. On one hand, leaguewide reputation is rock-solid.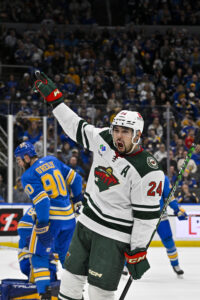 The 2020 King Clancy Memorial Trophy winner has averaged over 21 minutes of ice time per night every season since he was 22 years old and has been a consistent top-four presence on Wild teams that have missed the playoffs just twice since he made his NHL debut.
On the other hand, it's difficult to ignore signs that Dumba's reputation isn't totally aligned with the on-ice value he provides.
While the energy he brings to defense is undoubtedly valuable and the minutes he consistently handles are undoubtedly difficult, his on-ice results have been uneven.
Dumba's role has declined since last season, and his offensive production isn't where it once was. He's scored just 11 points in 40 games this season, and he hasn't reached 30 points in quite a few seasons.
He's not the 50-point defenseman he once appeared to be in 2017-18, and in the absence of major point production, his transitional ability and defensive play need to be at a high level to justify his $6MM price tag. It's an open question as to whether the other areas of Dumba's game are at that level.
But despite those question marks, Dumba is still a beloved professional who has made a major, positive impact on the Wild over the course of his career there.
The evaluation of defensemen across the league can vary significantly between teams, meaning there are likely to be a few teams very bullish on what Dumba can offer. But even so, it's not difficult to see what Dumba has put forth this season and be left wanting a little more.
The Role Players
Scott Mayfield, New York Islanders
Mayfield is in his fifth season earning $1.45MM against the cap, a number that isn't exactly an adequate reflection of the value he's provided to the Islanders.
The former Denver Pioneer, now 30, has averaged around 20 minutes per night for the past few seasons and has been a key stay-at-home contributor for Islanders teams that made some deep playoff runs.
His offensive production won't count for more than 20 points per year, although he has chipped in at some very important moments.
The defensive game is where Mayfield truly shines, though, and it's where he'll make his money on the open market. He leads all Islanders averaging over 3 minutes of short-handed time per night, and that puts him tied for 13th in the NHL in most average penalty-killing ice time.
Mayfield will be 31 at the start of next season, meaning he's reaching the tail-end of his prime years. But teams have in the past shown they're willing to pay for quality players into their thirties, and there's no reason Mayfield should be any different. He's been a legitimately valuable defensive difference-maker on Long Island.
Connor Clifton, Boston Bruins
The Bruins have been an absolute juggernaut so far this season, and their success as a team has been fueled by the individual successes of their players. Clifton, who will be 28 when the market opens next summer, is part of that equation.
The 2013 fifth-round pick has grown from part-timer to everyday piece in Boston, and is on the final year of a $1MM AAV dea that severely underpays him relative to the value he brings on the ice. Clifton has been a steady contributor on the Bruins' third pairing, giving coach Jim Montgomery over 18 safe minutes each night, as well as nearly two minutes a night on the penalty kill.
The track record isn't huge with Clifton, who has under 200 NHL games on his resume. Clifton's record of offensive production is also thin, although his 12 points in 40 games this season are a career-high.
Helping the Bruins to a long playoff run would do great things for his potential to earn a nice deal on the open market, but even in the absence of postseason play Clifton has helped himself well in what has been a nice platform season.
Luke Schenn, Vancouver Canucks
Schenn, 33, hasn't had the smoothest career track. The former Kelowna Rocket was the fifth-overall pick at the 2008 NHL draft, and never quite managed to live up to the lofty expectations placed on his shoulders as a top prospect in a hockey-mad market.
Even though he has largely been viewed as a disappointment relative to his draft position, Schenn is now just 97 games away from reaching the 1,000-game plateau. He's also now a two-time Stanley Cup champion, and his play for the Canucks has done wonders to enhance his reputation league-wide.
In Vancouver, Schenn has gone from a number-six or seven defenseman to a true everyday contributor. He's currently playing over 17 minutes a night for coach Bruce Boudreau, including nearly two minutes per night on the penalty kill.
Schenn's agent, Ben Hankinson, took to Twitter last month to sing Schenn's praises, perhaps giving us a look at what his pitch will be to teams in order to get the most lucrative possible contract for his client.
As he's a 33-year-old physical defenseman with major tread on his tires, it's fair to wonder if paying a sizeable chunk of change to Schenn is a wise investment for any team. But Schenn's improvement in Vancouver is undeniable, and if he's traded to a contending team and manages to put forth quality play on the major stage that is the Stanley Cup playoffs, anything's possible.
Justin Holl, Toronto Maple Leafs
While Holl has been the subject of some significant criticism from the Toronto market in past seasons, he's quietly played some quality hockey this year. He's currently partnered with Maple Leafs number-one blueliner Morgan Rielly on the team's top pairing, and is averaging over 21 minutes played per night.
Holl is on pace to set a career-high in minutes played, and he's also averaging the most short-handed ice time on the Maple Leafs' roster, playing in over three minutes on the penalty kill per game. The former Minnesota Gopher will turn 31 later this month and could leave the Maple Leafs, the only NHL team he's ever played for, next summer.
He won't be mistaken for a top-end defensive defenseman, but it's difficult to say Holl has done anything but present improved play this season. If the Maple Leafs can finally vanquish the first-round demons that have plagued them for a half-decade, Holl's standing going into unrestricted free agency could improve even more.
Radko Gudas, Florida Panthers
The days of Gudas being viewed as just a bruising enforcer defenseman are no more. While Gudas has retained his signature no-holds-barred physical style in Florida, he's grown into a much more well-rounded blueliner during his time in South Florida.
Gudas' average ice time has leaped up more than a full minute in Florida compared to how he was played in Washington and his later years in Philadelphia, and his play helped the Panthers go on an incredible run last season that was capped off by winning the President's Trophy.
With just six points in 32 games and just 16 last season on the highest-scoring team of the cap era, it's clear Gudas' offense isn't what keeps him in the lineup each night. But if a team is looking for a defensive defenseman who brings an intimidating edge, Gudas could be the most ferocious option on the market.
Trevor van Riemsdyk, Washington Capitals
Although he's perhaps been a bit hidden in the shadow of his high-scoring, former top prospect older brother James van Riemsdyk, Trevor has become a quality NHLer in his own right.
He's an undrafted player with 500 NHL games on his resume, and this season he's been a rock on coach Laviolette's back end. Paired with Jensen on the Capitals' top penalty-killing unit, van Riemsdyk has helped the Capitals rank as one of the better shorthanded units in the NHL.
Public analytics models are quite bullish on van Riemsdyk's work in his own end, and although reputation can sometimes drive a defenseman's market value more than it likely should, van Riemsdyk's name value is steadily increasing as the Capitals rise in the standings.
Frequent partner Erik Gustafsson has run wild thanks to the freedom afforded by van Riemsdyk's sound defensive play, the Swedish blueliner's 25 points in 43 games are not only a testament to his own on-ice improvement but also how well he's played in tandem with his partner.
With his play this season, van Riemsdyk has put together a strong resume for any team seeking a quality stay-at-home defenseman to pair with a more offensively-inclined puck mover to consider.
Kevin Shattenkirk, Anaheim Ducks
Once a marquee name sitting atop an offseason free agent class, Shattenkirk has settled into a more low-key role since being bought out of his major contract by the New York Rangers.
After winning the Stanley Cup with Tampa Bay, Shattenkirk signed in Anaheim and has had an up-and-down tenure in Southern California.
A strong run on the power play led Shattenkirk to score a respectable 35 points last season, but other than that two of his three seasons as a Duck have been major disappointments. He'll be 34 years old when the market opens, and he's on pace to score just 20 points.
Although a trade to a contender could spark a return to form, it's likely that Shattenkirk will hit the open market next summer in a significantly diminished position to where he was last summer.
Erik Johnson, Colorado Avalanche
A longtime leader on the Avalanche's back end, Johnson finally won the first Stanley Cup of his career last summer. Once the Avalanche's clear top defenseman, the emergence of Cale Makar, Devon Toews, and Samuel Girard has allowed Johnson to settle into a more suitable role as the team's fourth or fifth defenseman, depending on the health of Bowen Byram.
In that role, Johnson has been solid. He's given the Avalanche nearly 18 minutes per night and provided sound defensive play, some penalty killing, and some physicality in those minutes.
At this stage of his career, it doesn't seem particularly likely that Johnson would choose to uproot his family and sign with another club after over a decade in Colorado. But given the challenge the Avalanche face under the salary cap, it's likely that another team could be in a position to offer Johnson a more lucrative deal than what Colorado is poised to afford.
As a result, Johnson could have a difficult choice to make next summer. He's made it clear he still belongs in the NHL despite the fact that he'll turn 35 later this season, and his play has earned him another contract.
But if he wants to maximize his earnings on his new deal and minimize the decline in pay he'll likely face after making $6MM against the cap for the past seven years, he may be forced to sign elsewhere.
Others Of Note
Travis Hamonic, Ottawa Senators
It was somewhat curious when the still-rebuilding Senators traded a third-round pick to the Canucks for Hamonic last season, but what that deal came to signify was an end to rebuilding and a return to attempting to contend for the playoffs in Ottawa.
Unfortunately for Ottawa, Hamonic's addition hasn't brought the Senators all that much closer to the playoffs, and now as a pending unrestricted free agent, his future seems cloudy. Playing largely with rookie defenseman/top prospect Jake Sanderson, Hamonic has had an uneven year.
There are some positive aspects to the season he's had. Hamonic has the second-most average short-handed time on ice among Senators skaters, and the penalty kill he helps anchor currently ranks as the fifth-best in the NHL. He's respected for the sacrifices he makes in his own end, and has registered 66 blocked shots.
But public analytics models are quite bearish on his work in his own end, with the work of The Athletic's Shayna Goldman and Dom Luszczyszyn, for example, holding Hamonic in the fourth percentile leaguewide in 5v5 on-ice defensive impact. (subscription link) 
So opinions on Hamonic are definitely split. But like with many of the defensemen on this list, a trade to a contending team and a role on a squad making a deep playoff run could earn him some money.
While some of the more analytically-inclined front offices might shy away from investing in Hamonic next summer, he should have some suitors among some more traditional teams who place more value on the particular set brand of play Hamonic provides.
Justin Braun, Philadelphia Flyers
Braun will turn 36 in February and is currently playing out a one-year, $1MM deal with the Philadelphia Flyers. Braun's actually been pretty good in his own end, helping out on the Flyers' penalty kill and generally just playing sound hockey for coach John Tortorella.
But more recently, he's found himself in the press box as his offensive production of zero points in 33 games is becoming harder and harder to ignore. With a cheap expiring contract and a long track record of safe stay-at-home play, Braun is a candidate to be traded at the deadline, just as he was last season.
Given the lack of any sort of offensive element to his game, Braun's market next summer will be somewhat restricted. But since his defensive game is still NHL-caliber, he should be able to catch on with a team as a veteran depth addition capable of giving safe, low-event minutes.
Michael Stone, Calgary Flames
A staple in Calgary for over a half-decade, Stone has provided the Flames with defensive depth at a cheap price. This year has been no different, as he's played 32 games for coach Darryl Sutter's squad at just a $750k cap hit.
Since he doesn't play on either special teams unit, his value in a specialist role is limited. But coach Sutter still clearly trusts him enough to dress him regularly, and the two-time Stanley Cup champion's endorsement carries weight.
He'll be 33 by the time the market opens next summer, and expecting him to sign another deal with Calgary near the league minimum would be a safe bet.
Pictures courtesy of USA Today Sports Images