Former Vancouver Canuck Nikita Tryamkin hasn't played in North America since the 2016-17 season, but he could be nearing a return. CHEK TV's Rick Dhaliwal quoted Tryamkin's agent, Todd Diamond, as making the following statement regarding his client.
There will be tremendous demand for Nikita. Nikita has turned down a contract extension from his KHL Club. He is currently focused on the KHL season, then we will turn our focus to the NHL.
Tryamkin is in his sixth KHL season since signing there from Vancouver, and is a former Canucks third-round pick who ended up playing a total of 79 games for the club.
It's not difficult to understand why Diamond is so optimistic about the interest his client will have in the offseason. While Tryamkin's time in the NHL was hardly a smooth ride, there is some precedent for a talented Russian player to have an uneven first go-around in the NHL, move to the KHL, and then return as a more experienced, mature, capable difference-maker.
The Montreal Canadiens took a chance on a player of that mold, Alexander Radulov, in the summer of 2016 and the choice paid off for them in spades, with Radulov moving on to Dallas where he would score 72 points in back-to-back seasons.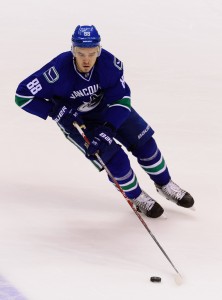 In Tryamkin's case, much of the intrigue surrounding his return to the NHL centers around one number: 202.
That's how many centimeters tall Tryamkin is, and as his six-foot-eight, 258-pound defenseman he would be among the biggest in the entire NHL.
While teams are more and more willing to take chances on smaller defensemen, there is still a prevailing attitude among NHL decision-makers that size is a valuable component of a defenseman's overall value.
If a team wants to add some muscle to their blueline, Tryamkin will be an intriguing option. The tallest defenseman set to be on the open market this summer is Chicago Blackhawks blueliner Jarred Tinordi, who stands at six-foot-six. Carson Soucy, Ryan Graves, and Scott Mayfield all stand six-foot-five, meaning the market does have some options for teams who want to beef up their back end. None of those options are quite as big as Tryamkin, and that could be what sets him apart on the market as he attempts his return to the NHL.
Being big is not the only thing that a defenseman has to do to be successful in the NHL, though, otherwise Tinordi wouldn't have been available to the Blackhawks on waivers earlier this season. A major element of being successful defensively is an ability to exit the defensive zone, and that can be something slower-footed physical defensemen can struggle with.
Something that will certainly help Tryamkin, then, is the fact that he is a surprisingly good skater for someone his size. His skating doesn't translate to a high offensive impact, and his points production in the KHL is rather meager. But characterizing Tryamkin as simply a big, slow, throwback stay-at-home blueliner would be shortsighted.
Diamond noted, Tryamkin has rejected a contract offer from his KHL team and has his sights firmly fixed on a return to the NHL for next fall. Whereas Vancouver once held the exclusive rights to sign Tryamkin, he is now free from that restriction and able to sign with any NHL team he chooses.
It's possible that Tryamkin has the sort of lengthy courting process Andrei Kuzmenko had last year. But important to note is the fact that Kuzmenko was restricted to signing an entry-level deal, while Tryamkin's NHL experience allows him more options for what contract to sign. Since the financial restrictions placed on Kuzmenko's contract made his choice more about fit and location than cost, the lengthy process including visits to multiple markets made sense.
Since Tryamkin doesn't have those restrictions, he may not view such a process as necessary and could end up entering the market and operating as any other conventional free agent would.
Since it's still relatively unknown how Tryamkin will fare in his return to the NHL, it seems likely that he'd prefer to sign the sort of contract Radulov received from the Canadiens, which is a short-term deal that maximizes his opportunity to land a lucrative deal the following summer, while also minimizing the risk of the investment for the team he signs with.
The upcoming free agent market seems at the moment filled with some talented blueliners for NHL teams to choose from. While Tryamkin, a three-time KHL All-Star, is far from the safest investment of the bunch, he could be one of the more intriguing options available.
Pictures Courtesy of USA Today Sports Images