The Erik Karlsson trade saga is finally over. The Pittsburgh Penguins have acquired the 2023 Norris Trophy winner from the San Jose Sharks, according to Daily Faceoff's Frank Seravalli. Sportsnet's Elliotte Friedman reports the Montreal Canadiens are involved in the trade to aid in salary considerations. Pittsburgh later officially announced the massive deal, which includes 12 parts and breaks down as follows:
PIT receives: D Erik Karlsson, F Rem Pitlick, F Dillion Hamaliuk, 2026 third-round pick (SJS)
SJS receives: 2024 first-round pick (PIT, top-ten protected), F Mikael Granlund, D Jan Rutta, F Mike Hoffman
MTL receives: 2025 second-round pick (PIT), D Jeff Petry, G Casey DeSmith, F Nathan Legare
San Jose is retaining $1.5MM of Karlsson's $11.5MM cap hit through 2026-27. Montreal is retaining no salary on Karlsson in this trade, meaning the Penguins have Karlsson at a massive $10MM cap hit for four more seasons. Pittsburgh also retains $1.5625MM, or 25%, of Petry's cap hit. Montreal will have him at a cap hit of $4.6875MM through 2025.
Sportsnet's Eric Engels also believes Montreal is not Petry's final destination. The Canadiens are likely to flip their former number-one defenseman before next season starts, potentially retaining up to 50 percent on his already reduced cap hit, making him cost just $2.34MM against the cap for his new team.
Pittsburgh has a net cap hit loss of $3.1MM in this trade, per CapFriendly. By doing so, they'll likely be able to activate Jake Guentzel and his $6MM cap hit from LTIR when he's ready to return to the ice in November without making any corresponding moves. CapFriendly projected Pittsburgh with $2.75MM in cap space, with Guentzel on LTIR to start the season.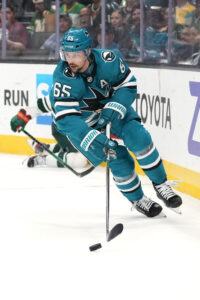 Karlsson, 33, ended an up-and-down five-year stint with the Sharks on a high note. Despite playing on a bottom-five team in the league, Karlsson's 101 points in 82 games were the most from a defenseman in a single season since Brian Leetch in 1991-92. Once viewed as the best defenseman in the NHL during his time with the Ottawa Senators in the mid-2010s, the Sharks acquired him in a blockbuster deal in 2018 and later extended him on a massive eight-year, $92MM contract, giving him the highest cap hit in the league among defensemen.
However, it was a decision that failed to pan out the way San Jose envisioned, as Karlsson struggled with injuries during most of his time in California. To make matters worse, the team around him also crumbled as the Sharks fell out of yearly playoff contention for the first time this millennium.
Pittsburgh hopes Karlsson's turnaround last season has given him renewed confidence heading into the latter half of his contract – assuming his recent injury history doesn't come back to bite him. 2022-23 was the first time Karlsson had played in 70-plus games since 2017-18, his last season with the Senators.
Many will be concerned with Karlsson's defensive misgivings, but some slightly reduced ice time in Pittsburgh should lessen his negative impact on the team's goals-against total. Likely to slot in on the team's second pairing behind Kris Letang, Karlsson should be paired with either Marcus Pettersson or free-agent acquisition Ryan Graves on the left side, both players with strong defensive reputations. Advanced metrics peg Pettersson near the top of the league in terms of his individual even strength defensive impact.
Pitlick could be an under-the-radar add for Pittsburgh in this deal from Montreal. While he's far from being a long-term fixture, he is on the younger side (in Pittsburgh, at least) at 26 years old and will add some higher-upside depth scoring to a Penguins lineup that needs it, especially with Guentzel on the shelf to start the year. In 2021-22, Pitlick notched 15 goals, 22 assists and 37 points in 66 games split between the Canadiens and Minnesota Wild. He's struggled to develop an all-around game at the NHL level, though, and he's more of a finishing and playmaking specialist than anything else. His overall play-driving impacts are poor, and it led to Montreal stashing him in the minors for a fair bit of last season. There, he registered 22 points in 18 games with the AHL's Laval Rocket.
Hamaliuk, 22, once had a fair bit of upside – after all, San Jose thought he warranted a second-round selection in the 2019 NHL Draft. Injuries and middling performance since turning pro have wiped out nearly all of his stock, though. He played in just six games last season, all in the ECHL with the Wichita Thunder, although he did look good in limited action with seven points. The Penguins will likely watch him closely in the minors with the AHL's Wilkes-Barre/Scranton Penguins next season to see if he can recapture some of his former potential.
For the Sharks, trading Karlsson while only retaining $1.5MM is a solid bit of work for general manager Mike Grier. However, the return is rather underwhelming – a likely mid-first-round pick and a trio of depth NHL assets that won't amount to much value for a rebuilding team. They've essentially taken on two bad contracts and a depth defender to rid themselves of long-term financial pain, as despite his elite skill, Karlsson absolutely did not factor into the franchise's long-term plans post-rebuild.
The trade does provide a fresh start for Granlund, a former top-six fixture who struggled mightily after heading to the Penguins from the Nashville Predators at last year's trade deadline (just five points in 21 games). He is just one campaign removed from a 64-point season, however, and although his possession metrics are quite poor, he does still carry a fair amount of raw skill that could see him once again elevate into a top-six role on a weak Sharks team, potentially playing alongside Alexander Barabanov and Logan Couture. With two seasons left at a $5MM cap hit, the Sharks could look to flip him at the 2024 trade deadline if he has a strong season, likely with significant salary retention. However, as CapFriendly notes, San Jose has just one of their three salary retention slots remaining for the next two seasons after also retaining salary on Brent Burns when they traded him to the Carolina Hurricanes last summer. In total, the Sharks are left with $7.745MM in dead cap space this year after the two salary retentions, plus the buyouts of goalie Martin Jones and forward Rudolfs Balcers.
Rutta is under contract at $2.75MM for two more seasons, and he'll likely give the Sharks a fair amount of value. The two-time Stanley Cup champion with the Tampa Bay Lightning could very well step into a top-four role for the Sharks, who will likely roll three pairings by committee this season in the absence of a clear number-one defender. Rutta recorded nine points in 56 games for the Penguins last season, his only season in the Steel City while averaging 17:07 of ice time per game. Pittsburgh signed the 33-year-old to a three-year, $8.25MM contract in free agency last summer.
Clearing Hoffman's $4.5MM cap hit for this season off the books is a solid bit of business for the Canadiens, who were rumored to be considering waiving Hoffman ahead of next season and assigning him to the AHL's Laval Rocket. There's no guarantee he'll be able to escape the same fate with San Jose, however. The Sharks will undoubtedly prioritize roster spots for younger wingers like William Eklund, Filip Zadina and Fabian Zetterlund, leaving Hoffman without a clear place among the Sharks' top 12 forwards. Now 33, Hoffman did manage 14 goals and 34 points in 67 games for Montreal last year, but he ranks among the worst play-driving forwards in the league and is solely a power-play specialist at this stage in his career. Some will remember this is technically Hoffman's second stint as a member of the Sharks organization – San Jose acquired him from Ottawa for a few hours in 2018 before flipping him to the Florida Panthers.
Now, moving on to Montreal, who became an unexpected major player in this deal. Petry may not remain with his former team, as mentioned earlier, and DeSmith may not either. He's a puzzling addition for a team that already has Sam Montembeault and Jake Allen manning the crease, although Pittsburgh did need to move out a goalie after signing Alex Nedeljkovic in free agency, giving them three NHL goalies on their roster. However, Montreal now faces the same predicament, and DeSmith is unlikely to supersede Allen or Montembeault on the team's depth chart. If they don't flip him to another team looking for a backup netminder, DeSmith could be waived to start the season and end up with Laval. He started a career-high 33 games for Pittsburgh last season, and the 31-year-old recorded a 15-16-4 record, .905 save percentage, and no shutouts.
Legare is a depth addition who will suit up for Laval next season. The 22-year-old third-round pick of the Penguins in 2019 is still finding his footing in the minors. Last season, he posted eight goals, 11 assists and 19 points in 68 games with AHL Wilkes-Barre/Scranton.
Photo courtesy of USA Today Sports Images.