With free agency now less than a month away, many teams are already looking ahead to when it opens up.  There will be several prominent players set to hit the open market while many teams have key restricted free agents to re-sign.  While cap space remains an issue in San Jose, this is not the year that their free agents are likely to break them. The team does have a key restricted free agent to sign, but the team must decide what unrestricted free agents they want to bring back after a disappointing 2019-20.
Key Restricted Free Agents
F Kevin Labanc – The only significant restricted free agent the team needs to sign is Labanc, who surprised quite a few people when he signed a one-year, $1MM bargain contract last offseason with many expecting he took a low deal with the assumption he would be rewarded with a long-term deal the following year. We'll see if that's the case, but Labanc's production didn't jump off the charts like many had hoped. In fact, the 24-year-old finished with a disappointing 2019-20 season, posting just 14 goals and 33 points in 70 games, significantly less than the 56 points he produced the previous year. What type of contract Labanc receives will be interesting to see, but the forward is still considered to be a significant piece to their core and must return to his 2018-19 form if the team hopes to improve on its dismal season last year.
F Antti Suomela – The Sharks are hoping to bring back the 26-year-old back as a potential fourth-line center, but the Finnish center spent most of his season in the press box in San Jose as the team's extra forward. He managed to appear in 20 games with one goal and seven points, serving mainly as the team's fourth-line center. With plenty of questions marks down the team's middle, Suomela has every chance to prove he deserves a more significant role.
Other RFAs: F Jonathan Dahlen, F Jayden Halbgewachs, F Maxim Letunov, D Nicolas Meloche, D Jacob Middleton, D Jeremy Roy, G Andrew Shortridge, D Tony Sund, F Manuel Wiederer.
Key Unrestricted Free Agents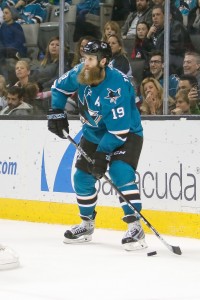 F Joe Thornton – The Sharks have made it quite clear that if Thornton wants to return next season, he's welcome to. So, the question isn't whether the Sharks want him, but whether Thornton wants to return. The 41-year-old made it clear at the end of the season that he would like to have a chance to win a Stanley Cup before his career ends. That seems unlikely to happen, which could suggest that Thornton may be more interested in joining a legitimate cup candidate for 2020-21. He was hoping to be traded to a contender at the trade deadline, but the team wasn't able to find the right trade partner. Regardless, with the questions up the middle, the Sharks wouldn't mind bringing back their heart and soul of the team despite his declining production. He did remain healthy all season, but produced one of his lowest totals since his rookie campaign in Boston back in 1997-98 with just 31 points.
F Melker Karlsson – The long-time bottom-six forward could be looking for another team as the Sharks must decided whether Karlsson's lack of numbers is worth holding onto. Solid on the penalty kill, Karlsson's three-year $6MM contract is now up and it's likely the team might be ready to move on from him after scoring just six goals last season, his lowest numbers ever. Even his hits saw a major decline. If they do bring him back, expect it to be at a much lower AAV.
G Aaron Dell – After two impressive years in net in San Jose, the next two seasons have been less impressive. It's likely that Dell will be asked to move on as the team attempts to find a better tandem fit with Martin Jones now that they announced the will not buy him out. Dell got more appearances this year with a career-high 33, but a 3.01 GAA and a .907 save percentage wasn't what the team was looking for while Jones' struggled. Expect Dell to find a backup job elsewhere in the league.
Other UFAs: F Jonny Brodzinski, D Brandon Davidson, F Anthony Greco, F Stefan Noesen, D Dalton Prout.
Projected Cap Space
Unfortunately for the Sharks, the team doesn't have some of the cap advantages that other lottery teams possess (or the lottery pick, for that matter). The team has about $67.4MM committed to just 16 players, so there isn't too much money remaining for the team to fill the rest of its roster spots. Regardless, they will likely dip into the free-agency pool a little bit to bolster a depleted roster, but will most likely have to focus on improving their defense and adding a more reliable goaltender who take take some of the pressure off of Jones.
Photo courtesy of USA Today Sports Images.