Free agency is now a little more than a month away and teams are looking ahead to when it opens.  There will be several impact players set to hit the open market in July while many teams have key restricted free agents to re-sign as well.  We continue our look around the NHL with an overview of the free agent situation for the Columbus Blue Jackets.
Key Restricted Free Agents
D Marcus Björk – Björk had a nice, albeit abbreviated rookie season for the Columbus Blue Jackets. The 25-year-old Swede split the year between Columbus and the Cleveland Monsters of the AHL. In 33 NHL games Björk tallied three goals and eight assists, while in the AHL he put up seven goals and eight assists in 44 games. Björk earned a lot of praise from the Columbus coaching staff and at one point was being dubbed a player who could have a long NHL career, this was before his game fell off during the middle of the season. He was demoted for a few months before being recalled towards the end of the year to re-join Columbus. While his play trailed off, one might wonder if it was tied to fatigue as Björk had never played more than 52 games in a season prior to this year. Columbus will likely lock up Björk for a season or two to take a long look at a player who could become a hidden gem for the Blue Jackets should he be able to build on his small success from this past year.
RW Mathieu Olivier – Olivier has never topped 19 points since turning pro back in 2018-2019. His career high came in the AHL when he put up 10 goals and nine assists in 58 games for the Milwaukee Admirals in the pandemic shortened 2019-2020 season. This past season the 26-year-old played a career high 66 NHL games for the Blue Jackets putting up 81 PIM, as well as five goals and 10 assists. Olivier offers sandpaper and is always willing to battle and stick up for his teammates, however he will never put up much in the way of offence. But given his status as one of Columbus' most pressing RFA cases, it is a real indication of the lack of NHL talent that the Blue Jackets have on their NHL roster at this time. Olivier will likely be re-signed to a one year/two-way contract for around the league minimum.
Other RFAs: Tim Berni, Joshua Dunne, Carson Meyer, Trey Fix-Wolansky, Jacob Christiansen
Key Unrestricted Free Agents
D Gavin Bayreuther – Bayreuther is the Blue Jackets top unrestricted free agent heading into this offseason and was famously taken by the Seattle Kraken in the expansion draft two years ago only to be left unsigned. Bayreuther then became a free agent and quickly signed back with the Blue Jackets where he has played the past few seasons. The New Hampshire native toiled in the AHL with the Texas Stars for four seasons before finally getting a chance in the NHL with the Blue Jackets in the 2021-22 season. The 29-year-old spent most of this past season with Columbus where he put up two goals and 12 assists in 51 games.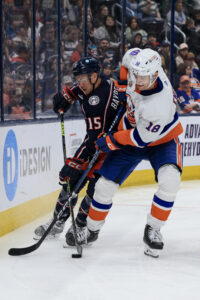 Bayreuther has never put up much in the way of offense in his career as he has just 28 career points in 122 career games, he is the epitome of a tweener. He is too good for the AHL however he is likely not a strong enough player to sustain success in the NHL. He will likely be given the opportunity to sign a two-way contract this summer with a decent downside guarantee at the AHL level and the chance to split time between the AHL and the NHL.
F Lane Pederson – The Blue Jackets claimed Pederson off waivers from the Vancouver Canucks this past January. The Saskatoon native spent 27 games in the NHL this season split between to the two clubs and put up three goals and three assists. Much like Bayreuther, Pederson is also a tweener. He's been a very good offensive player in the AHL the past few seasons as he has put up nearly a point a game since 2018-19. But this offensive success just simply hasn't carried over the NHL as Pederson has just four goals and seven assists in 71 NHL games.
Pederson will get a two-way contract with a good AHL salary and will likely make for a good 13th or 14th forward next season.
G Michael Hutchinson – Hutchinson is the definition of a journeyman. He has played 153 NHL games spread over ten seasons posting a .902 career save percentage. Early in his career the 33-year-old looked as though he would be a solid NHL backup as posted a .914 save percentage in 38 games going 21-10-5 for the Winnipeg Jets in 2014-15. However, by 2017 Hutchinson found himself back in the AHL and struggled to find consistent NHL work, dressing in just 54 NHL games over the past six seasons. Given his age and recent track record it is realistic to guess that Hutchinson will find work as a teams third string goaltender that can take the bulk of the AHL starts and fill in at the NHL level should an injury occur.
Other UFAs: Joona Luoto, Justin Richards, Jon Gillies
Projected Cap Space
Columbus has ample cap room to fill out their roster as they currently have just under $17MM in space and 21 players signed for next season. However, filling out their roster simply won't be good enough given how thin the team is on NHL talent. The club has committed big money to Patrik Laine, Johnny Gaudreau and Zach Werenski but haven't been able to insulate them with much in the way of offensive talent. They have some terrific young players and will need to be careful to leave room for their future contracts, however the Blue Jackets need to do a better job of providing depth scoring so they don't rely so heavily on their top line scorers. Columbus has been largely unsuccessful in unrestricted free agency making it interesting to see how they will play the market when it opens in July.
Photos courtesy of USA Today Sports Images.  Contract information courtesy of CapFriendly.