June 30: Vegas has confirmed Hill's extension at $4.9MM per season over two years. PuckPedia confirms the breakdown of his contract:
2023-24: $1.6MM base salary, $4MM signing bonus, eight-team no-trade list
2024-25: $4.2MM base salary, five-team no-trade list
June 25: The Vegas Golden Knights captured their franchise's first-ever Stanley Cup earlier this month, and while he didn't end up winning the Conn Smythe Trophy the work of netminder Adin Hill played a significant role in getting Vegas over the line.
Now it appears Vegas is nearing a contract extension agreement with Hill, 27, who was set to hit the open market July 1st. Sportsnet's Elliotte Friedman has reported that Hill is "looking at an extension in Vegas around the 2x$4.9M range," and that nothing is official at this time.
PuckPedia made a point that will be central to the reception of this contract, which is that Hill's reported $4.9MM cap hit "would put him just outside a top 16 starter in Cap Hit. Based on last season, at that cap hit he would be expected to play 50+ games." That's potentially going to be an issue for Hill, as the last time he was a true full-time goalie for a full season was with the WHL's Portland Winterhawks back in 2015-16.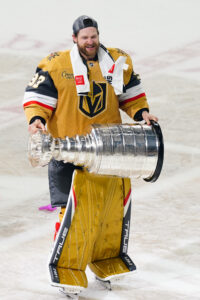 In recent years Hill has consistently battled injuries, and even though he had injury troubles this season as well he actually set a career-high in NHL games played with 27.
The six-foot-four 27-year-old played quite well in those 27 games, posting a 16-7-1 record and a .915 save percentage, but those numbers won't deliver enough return on Vegas' $4.9MM AAV investment unless he can handle a higher workload.
Even with those concerns about availability, it's abundantly clear why Vegas made the choice to extend Hill and reward him for his playoff heroics. Hill's playoff performance stepping in after an injury to Laurent Brossoit was genuinely stunning, and his .932 save percentage in 16 games is a testament to that. Hill's out-of-this-world save on Nick Cousins to set the tone for the Stanley Cup Final is going to be a moment long remembered in hockey history, and while NHL clubs probably shouldn't let sentimentality influence major financial decisions, Vegas' desire to keep their playoff hero around for longer than just one season is completely understandable.
There are going to be fans that snicker at Hill receiving a per-year cap hit nearly as high as what Darcy Kuemper, a tried-and-tested, durable NHL starter received on the open market after winning his own Stanley Cup. That's an understandable point of view given just how spotty Hill's track record has been in past years. He was let go by San Jose last summer for a mid-round draft pick, after all.
But in the end, this is a player who shouldered a significant amount of responsibility in high-leverage moments and led his team to a Stanley Cup. 26-year-old Logan Thompson, who impressed as a rookie this past season, will cost Vegas just $766k against the cap for the duration of this Hill contract extension. So assuming Vegas runs a Hill-Thompson tandem, they'll be paying their netminders under $6MM combined, a totally affordable number.
The presence of Robin Lehner and his $5MM cap hit on Vegas' books complicates things, especially if he plans on returning to the ice after missing the season due to hip surgeries. But with the start of free agency looming, locking up Hill and therefore a two-goalie tandem for the next two seasons is a solid bit of business, assuming Hill can stay healthy.
Photos courtesy of USA Today Sports Images