Free agency is now less than two weeks away from opening up and there are quite a few prominent players set to hit the open market while many teams have key restricted free agents to re-sign. Here is a breakdown of Toronto's free agent situation.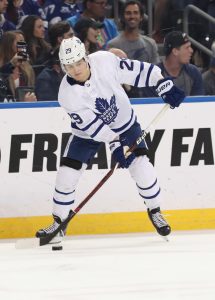 Key Restricted Free Agent: F William Nylander – While he hasn't received as much of the spotlight as his young teammates have, Nylander has quietly become a very productive player already as he collected 61 points for the second straight season.  Yes, his ice time was down a little bit in their first round loss to Boston but that's not going to have any sort of real impact on contract talks.
Typically, with a youngster putting up these types of numbers early on, a long-term contract would be a near no-brainer.  However, with new contracts on the horizon for center Auston Matthews and winger Mitch Marner, Toronto may at the very least have to look into a shorter-term bridge deal since the other two could approach $20MM on their next deals.  A long-term pact for the 22-year-old could check in around $6MM or more per season based on comparables around the league while a short-term pact would cost a bit less and give Toronto more flexibility for 2019-20 but would also cost them more when Nylander's third contract kicks in.  At this stage, a long-term pact still is the likeliest outcome.
Other RFAs: F Miro Aaltonen, F Frederik Gauthier, F Andreas Johnsson, D Justin Holl, D Martin Marincin
Key Unrestricted Free Agents: F James van Riemsdyk – Although van Riemsdyk's ice time was somewhat limited in 2017-18 (14:54 per game, his lowest since his sophomore year), it didn't slow down his goal production as he collected a career-best 36 tallies.  That ties him with Islanders center John Tavares for the most goals among unrestricted free agents.  He's also one of the younger top players in this UFA class at just 29 years of age.  He's going to be one of the most sought-after players on the open market next month and should be able to garner a max-term deal of seven years (assuming he doesn't re-sign with Toronto).
F Tyler Bozak – It isn't a great market for centers this summer and Bozak is poised to benefit from that.  Although he dropped to just 11 goals this past season (his lowest in any full year), he was still reliable defensively and his usual strong self at the faceoff dot.  The 32-year-old also saw his playing dropped to 15:39 per game; it's certainly quite plausible to think that there will be teams that think he can get back to 15 goals and 50 points in a second-line role.  A five or six-year contract isn't out of the question and he's set to get a nice raise of the $4.2MM cap hit he has played on for the last five seasons.
Other UFAs: F Kyle Baun, F Leo Komarov, F Dominic Moore, F Tomas Plekanec, D Roman Polak
Projected Cap Space: With the re-signing of defenseman Connor Carrick earlier on Wednesday, the Leafs now have just under $55MM committed for next season per CapFriendly, an amount that includes $5.3MM for the injured Nathan Horton who will once again be LTIR-eligible.  With the salary cap set at $79.5MM, that gives Toronto a little more than $24MM to work with.  Nylander will take up a sizable chunk of that but they should still have plenty to spend.  However, new GM Kyle Dubas will need to tread carefully knowing that new contracts are on the horizon for Matthews and Marner so it wouldn't be surprising to see Toronto pursue some short-term deals either via trade or the UFA market in the next few weeks.
Photo courtesy of USA Today Sports Images.