Free agency is now just days from opening up and there are quite a few prominent players set to hit the open market while many teams have key restricted free agents to re-sign. Here is a breakdown of San Jose's free agent situation.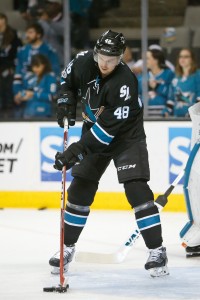 Key Restricted Free Agents: F Tomas Hertl – The 24-year-old is coming off of a nice bounce-back season that saw him set a new career high in goals (22) while equalling his best point total (46).  He also did so while spending a significant amount of time at center.  All of these will certainly help his arbitration-eligible case as he comes off of his bridge deal that saw him receive a $3.2MM qualifying offer by the deadline back on Monday.
With them getting Mikkel Boedker and his $4MM off the books, they're widely expected to be involved in the free agent and trade market.  How they fare will likely dictate whether they go with a long-term deal for Hertl or a one-year pact to save on the cap hit a little bit.  Based on comparable contracts, a long-term pact is likely to check in around $5MM while the one-year deal would be closer to $4MM.
F Chris Tierney – Tierney's emergence as a legitimate secondary scorer largely went under the radar in 2017-18.  After putting up a combined 43 points in the previous two seasons, the soon-to-be 24-year-old tallied 40 points (17-23-40) while doing so for not much above the league minimum.  That's going to change this summer as he is eligible for arbitration and he's going to have a case to push for an AAV around the $3MM range, assuming they work out a multi-year deal.  After being viewed as a depth piece, Tierney now factors in as their third line center for the foreseeable future.
Other RFAs: None
Key Unrestricted Free Agent: F Joe Thornton – 2017-18 wasn't a great year for the veteran.  Thornton suffered a knee injury in late January that kept him out of the lineup for the remainder of the season and playoffs.  However, he was still relatively healthy as he posted a respectable 36 points in 47 games while notching his best goals per game average (0.28) since 2008-09.  He may be slowing down but he can still play a top-six role.
The expectation is that the soon-to-be 39-year-old will ultimately re-sign in San Jose.  The question is for how much his one-year deal will be.  He's coming off an $8MM salary but with him missing so much time, he's not going to get that high of a guarantee this time around.  Part of his next salary will be determined by what else the team does this summer but it wouldn't be surprising if his deal is more bonus-laden this time around to hedge against further injury woes.
Other UFAs: D Dylan DeMelo, F Eric Fehr, F Jannik Hansen, F Brandon Mashinter, F Joel Ward
Projected Cap Space: The Sharks find themselves with just under $19MM to work with this summer per CapFriendly.  While re-signing their own players will take a big chunk out of that, they should have enough room left to be suitors for the top players in free agency and in the trade market.  They're going to be heard from over the next few days.
Photo courtesy of USA Today Sports Images.