We are now just days away from the NHL Trade Deadline and a few moves have already been made with more to come. Where does each team stand and what moves should they be looking to make?  We continue our look around the league with the Vegas Golden Knights.
Vegas was expected to be a contender this season and despite some key players missing time due to injury and salary cap constraints forcing them to play below the minimum number of skaters on multiple occasions, they've done just that.  They will also be tap-dancing around the salary cap for the rest of the season so while GM Kelly McCrimmon would certainly like to try to add to his roster, they will be hard-pressed to try to do so.  Nevertheless, here is a closer look at their situation.
Record
25-11-2, 2nd in West Division
Deadline Status
Buyer (if they can create the cap space to do so)
Deadline Cap Space
$160K in regular cap space, $184K on deadline day, 1/3 retention slots used, 47/50 contracts used per CapFriendly.
Upcoming Draft Picks
2021: VGK 1st, NJ 2nd, VGK 2nd, WPG 4th, CAR 5th, VGK 6th, VGK 7th
2022: VGK 1st, VGK 2nd, VAN 3rd, VGK 3rd, WPG 4th, BUF 5th, VGK 5th, VGK 6th, VGK 7th
Trade Chips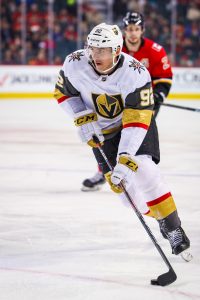 McCrimmon likely doesn't want to deal away from the core of his roster but Tomas Nosek is a player whose role can be filled by a lower-price player if they need to add some space.  His $1.25MM price tag is hardly overly expensive for his role as their fourth-line pivot but filling his spot with someone making the league minimum could then free up enough room to bring in another league-minimum veteran.  That's hardly exciting but for a team whose depth is being tested, there is some value in simply having an extra option available.  There's also definitely some risk to moving a veteran center from a team that doesn't have a ton of depth down the middle already but if they want to open up a little bit of wiggle room, that's certainly a route they can go.
Defenseman Nick Holden cleared waivers last week in a move that was designed to give Vegas a bit of short-term cap flexibility by moving him on and off the roster.  He's also someone that could be replaced by a cheaper player or could serve as a salary offset in a move to bring in another defenseman, one that could be counted on to play more than the 15:47 per night that he has logged so far this season.  Holden has another left on his deal after this one with a $1.7MM price tag.
In terms of some minor leaguers that may draw interest, Jimmy Schuldt is a name some may be familiar with.  It was just two years ago that the defenseman was viewed as the top college free agent available, drawing plenty of suitors.  While the 25-year-old made his NHL debut that season, he hasn't seen any action at the top level since then and is heading for unrestricted free agency again this summer.  If a team wants to get a closer look at him before then, he could draw some interest.  Jack Dugan, the top scorer in college hockey last season, is having a nice first season with AHL Henderson and will be someone that selling teams will ask about.  It's unlikely that McCrimmon will want to move him but if there is a low-cost player that can make an impact beyond this season on the table, the asking price will be high and the 23-year-old will be coveted.
Others to Watch For: F Mason Primeau (unsigned, draft rights expire June 1), F Dylan Sikura ($750K, UFA)
Team Needs
1) Depth Defenseman – Which contending team isn't looking for extra depth on the back end.  Their cap situation has forced them to go with five at times this year and they're going to be dancing around the Upper Limit the rest of the way as well.  A league-minimum option – preferably one that can play the right side – would be a useful acquisition.
2) Depth Center – Basically, it's the same idea as above.  The departure of Paul Stastny has left them thin down the middle and center depth is something that all contending squads covet.  Again, having someone at the league-minimum salary of $700K (or less, if the trading team retains money) would be a wise pickup for McCrimmon.
Photo courtesy of USA Today Sports Images.