We are now less than a week away from the NHL Trade Deadline and talks are heating up. Where does each team stand and what moves should they be looking to make?  We continue our look around the league with the St. Louis Blues.
It has been a disappointing season in St. Louis, to put it lightly.  They were comfortably in the playoff mix until a month ago when things went completely off the rails as they've won just twice since then, falling out of the postseason picture in the process.  All of a sudden, a team that looked like they were poised to be potential buyers may very well be changing course and moving some players out over the next few days.
Record
16-16-6, T-5th in West Division
Deadline Status
Potential Seller
Deadline Cap Space
$0 in regular cap space, $1.2MM in LTIR space, 0/3 retention slots used, 48/50 contracts used per CapFriendly.
Upcoming Draft Picks
2021: STL 1st, STL 3rd, STL 5th, STL 6th, DET 7th
2022: STL 1st, STL 2nd, STL 3rd, STL 4th, STL 5th, STL 6th
Trade Chips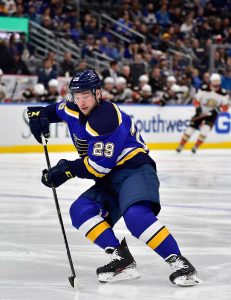 Vince Dunn has been in trade speculation dating back to last season and the Blues were involved in trade talks involving him earlier in the year.  Though he's only two years removed from a 35-point sophomore campaign, his production has tapered off since then and he has just a dozen points (5-7-12) in 36 games this season despite averaging more than 19 minutes a night, the most of his career.  With Torey Krug and Colton Parayko serving as two sure-fire protectees in expansion, there's only one slot remaining and Justin Faulk could be staking a claim to that spot.  It feels like a matter of when, not if, Dunn gets moved and as he's rather cheap now ($1.875MM), his market may be stronger now than this summer when he'll be arbitration-eligible for the first time and in need of protection by whoever makes a move for him.
Mike Hoffman was brought in to help offset the loss of Vladimir Tarasenko who started the season on LTIR with recurring shoulder troubles.  21 points (9-12-21) in 36 isn't bad but it's safe to say he has underperformed relative to expectations.  It was extremely unlikely he'd be back next year regardless of how he played due to their cap situation so if they believe they're going to miss the playoffs, it would make sense for GM Doug Armstrong to try to flip him.  With a $4MM price tag, they may need to retain to facilitate a move though.  Tyler Bozak ($5MM) is in a similar situation but with declining production, his market will be more limited.  Jaden Schwartz ($5.35MM) is another pending UFA but if there is mutual interest in an extension, they may not move him.
Veteran defensemen are always in demand at this time of year and while he's not a rental, Robert Bortuzzo could generate some interest.  He's a third-pairing or seventh option at this stage of his career but he can still play with physicality and kill penalties, elements that are often coveted at this time of year.  He has another year left at $1.375MM, a rate that isn't all that high for someone in that role but St. Louis would ideally likely to fill that spot with someone making a bit less to try to give themselves some more cap flexibility for next year.
Others to Watch For: Ivan Barbashev ($1.475MM, RFA), F Kyle Clifford ($1MM through 2021-22), D Steven Santini ($700K, RFA)
Team Needs
1) Draft Picks – With only two picks in the first four rounds, there's a clear need to restock the cupboard.  They didn't have their second-round selection last year and their first rounder the year before that as well.  Hoffman and Dunn give them two options that may be able to yield a high pick or impact prospect and there is going to be a definite need to supplement that core with cost-controlled entry-level deals.  It's hard to get those with only two picks in the first 130 selections.
2) Backup Goalie Upgrade – For a few years, Ville Husso was seen as a goalie of the future for St. Louis.  That future came this season with Jake Allen moved to Montreal, giving Husso a path to NHL action.  The initial returns haven't been great as he has a save percentage of just .883 this season.  If the Blues think they're still in the mix, a better backup helps.  If they're thinking about next season, a better backup may be needed in the offseason but if they can get that player now, they may as well go ahead and do so.
Photo courtesy of USA Today Sports Images.