We are now just a few days away from the NHL Trade Deadline and talks are heating up. Where does each team stand and what moves should they be looking to make?  We continue our look around the league with the Toronto Maple Leafs.
After bringing in some experience and character in the offseason, the Toronto Maple Leafs have been the unquestioned leader of the North Division for most of the season. They now sit seven points clear of the second place Winnipeg Jets, meaning if there was ever a year for GM Kyle Dubas to push his chips to the middle, this might be it. Dubas himself has admitted that the team's cap situation may lend itself to going after a rental instead of a player with term this year, meaning nearly everyone on an expiring contract could be a target for the Maple Leafs. A complicated cap situation will make the deadline difficult to navigate though, as will a mysterious injury to goaltender Frederik Andersen.
Record
27-10-3, .713, 1st in North Division
Deadline Status
Buyers
Deadline Cap Space
$140K in full-season space ($626K at the deadline), 1/3 retention slots used, 44/50 contracts used per CapFriendly
Upcoming Draft Picks
2021: TOR 1st, TOR 2nd, TOR 4th, TOR 5th, TOR 6th*
2022: TOR 1st, TOR 2nd, TOR 3rd, TOR 4th, TOR 5th, TOR 6th, TOR 7th
Trade Chips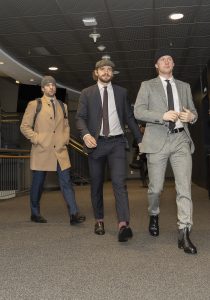 If you go by TSN's Trade Bait board, the player most likely dealt by the Maple Leafs is "Toronto's Top Prospect." This idea comes from a press conference Dubas held last month, at which he admitted that they would be willing to move a top prospect to improve this season. While there has been no real clarity on who that top prospect would be, the group of Rasmus Sandin, Nicholas Robertson, Timothy Liljegren, and Rodion Amirov seem the most likely candidates. Are one of those names worth moving for a rental? With the market establishing for top rentals following the Kyle Palmieri trade, it may not actually end up requiring one of Toronto's best to add a middle-six name. If they go after a bigger fish, all options are on the table.
There's a good chance that Toronto's first-round pick will also end up being pretty late this year thanks to the divisional competition, perhaps meaning the team would be willing to part with it to make a run. Dubas hasn't hesitated in moving picks out before, trading a first for Jake Muzzin and another to rid himself of Patrick Marleau's contract.
In terms of roster players, if a forward is coming in, someone else may have to be going out in order to stay under the cap ceiling. Alexander Kerfoot is the player who might find himself on the outside given the $3.5MM cap hit he carries, though names like Ilya Mikheyev or Pierre Engvall could also fit the bill. All three players are well-liked by the coaching staff and provide desirable attributes, but thanks to the addition of Alex Galchenyuk in the top-six, may be expendable.
Travis Dermott is the other name that usually dominates Maple Leafs speculation, though it appears as though Toronto head coach Sheldon Keefe is comfortable with the six defensemen he has. Dermott is an arbitration-eligible restricted free agent in the offseason and will likely have to be exposed to Seattle in the expansion draft, meaning there's at least a chance that the Maple Leafs could flip him for a rental at the deadline. Sandin is expected to challenge for a full-time spot next season and could fill that bottom-pairing role, meaning Dermott's time in Toronto could be coming to an end soon enough, even if he makes it through Monday.
Others to watch for: F Filip Hallander, F Joey Anderson, D Calle Rosen
Team Needs
1) Top-six forward: Even though Galchenyuk has found a home next to John Tavares on the second line, he still has just four points in ten games with the Maple Leafs and could be upgraded. If Dubas and company truly believe they have a chance to go for the Stanley Cup this season, adding another winger that is more than just a role player is the easiest way to improve. Zach Hyman, who is currently skating on the top line next to Auston Matthews and Mitch Marner, is a utility knife that can move anywhere in the lineup and still have an impact. Bringing in a real difference-maker could push this group over the edge.
2) Depth: They probably have enough of it on the fringes of the forward group, but Toronto is playing a dangerous game in goal. Jack Campbell is carrying the load and has been outstanding, but has a long history of injuries. If he were to go out before Andersen returns—which still doesn't have a definitive timeline—the team would be left with some combination of Michael Hutchinson, Veini Vehvilainen and Joseph Woll in the crease. On defense it's much of the same story, given how inexperienced the options are beyond the top six. If someone like T.J. Brodie or Justin Holl were to go down, the Maple Leafs would be hard-pressed to fill that role on the right side. Adding some more flexibility and experience is always a positive when expecting a long playoff run.
Photo courtesy of USA Today Sports Images