We are now just over a week away from the NHL Trade Deadline and talks are heating up. Where does each team stand and what moves should they be looking to make?  We continue our look around the league with the Pittsburgh Penguins.
It has been an eventful year for the Penguins, to put it lightly.  They've been hit hard by injuries, have had inconsistent goaltending at times, and had to deal with a sudden GM resignation as well when Jim Rutherford abruptly left.  In spite of all of that, they are comfortably in a top-three spot in the East Division and are within striking distance of the number one seed.  GM Ron Hextall will undoubtedly be looking to buy but he doesn't appear to have the trade chips to be overly active.
Record
24-12-2, 3rd in East Division
Deadline Status
Buyer
Deadline Cap Space
$833K in full-season space ($1.12MM at the trade deadline), 1/3 retention slots used, 48/50 contracts used per CapFriendly.
Pittsburgh also currently has some LTIR spending room with Evgeni Malkin on there at the moment.  However, he is expected to return before the end of the season so that space can't be used to trade for an impact replacement and thus is not factored into the above numbers.
Upcoming Draft Picks
2021: PIT 2nd, PIT 5th, ANA 7th, PIT 7th, WSH 7th
2022: PIT 1st, PIT 2nd, PIT 3rd, PIT 4th, PIT 5th, PIT 6th, PIT 7th
Trade Chips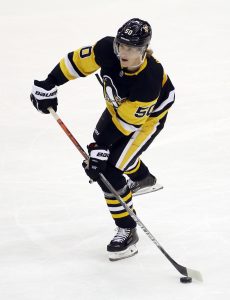 When you don't have a surplus of picks or prospects to deal from nor the cap space to take on a pricey contract, it's tricky to find possible fits to intrigue other teams.  One possible option is defenseman Juuso Riikola.  He has been limited to just two games this season but has been a sixth or seventh option for a couple of years now.  Their long list of injuries on defense (which included him for roughly six weeks) forced them to bring some other players in and as a result, the 27-year-old hasn't played since being activated off LTIR nearly a month ago.  With another year left on his deal at $1.15MM, Riikola's salary is one that could be thrown into a move to try to match money for cap purposes.
Prospect winger Radim Zohorna has impressed in the minors and even chipped in with a goal in two games with Pittsburgh.  At 6'6, his size will be intriguing to quite a few teams and if the Pens don't want to part with a draft pick and instead want to move a prospect under contract instead, the 24-year-old pending restricted free agent will be asked about fairly quickly.
If Hextall wants to shake things up more drastically, Jason Zucker stands out as a longshot candidate to move.  They paid a fairly high price to get him and with how he has performed, they'd be hard-pressed to recoup that now.  However, with a $5.5MM price tag for two more years after this, moving him would allow them to potentially free up some wiggle room to make an impact addition now and depending on the term of the contract, possibly give them some extra space over the next two years when they'll still be tight to the cap.  Zucker may make more sense as an offseason trade candidate if they could find the right fit (there is a 10-team no-trade clause to contend with) but without many viable options to move now, he's worth a mention here.
Others to Watch For: F Sam Miletic ($700K, RFA), F Valtteri Puustinen (prospect whose rights expire June 1st), Colton Sceviour ($1.2MM, UFA)
Team Needs
1) Center Depth – The long-term injuries to Malkin and Jared McCann (even Teddy Blueger has missed time) has emphasized how thin they are up the middle.  Sam Lafferty and now Frederick Gaudreau have held their own but someone that's an upgrade on those two that can serve a purpose on the fourth line but move up to anchor the third line if injuries strike would be nice.  They were able to add some defensive depth when the injuries hit but that didn't happen with their middlemen.
2) Goaltending Insurance – Casey DeSmith is having a fine season but only has 65 career games under his belt.  Tristan Jarry has been up and down but has been okay overall.  He too hasn't played in 100 career NHL contests, sitting at 87.  Their taxi squad option is Maxime Lagace who has a GAA near 4.00 in his limited NHL action.  A more proven third option in case the injury bug bites yet again or one of the two netminders struggle would be a low-cost acquisition that could wind up being useful later on.
Photo courtesy of USA Today Sports Images.