We are now just days away from the NHL Trade Deadline and a few moves have already been made with more to come. Where does each team stand and what moves should they be looking to make?  We continue our look around the league with the Washington Capitals.
Washington has been solid all year long and as their window for a second Stanley Cup is beginning to close, the team is expected to be active adding more veteran talent to their team to give Alex Ovechkin and company another shot. The real question is what the team has left in reserve to trade for any talent and how they might be able to squeeze anyone into their cap situation.
Record
26-11-4, tied for 1st in East Division
Deadline Status
Buyer (if they can create the cap space to do so)
Deadline Cap Space
$0MM in regular cap space, $375K in LTIR space, 0/3 retention slots used, 49/50 contracts used per CapFriendly.
Upcoming Draft Picks
2021: WAS 1st, WAS 2nd, WAS 4th, WAS 5th, VGK 5th, WAS 6th
2022: WAS 1st, WAS 2nd, WAS 3rd, WAS 4th, WAS 5th, WAS 6th, WAS 7th
Trade Chips
The team's greatest assets are likely their draft picks. The team has both their first and second-round picks over the next two years and are only short a third and seventh-rounders in 2021. So, the team could conceivably move a top draft pick to bolster their roster for the stretch run. Of course, it should be noted that the team's prospect system is pretty weak and could use all those picks. Washington has not moved a first-round pick since 2017 as they are acutely aware of a lack of young talent. So, it might be more conceivable the team would be more willing to move a second-round draft pick for slight upgrades. Of course, with little to no cap space, the team might have to move some picks to fit anyone into it.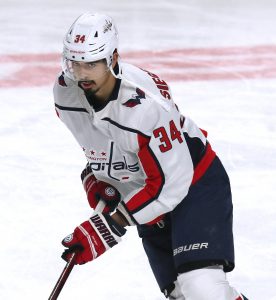 The team's one strength in their system is quite a bit of young defensemen as the Capitals have several blueliners sitting in wait for spots to open up in Washington, some with NHL experience already, including Jonas Siegenthaler, Martin Fehervary and Alexander Alexeyev, who recently returned to the organization after playing on loan in the KHL. The team would prefer to keep all three, but could one be made expendable?
Others to Watch For: D Paul Ladue; F Brett Leason; F Daniel Sprong
Team Needs
1) Veteran Goaltender – While the combination of Ilya Samsonov and Vitek Vanecek has been solid this season, the one issue that many have brought up is that the pair of young netminders have zero playoff experience. Samsonov was hurt during last year's playoffs, while Vanecek is a rookie, so no is is sure how either goaltender will perform under the tremendous pressure of the playoffs. That leads many to suggest the team should add a veteran third goaltender, someone who can step in and hold their own during those tough times.
2) Forward Depth – While the Capitals have fared reasonably well with their forward group, the team could always use a veteran forward to add their bottom-six. The team could use some extra depth in case of injuries during their playoff run.
Photo courtesy of USA Today Sports Images.