We are now less than two weeks away from the NHL Trade Deadline and talks are heating up. Where does each team stand and what moves should they be looking to make?  We continue our look around the league with the Philadelphia Flyers.
After the first ten games of the season, the Flyers were 7-2-1. Another ten made it 12-5-3. This seemed like the year they would really compete for an East Division crown and step into the limelight as a Stanley Cup contender. But over the last month, things have continued to trend downwards and after being the team to finally break the Buffalo Sabres losing streak, the Flyers deadline position isn't at all clear.
Record
17-14-4, 5th in East Division
Deadline Status
Hesitant buyer
Deadline Cap Space
$4.94MM in full-season space ($6.84MM at the trade deadline), 0/3 retention slots used, 50/50 contracts used per CapFriendly.
Upcoming Draft Picks
2021: PHI 1st, PHI 2nd, PHI 3rd, PHI 4th, PHI 6th, PHI 7th
2022: PHI 1st, PHI 2nd, PHI 3rd, PHI 4th, PHI 5th, PHI 6th, PHI 7th
Trade Chips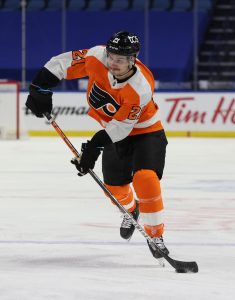 The first name that will be brought up is Shayne Gostisbehere, the recently-waived defenseman that still excites the imagination of hockey fans everywhere other than Philadelphia. The 2016 Calder Trophy runner-up set a career-high with 65 points in 2017-18 but has seen his effectiveness and role plummet ever since. There are still flashes of absolute brilliance from the 27-year-old defenseman but his contract, which carries a $4.5MM cap hit through the 2022-23 season makes it hard to live with his turnovers and poor defensive decisions. That contract also got him through waivers, but perhaps if the Flyers retained some salary he could still be a valuable trade piece.
Still, it seems more likely that teams would be after different players on the Flyers roster, including rental forward Scott Laughton. The 26-year-old Laughton is an unrestricted free agent at the end of the season, has just a $2.3MM cap hit, and is starting to generate some interest among the deadline speculators.
If the struggles continue for another week and they end up selling (a strategy that our Brian La Rose would already be taking), Erik Gustafsson is an easy flip to a contender that is looking for a little more depth on the back end.
Others to watch for: F Michael Raffl ($1.6MM, UFA), D Derrick Pouliot ($700K, UFA), F Nicolas Aube-Kubel ($1.075MM through 2021-22)
Team Needs:
1) Top-4 Defenseman: There's no getting around it, when Matt Niskanen retired suddenly before the season began, Philadelphia's plans were disrupted. The team has never really been able to fill his spot in the lineup and desperately needs a partner for Ivan Provorov. Those kinds of defensemen are not available very often, especially if they come with any term on their contract. That's why the Flyers were immediately linked to Mattias Ekholm when his name started being thrown around, but with another Nashville Predators win today it's hard to see them selling their talented defenseman.
Even if the Flyers believe in their team, a real fix in that top-four spot will be difficult to find at the deadline and may have to wait for the offseason.
2) Middle-six scorer: With Oskar Lindblom and Nolan Patrick both still trying to find their way after long absences, the Flyers haven't been able to find that consistent goal-scoring from their third line. Adding a player that can put the puck in the net at even-strength and help on one of the powerplay units would certainly make them more dangerous. With prospects coming, a rental is probably the play here if the Flyers are buying at the deadline.
3) Veteran goalie: This is a bit of a tough spot given how much faith the team still has in Carter Hart to be a franchise starter, but no team is going to compete in the NHL with an .877 save percentage from their goaltenders. That's the number Hart and Brian Elliott have combined for this season, meaning the team could certainly afford to bring in someone else to stabilize the crease down the stretch.
Photo courtesy of USA Today Sports Images