With the trade deadline now just a few days away, we will be taking a closer look at the situation for each team over the coming weeks.  Where do they stand, what do they need to do, and what assets do they have to fill those needs?  Next up is a look at the Minnesota Wild.
While there was a time that many thought that the Minnesota Wild might be at the bottom of the NHL this year, the veteran team have made a competitive season out of 2019-20. It may be unlikely that the team makes the playoffs, it is still possible the team could go on a run and reach that point. Regardless, new general manager Bill Guerin has little by little been making changes to the team and roster with the hopes that he can make it a younger team in the future. The team already did that recently, when they traded forward Jason Zucker to Pittsburgh for Alex Galchenyuk, prospect Calen Addison and a conditional 2020 first-round pick.
Record
29-24-7, sixth in the Central Division
Deadline Status
Seller
Deadline Cap Space
$14.208MM in a full-season cap hit, 0/3 used salary cap retention slots, 46/50 contracts per CapFriendly
Upcoming Draft Picks
2020: MIN 1st, PIT 1st, MIN 2nd, MIN 4th, MIN 5th, MIN 6th, MIN 7th
2021: MIN 1st, MIN 2nd, MIN 3rd, MIN 4th, MIN 5th, MIN 6th, MIN 7th
Trade Chips
Perhaps one of the team's most obvious trade chips has already been eliminated as long-time center Mikko Koivu already took himself out of the running today, when he exercised his right to refuse any trades. The veteran told Guerin today that he is not interested in leaving Minnesota and with a no-movement clause in his expiring contract, the team has no choice but to comply. That eliminates one trade chip.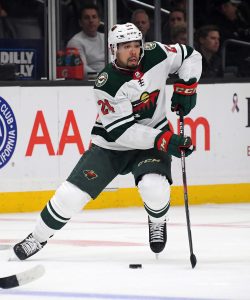 Perhaps Guerin's biggest trade chip is on defense. The team has two players that are receiving significant interest from other teams, including Mathew Dumba and Jonas Brodin. Dumba has three more years on his contract after this one at $6MM, but would be heavily coveted and if Guerin gets the right offer, could quickly bring in some much needed youth and talent to the system. Brodin also has another year on his contract at $4.17MM and could also bring in quite a bit of talent, as both players are top-four impact defensemen. However, whether Guerin pulls the trigger is another question. If he doesn't like the offers, he doesn't have to make a deal since the team has both players for a minimum of one more season.
While the team just acquired Galchenyuk, the team brought him over merely to even out the contracts for Pittsburgh. The 26-year-old isn't part of the team's rebuilding plans and since he's going to be an unrestricted free agent this summer, it wouldn't be surprising if the Wild flipped Galchenyuk to a contender for another piece to their rebuilding puzzle. While Galchenyuk is already on his fourth team, he has looked good in the five games he has played in Minnesota, scoring a goal and two assists. Minnesota might be able to find a suitor who is willing to take him and use him in a bottom-six role.
Five Players To Watch For: D Jonas Brodin, D Mathew Dumba, F Marcus Foligno, F Alex Galchenyuk, Eric Staal
Team Needs
1) Young Top-Six Forwards: The Wild have few talented forwards on their roster. They have a few, but what the team needs is difference-makers. Anyone who can step in and inject some youth to their lineup would be a step in the right direction for a team that is hoping to rebuild their team in a short order.
2) Draft Picks: The team picked up an extra first-rounder in the Zucker deal to give the team two first-round picks for this coming draft, but if the team begins any sort of rebuilding effort, then draft picks is exactly what they need for their future to remain bright.
Photo courtesy of USA Today Sports Images.