With the trade deadline now just hours away, we continue our look at the teams in the Central Division.  Where do they stand, what do they need to do, and what assets do they have to fill those needs?  Next up is a look at the St. Louis Blues.
The defending Stanley Cup champions have had a largely successful season.  They've been among the top teams in the Central pretty much all season long and are in first place in the conference at the moment despite injuries to several key players.  However, it's that injury situation coupled with limited cap room that makes it likely that St. Louis will have a quiet trade deadline.
Record
35-17-10, first in the Central Division
Deadline Status
Limited Buyer
Deadline Cap Space
$7.991MM in a full-season cap hit (using LTIR), 0/3 used salary cap retention slots, 47/50 contracts per CapFriendly
Upcoming Draft Picks
2020: STL 1st, STL 3rd, STL 4th, CAR 5th, STL 5th
2021: STL 1st, STL 3rd, STL 4th*, STL 5th, STL 6th
* – If St. Louis makes the Western Conference Final this year with Marco Scandella playing in at least half of their games or Scandella re-signs before the start of next season, the pick will transfer to Montreal.
Trade Chips
Options here are minimal with most of their listed cap space tied to Vladimir Tarasenko ($7.5MM) staying on LTIR.  He's expected to be activated before the end of the season so they're in a situation where they'd likely need to match money to make a deal.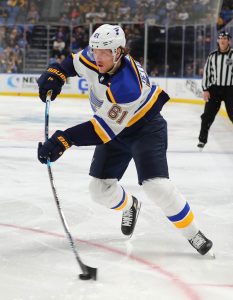 One roster player that could go is Jacob de la Rose.  Acquired early in the year from Detroit, his role has largely been minimal.  He's someone that could be a non-tender candidate as things stand to save a few bucks for next season but at the same time, he's still only 24 but has over 200 games of NHL experience.  A rebuilding team looking to add a defensive forward could have some interest in his services.  Veteran winger Troy Brouwer recently cleared waivers and if there was a team that was willing to give him NHL time down the stretch, they'd probably move him on.  Beyond that, there aren't many likely candidates to go.
In a bigger move, center Tyler Bozak makes some sense as his $5MM AAV for this season and next is a bit pricey for his third line role most of the time.  GM Doug Armstrong has said any moves he makes from here on out would likely be 'hockey deals' and something with Bozak could make that happen.
At the AHL level, defenseman Jake Walman is someone whose stock has dropped lately.  At 24 with very limited NHL time under his belt, his NHL prospects are starting to thin out so a change of scenery could be in his best interest.  A swap of AHL players involving him might draw some interest.  Beyond that, there isn't much to consider with a limited set of draft picks (including the second rounders that are popular trade chips at this time) and a lower-end prospect pool.
Five Players To Watch For: F Tyler Bozak F Troy Brouwer, F Jacob de la Rose, F Austin Poganski, D Jake Walman
Team Needs
1) Scoring Depth: With Tarasenko out, they've counted on the rest of the forwards to pick up the slack.  They've done so for the most part as they're in the top half of the league in scoring.  If they could find a cheap option for their bottom six, it would give them just a bit more offensive punch and a bit of a hedge against injuries.  Moving de la Rose for this player could be a possibility and would basically be the opposite of the move they made to acquire him when they moved Robby Fabbri to get him.
2) Veteran Spare Defenseman: This isn't a big need but given the extremely limited scope of what they can do, this could be on Armstrong's list.  Adding another veteran defender that can be stashed at the AHL level and be called upon if injuries arise would be nice.  They have Derrick Pouliot and Jake Dotchin as options already but finding an upgrade on them would give them someone they're more comfortable using if it comes to it.
Photo courtesy of USA Today Sports Images.