With the trade deadline now just a few days away, we will be taking a closer look at the situation for each team over the coming weeks.  Where do they stand, what do they need to do, and what assets do they have to fill those needs?  Next up is a look at the Chicago Blackhawks.
This has been a disappointing season for Chicago.  After a rare offseason spending spree (thanks to some even rarer cap space) that saw them add several veterans, they were hoping that they'd be able to get back into the playoffs.  That hasn't happened and they instead find themselves in last place in the Central Division with some intriguing decisions to make over the next few days.
Record
26-26-8, seventh in the Central Division
Deadline Status
Seller
Deadline Cap Space
$13.068MM in a full-season cap hit (using LTIR), 0/3 used salary cap retention slots, 47/50 contracts per CapFriendly
Upcoming Draft Picks
2020: CHI 1st, CHI 3rd, CHI 4th, CHI 5th, CHI 6th
2021: CHI 1st, CHI 2nd, CHI 4th, CHI 5th, CHI 6th, CHI 7th, MTL 7th
Trade Chips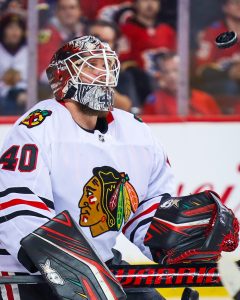 The Blackhawks have known all season long that there is a looming decision that needs to be made between the pipes.  Both Robin Lehner and Corey Crawford are slated to hit unrestricted free agency this summer.  Both envision themselves as starters so the odds of them both re-signing are low.  If they decide which one to go with now, they could presumably deal the other, allowing them to turn around and deal the other.  In particular, Lehner would be a very interesting addition to the trade market as there are teams looking for upgrades and others looking for injury insurance.  He kiboshed the notion of signing a discounted deal to stay earlier in the season so if GM Stan Bowman has reservations about being able to sign him, Lehner could certainly be on the move.
Defenseman Erik Gustafsson is also drawing some interest.  He's one of the top offensive threats from the back end that's available and with a $1.2MM cap hit, he's also one of the most affordable from a salary cap perspective.  That should make him one of the more coveted players around the league over the next few days.  He was held out of the lineup on Friday night, presumably to guard against the possibility of an injury.
Some of their lesser-used young players could also be in play.  Center Matthew Highmore has played in 26 games this season but is more of a depth player for them than a building block for the future.  Defenseman Slater Koekkoek is in a similar situation.  Winger Alexander Nylander has shown some flashes offensively but consistency continues to plague him.  They may be more inclined to hold onto him over the others but he could certainly be in play as well.  Veteran forward Zack Smith is someone they've been trying to move this season but with another year left at $3.25MM, that could be tricky.
Five Players To Watch For: D Erik Gustafsson, F Matthew Highmore, D Slater Koekkoek, G Robin Lehner, F Zack Smith
Team Needs
1) Cap Space: This might seem odd given their above cap room but that's with LTIR.  Their actual cap room is closer to $150K.  Chicago has several young players that are going to be hitting some of their bonuses including Dylan Strome, Dominik Kubalik, and Alex DeBrincat.  If they don't free up some more cap room, they will be facing a sizable bonus overage penalty heading into next year.  Shedding some salary and freeing up some wiggle room for those bonuses will be quite important.
2) Draft Picks: For a team that missed the playoffs last year and is out of the picture again this year, they aren't exactly loaded with draft picks.  They had six last season and only five this year as things stand.  The Blackhawks have done a good job integrating several young players into their lineup (35% of their skaters on the active roster are on entry-level deals) but they will need to get that next wave of youngsters behind them.  Accumulating more picks is a good way to accomplish just that.
Photo courtesy of USA Today Sports Images.