With the trade deadline now just a few days away, we will be taking a closer look at the situation for each team over the coming weeks.  Where do they stand, what do they need to do, and what assets do they have to fill those needs?  Next up is a look at the Washington Capitals.
The Capitals have missed the playoffs just once in the past 12 seasons, so it should come as no surprise to hear that they're in the mix for the division lead once again and looking to add at the deadline. They already made one move to acquire Brenden Dillon, but could there be more on the way?
Record
37-17-6, second in the Metropolitan Division
Deadline Status
Buyer
Deadline Cap Space
$1.08MM in a full-season cap hit, 0/3 used salary cap retention slots, 46/50 contracts per CapFriendly.
Upcoming Draft Picks
2020: WSH 1st, WSH 3rd, ARI 3rd*, WSH 4th, WSH 5th, WSH 6th
2021: WSG 1st, WSH 2nd, WSH 4th, WSH 5th, VGK 5th, WSH 6th, WSH 7th
*If the Capitals win the Stanley Cup this season, they will give San Jose the 2020 ARI 3rd instead of their own 2021 3rd as part of the Dillon trade.
Trade Chips
One of the things that GM Brian MacLellan has been known for throughout his time leading the Capitals is protecting his own first-round picks. Just once has the Washington executive spent that top selection at the deadline, back in 2017 as part of the package for Kevin Shattenkirk. Given how that experience went, it's not surprising to see the Capitals sitting with their first-rounder in tact as the deadline approaches.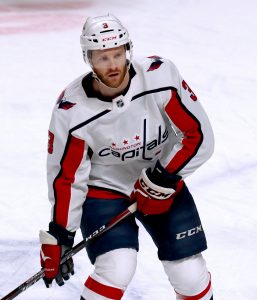 While that doesn't mean it is off limits entirely, the Capitals aren't really in a position to bring in an impact player without removing some salary anyway. They convinced the San Jose Sharks to retain some of Dillon's hit, but that still doesn't give them a ton of wiggle room.
If salary has to move out, look no further than the defensive group that Dillon was brought in to shore up. Nick Jensen's name has been thrown around recently, while Michal Kempny hasn't had quite the same impact this year as he did when they first acquired him. Radko Gudas however is one to keep an eye on, given his apparent scratching for tomorrow's game. Gudas was an extra at practice and is on an expiring contract.
If Washington is to get involved in another deal it may also take some prospect capital to get it done. Trading Connor McMichael at this point is a ludicrous proposition, but perhaps some of their lower-level names could be had. All of that is predicated on the idea that they actually get involved on one of the bigger names however, something that certainly may not happen at this point.
Five Players To Watch For: D Nick Jensen, D Radko Gudas, D Christian Djoos, F Travis Boyd, G Pheonix Copley
Team Needs
1) Bottom-Six Depth: To be honest, there aren't a lot of obvious ways to improve the Capitals now that they've addressed (or tried to address) the issue on defense. The only other thing that seems likely is adding in some more depth at the bottom of their forward group, perhaps in the form of a player with some more experience. Pierre LeBrun of The Athletic at one point suggested (subscription required) Trevor Lewis as a potential fit, given he brings some positional versatility and Stanley Cup history.
2) PP2 Quarterback: This isn't really a need for the club, but something that may be considered should they be after something this weekend. There is no doubt that the first unit in Washington is a masterpiece, but Dmitry Orlov's group hasn't been as effective. If the team ended up moving out a player like Jensen, perhaps they would consider bringing back someone with a little more offensive flair who could be sheltered at even-strength.
Photo courtesy of USA Today Sports Images.