With the trade deadline now less than two weeks away, we will be taking a closer look at the situation for each team over the coming weeks.  Where do they stand, what do they need to do, and what assets do they have to fill those needs?  Next up is a look at the Philadelphia Flyers.
They changed their coach, bringing in a veteran in Alain Vigneault. They changed their defense, bringing in veterans Matt Niskanen and Justin Braun. They even changed the center position, spending $50MM on veteran Kevin Hayes. Unfortunately all that change has the Philadelphia Flyers exactly where they've been for nearly a decade—fighting to barely make the playoffs.
Obviously that opening paragraph is a bit of a pessimistic look at the Flyers season, given that they currently have their best points percentage since 2011-12, but their tenuous grasp on a Metropolitan playoff spot will inform the upcoming trade deadline. The team is just a single point ahead of the New York Islanders, Carolina Hurricanes and Columbus Blue Jackets, meaning this trade deadline could really decide who gets the final divisional spot.
Record
33-20-7, third in the Metropolitan Division
Deadline Status
Buyer
Deadline Cap Space
$1.33MM in a full-season cap hit (using LTIR), 1/3 used salary cap retention slots, 48/50 contracts per CapFriendly
Upcoming Draft Picks
2020: PHI 1st, PHI 2nd, PHI 4th, NSH 4th, PHI 5th, PHI 6th, PHI 7th, MTL 7th
2021: PHI 1st, PHI 2nd, PHI 3rd, PHI 4th, PHI 5th, PHI 6th, PHI 7th
Trade Chips
The first thing to mention when talking about how the Flyers might go about the deadline is cap space, or lack thereof. Not only is the team extremely tight to the cap right now, they also have Nolan Patrick looking like he will return off long-term injured reserve at some point. That doesn't completely rule out any moves, but it might mean they have to move a roster player or two if any big additions are to be made.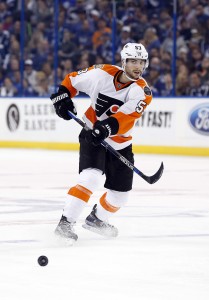 With that in mind, it's hard to not immediately think of Shayne Gostisbehere once again. The 26-year old defenseman has another three years on his current deal that carries a $4.5MM cap hit, but has been nowhere near the rookie who put up 17 goals and 46 points in 64 games or the third-year player who scored 65. In fact, Gostisbehere has just 12 points this season in 41 games and has seen his playing time drastically reduced. You can bet that other teams are wondering if they could buy low on Gostisbehere and try to coax out that first-pairing puck-mover again, but his contract and history make it a complicated deal.
Defense however is an interesting position to watch with the Flyers, given just how many young options they have in the organization. Look past Niskanen and Braun for a moment and you'll see six other players 26-or-under that can handle (or even dominate) NHL minutes. If one of them had to go, even if it wasn't Gostisbehere, the Flyers could still have a strong depth chart moving forward.
Even past those young rostered defensemen are some top-end prospects on defense in Yegor Zamula, Cam York and Adam Ginning (though the latter has taken a step backwards this season) which makes things even more expendable. It's hard to see them moving Zamula or York at this point, but you can bet teams would be trying to pry something out of the Philadelphia system.
Goaltending prospects may also be a group to watch, given that the Philadelphia net will belong to Carter Hart for the next decade or more. Kirill Ustimenko and Felix Sandstrom are both high-upside goaltenders in the system that may be coveted, even if they are still relatively far from NHL duty.
Five Players To Watch For: D Shayne Gostisbehere, D Robert Hagg, F Michael Raffl, D Adam Ginning, D Mark Friedman
Team Needs
1) Center Depth: A lot of this depends on the health of Patrick, who has been practicing with the team of late. It's not clear when the young forward will be back from his migraine issue, but even when he does the team could probably still afford an upgrade down the middle. It's why Jeff Carter's name has been thrown around recently, even if a deal of that magnitude would be difficult given their current cap situation.
2) Top-Six Winger: In a perfect world, adding another high-flying winger like Chris Kreider might appeal to the Flyers as well, given the fact that the team has just one player with 20 goals on the year. They can score with a deep offensive group, but when Oskar Lindblom was ruled out for the year, one of their most talented pure goal scorers was ripped from the roster. Again, it might be tough acquiring someone like this given their salary restraints, meaning it would have to probably be a bigger deal than just draft picks for a rental.
Photo courtesy of USA Today Sports Images.