The Vegas Golden Knights have hired two new assistant coaches to join head coach Bruce Cassidy's staff for next season: former Montreal Canadiens head coach Dominique Ducharme, and Henderson Silver Knights assistant and 726-game NHL veteran Joel Ward.
Vegas GM Kelly McCrimmon issued a statement on the hires:
We are extremely pleased with the additions of Dominique and Joel to our coaching staff here in Vegas. Dominique brings a wealth of coaching experience into our organization and has proven to be a successful leader at multiple levels. Joel has excelled in Henderson during the first three years of his promising career as a coach and we're excited for him to be taking his next step with us.
The Golden Knights have two open spots to fill on Cassidy's staff after Ryan Craig was named head coach of their AHL affiliate, the Henderson Silver Knights, and Misha Donskov departed the organization. Now, Ducharme and Ward will join John Stevens as Cassidy's assistants for next season, a campaign where Vegas will look to defend its first-ever Stanley Cup championship.
In Ducharme, the Golden Knights are adding the head coach responsible for the team's most recent playoff elimination. Ducharme's 2020-21 Montreal Canadiens are the most recent team to win a playoff series against Vegas, having dispatched them in the 2021 Stanley Cup Semifinals.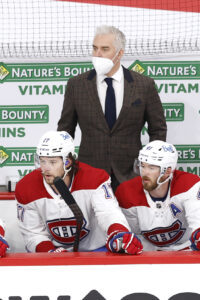 Although Ducharme's ability to coach his underdog Canadiens team in person was compromised by a COVID-19-related absence, he won the franchise a Clarence S. Campbell Bowl and led it to its first Stanley Cup Final since 1993.
Ducharme never got a full season coaching the Canadiens, though, as he took over for Claude Julien mid-season in 2020-21 and was fired in the middle of the following season after managing just eight wins in 45 games.
While it's clear Ducharme was dealt an extremely poor hand after the Canadiens' long playoff run, (franchise pillars Shea Weber and Carey Price each would see their playing careers almost certainly ended by injury) his Canadiens won just 15 of 38 games before their miraculous run.
Players such as Cole Caufield and Samuel Montembeault struggled immensely in 2021-22 under Ducharme but emerged as key Canadiens contributors since his departure, and Ducharme's development of Caufield in particular drew him significant criticism in the Montreal market.
But even though Ducharme's reputation took a significant hit in 2021-22, it's worth noting that he was held in relatively high regard before that point. He was an extremely successful coach at the junior level, leading the Halifax Mooseheads to a Memorial Cup and Team Canada to a silver medal at the 2017 IIHF World Junior Championships and gold at the 2018 WJC.
Ward, on the other hand, doesn't possess nearly as extensive of a coaching resume as Ducharme but has earned this promotion on the back of three seasons of hard work as an assistant coach for the Golden Knights' AHL affiliate. Ward has been with the Silver Knights since their very first season and with his help they've delivered several NHLers to Vegas, including Logan Thompson, whose name is now on the Stanley Cup.
Should Ward manage to help Vegas to some successful seasons while he's on Cassidy's staff, or perhaps even another Stanley Cup title, the widely-respected longtime NHLer could see himself become a hot candidate for an NHL head coaching vacancy.
Photos courtesy of USA Today Sports Images