Back in July, Darren Dreger of TSN reported that the finishing touches were being put on an agreement between the AHL and CHL that would allow some ineligible players to spend the 2021-22 season in the professional ranks. Normally, players drafted out of the CHL are not eligible to play in the AHL until they are 20 years old. This one-time exception would only come into effect for those players who took part in at least 20 AHL contests during 2020-21 when their respective CHL teams were not operating.
While there has been no official announcement of the rule, the last few days have seen several transactions that suggest it is now in effect.
This week, the Anaheim Ducks and Colorado Avalanche assigned Jacob Perreault and Jean-Luc Foudy respectively to their AHL affiliates. Neither player would normally be able to report, given their OHL seasons are about to start. In fact, Perreault's Sarnia Sting and Foudy's Windsor Spitfires are set to play each other tomorrow evening on the league's opening night. The junior league won't have the talented forwards as both played more than 25 games in the AHL last season and will head back there to continue their development.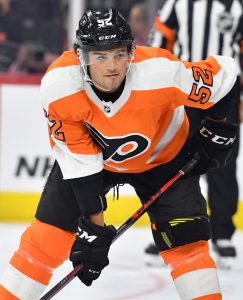 Today, the Philadelphia Flyers have completed a similar move, sending 19-year-old forward Tyson Foerster to the Lehigh Valley Phantoms. Foerster played 24 games or the AHL last season, while his Barrie Colts were stuck in limbo like the rest of the OHL. The Flyers will be able to do the same thing with Zayde Wisdom who played 28 games for Lehigh Valley last season, though he is still out following his recent shoulder surgery and has not been reassigned yet.
These are all huge losses for the CHL, but pretty substantial gains for the AHL. Each young player has found success early on at the professional level, once again suggesting that there should be an exemption of some sort for those deemed exceptional moving forward. There's obviously a reason why the Flyers, Ducks, and Avalanche feel the best thing for their development is playing at the AHL level, as they still did have the option to send them back to junior. One thing to point out is that those players loaned back to their junior clubs are ineligible for recall to the NHL all season except under emergency conditions, but one can assume that these expected players would be eligible for a call-up if necessary as they play in the AHL.
There are several other names that could find themselves in the AHL ahead of time, including Cole Perfetti of the Winnipeg Jets, Quinton Byfield of the Los Angeles Kings, and Donovan Sebrango of the Detroit Red Wings. Jan Mysak, who was also eligible for the AHL according to this exemption, was loaned back to the Hamilton Bulldogs of the OHL earlier this month while Ryan O'Rourke was sent back to the Soo Greyhounds early in Minnesota Wild camp.
Photo courtesy of USA Today Sports Images