October 3: Darren Dreger of TSN has reported that the final contract structure of both deals is as follows:
Pettersson
2021-22: $3MM salary + $1MM signing bonus
2022-23: $7.8MM salary
2023-24: $10.25MM salary
Hughes
2021-22: $4MM salary
2022-23: $6.5MM salary
2023-24: $8.6MM salary
2024-25: $9.5MM salary
2025-26: $10.25MM salary
2026-27: $8.25MM salary
October 1: TSN's Pierre LeBrun reports that the Vancouver Canucks have agreed to terms on multi-year deals with restricted free agents Elias Pettersson and Quinn Hughes. Pettersson's deal is for three years at an average annual value of $7.35MM, while Hughes' deal is for six years at $7.85MM. LeBrun says that the contracts themselves have yet to be finalized.
Sportsnet's Satiar Shah was the first to report last night that Hughes' deal would be six years in length, while The Athletic's Rick Dhaliwal reported a three-year deal for Pettersson.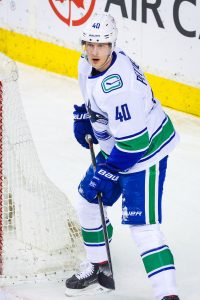 Pettersson's three-year commitment comes after scoring 153 points in just 165 games during his first three seasons in the league. The fifth-overall pick in the 2017 NHL Draft continues to be regarded as a top-ten center in the league by some, but injury issues this season limited his production (and negotiation leverage) with 21 points in 26 games. Winner of the 2019 Calder Trophy, Pettersson's contract is certainly of spectacular value to the Canucks at this time. The scoring and two-way game Pettersson brings to the table both make it seem like he's earning about $1.5-$2MM less than he should.
Hughes, a year younger than his forward counterpart, has had a near equal amount of success and accolades throughout his young career. While the soon-to-be-22-year-old has only two full NHL seasons under his belt, his 53 points in 68 games (along with 21:53 average time on ice) in 2019-20 were good enough to place him second in Calder Trophy voting, even earning some Norris Trophy votes along the way. While his defensive game stumbled slightly this year, the point production kept up with 41 points in 56 games. A long-term commitment is key here for Vancouver, ensuring some cost certainty at a reasonable cap hit while he continues to develop.
Concerns were aplenty surrounding Vancouver's ability to fit both Pettersson and Hughes under an $81.5MM salary cap this season, but with forward Micheal Ferland headed to long-term injury reserve, general manager Jim Benning appears to have successfully manipulated a tight financial situation. CapFriendly projects a current cap hit of $82.9MM with a full 23-man roster for the Canucks, exceeding the salary cap by much less than Ferland's $3.5MM cap hit. While the specifics of how Vancouver can maximize cap relief haven't been hammered out quite yet, they'll at least rest now knowing they'll be compliant for the start of the season.
These contracts set up an important season for this Canucks core, as they look to return to the playoffs after a surprise run in 2020. Pettersson will likely be reprising his role as the team's first-line center, being flanked by J.T. Miller and Brock Boeser. The secondary scoring's been bolstered by the addition of Conor Garland, while young wingers Nils Hoglander and Vasily Podkolzin could make big impacts.
Hughes comes in as the undisputed number one defenseman on the team after Alexander Edler's departure in free agency to the Los Angeles Kings. While the additions of Oliver Ekman-Larsson and Tucker Poolman to the blueline have been controversial from an outside perspective, the team still hopes bounce-back campaigns are in order for both of them. Hughes' ice time will undoubtedly increase from the 22:48 he played last year, becoming an increasingly important fixture within the team.