The reports of Carey Price's demise have been greatly exaggerated. Montreal Canadiens GM Marc Bergevin took to the podium today to speak with the media and indicated that the veteran goaltender will see doctors to examine some injuries, but the team isn't expecting anything major. Bergevin gave an estimate of six-to-eight weeks recovery and noted there was a "small percentage" that it would be longer, once they determined the extent.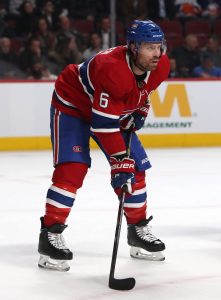 Price was left unprotected in the recent expansion draft, and rumors had been swirling that he might miss part of next season thanks to hip and knee injuries. That seems unlikely now, though at his age–Price will turn 34 in a few weeks–things can obviously change quickly.
Bergevin also spoke about Shea Weber, with much less confidence he will ever return to the Canadiens lineup. As Eric Engels of Sportsnet tweets, Weber is dealing with injuries to his ankle, foot, knee, and thumb and will not play next season. Bergevin even noted that he "probably won't be back for his career."
If it is indeed the end for Weber, it comes directly after the longest playoff run of his career, captaining the Canadiens all the way to the Stanley Cup Finals. The 35-year-old defenseman has played in 1,038 regular season games, racking up 224 goals and 589 points. Weber sits 15th all-time in goals from a defenseman and could very well be headed for the Hall of Fame when he officially retires.
That likely won't be for some time though, as there are still five years left on Weber's contract. His injury status should give the team grounds to move him to long-term injured reserve for those years, allowing Weber to collect the $12MM still owed to him. It would also give the team some added cap flexibility, but obviously takes an important piece of their lineup out.
His will still be a story to follow closely, if only because of the cap recapture penalties that could be enforced on the Nashville Predators if Weber retires before his contract expires. Remember though, recapture penalties were changed in the last CBA, meaning that no single-year penalty can be greater than the contract's cap hit. It means, instead of the $24.5MM penalty that Nashville potentially faced if Weber retired in 2025, they would instead incur penalties of $7.85MM for three years, and then $1MM in 2028-29. Not exactly ideal still, but at least not completely crippling.
After Price and Weber were discussed, Bergevin moved to Jonathan Drouin, who took a leave of absence from the team earlier this year. The Canadiens GM was happy to report that Drouin is ready to return for the 2021-22 season, and specifically noted the connection between the talented forward and head coach Dominique Ducharme, going back to their days in the QMJHL. Drouin has two years left on his contract with Montreal and carries a $5.5MM cap hit.
Photo courtesy of USA Today Sports Images