The Vegas Golden Knights have signed defenseman Brayden McNabb to a four-year, $10MM extension. McNabb was set to become an unrestricted free agent at the end of the year. The $2.5MM cap hit is a raise over his current $1.7MM contract, and will carry through the 2021-22 season. The deal contains no signing bonuses, and the salary breaks down as follows:
2018-19: $3.0MM
2019-20: $2.5MM
2020-21: $2.5MM
2021-22: $2.0MM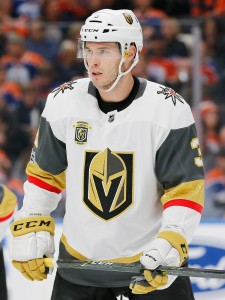 McNabb, 26, has become an integral piece for the Golden Knights. Always a strong possession player in Los Angeles, McNabb was never asked to log big minutes for the Kings as they had several defenders ahead of him in the depth chart. That showed once again when they left him unprotected, only for Vegas to snatch him up and immediately give him a much more important role. McNabb has been averaging close to 20 minutes a game for the Golden Knights, and has given them a dangerous physical presence on the blueline.
This extension marks truly the first long-term contract handed out by the Golden Knights, as Erik Haula's three-year deal was the previous longest. Reilly Smith, the only other player under contract with Vegas past 2019-20, had already agreed to his five-year extension with the Florida Panthers before he was traded at the expansion draft. That should give a clear message to McNabb that they want him as part of the Golden Knights core going forward. GM George McPhee said as much to Jesse Granger of the Las Vegas Sun:
McNabb is a very good defensive defenseman. He's got a long stick, and is good with his stick. He's locked down some top opposing players for us and we hope he's here for the rest of his career.
The $2.5MM cap hit is one that should excite Vegas fans. If McNabb can reliably hold down a top-4 spot for the Golden Knights through the duration of the contract, he'll make a remarkably affordable asset for the team. As we discussed earlier today, Vegas could be huge players in the 2019 free agent class and to do so they'll need contributors on relatively inexpensive deals throughout the rest of the roster. Even if McNabb is relegated to fewer minutes and the third pairing, $2.5MM is a reasonable amount to pay.
In fact, it already compares favorably to some other third-pairing options around the league. Kevan Miller in Boston signed a similar four-year, $10MM contract in 2016 and logs fewer than 19 minutes a night for the Bruins, while Michael Stone is earning $3.5MM for this and another two seasons from the Calgary Flames to play fewer than 17. McNabb doesn't have a huge resume of top minutes, but if the early season is any indication this contract may turn out to be a steal for the Golden Knights.
Photo courtesy of USA Today Sports Images