With the trade deadline quickly approaching, we continue our closer look at some of the players who have a good chance of being on the move between now and April 12th.
It has been a rough ride for players in Detroit in recent years but one of the few exceptions has been goaltender Jonathan Bernier.  The 32-year-old netminder put up respectable numbers in his first two seasons with the Red Wings but has played quite well this season, putting up a winning record on a team that has lost 26 of 38 games so far.  While the goalie market is usually soft around the trade deadline, Bernier's performance has been good enough to make him a viable trade candidate over the next week and a half.
Contract
Bernier is in the final year of a three-year, $9MM contract with a $3MM AAV and a $2.5MM salary.  The deal does not contain any form of trade protection.  He will be an unrestricted free agent at the end of the season.
2020-21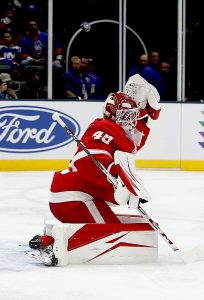 When Detroit signed Thomas Greiss to a two-year deal last fall, the intention seemed to be to platoon him and Bernier with Greiss expected to do better than Jimmy Howard's poor showing a year ago.  Greiss has done that but not by much.  As a result, Bernier – when healthy – has been the clear-cut number one in terms of performance although the veterans have still largely alternated starts when both are available.
Among goalies with at least 10 starts this season, Bernier is 17th in save percentage.  That may not seem impressive but when you consider the quality of the team in front of him, being in the top-20 is certainly notable.  Considering that potentially interested teams aren't likely to view Bernier as a starter but rather an upgrade on their backup position, having a second option performing that well becomes quite intriguing.
It's worth noting that Bernier was placed on IR earlier this week due to a leg injury that has kept him out for the past two weeks.  That was more of a procedural move for roster space than a sign of his recovery as he has returned to practice and is expected to be back soon.  It's the second time that he has missed time due to injury this season.
Season Stats
17 GP, 8-6-0 record, 2.78 GAA, .918 SV%, 0 SO
Potential Suitors
There are two types of teams that look for goalie help around the deadline.  The first is those that have had an injury and need a replacement (or at least someone to get them through the time until the injured goalie gets back) and the other is a team with playoff aspirations that is in the mix in spite of poor goaltending.  This year, there are teams in both categories.
Among the teams with injuries, Colorado stands out.  Pavel Francouz has missed the entire season and while Philipp Grubauer has been nothing short of outstanding, they can't keep playing him at the rate they have been if they want to keep him somewhat fresh for the playoffs.  Hunter Miska wasn't the solution and neither is the recently-acquired Jonas Johansson.  With there being no real update on Francouz's situation, a proven backup is certainly needed and the Avs are certainly familiar with Bernier from his time with them in 2017-18.
Tristan Jarry's injury in Pittsburgh and Frederik Andersen's issue in Toronto also have to be monitored.  Both teams would undoubtedly like to focus their limited cap space to try to fill another need but if the prognosis isn't good for them, those teams may have to pivot.  Jarry has resumed light skating although Andersen hasn't.  Arizona is viewed as a possible seller but they are hanging around the playoff race despite being without both Darcy Kuemper and Antti Raanta.  If they decide not to sell, they could be an outside suitor for him as well.
Then there are the teams that are in the mix but could use an upgrade despite their goalies being healthy.  The Flyers have already been linked to Bernier and have both Carter Hart and Brian Elliott scuffling as of late; it has become a situation where Bernier could potentially come in and start.  I'd also put Chicago in this situation.  Kevin Lankinen has done well but Malcolm Subban has been a bit erratic in his limited action and can't really be relied upon in a playoff race.  Bernier would give Lankinen a capable veteran to work with while Chicago would get much more consistent backup play.  St. Louis and Washington could also use a veteran backup but their cap situations complicate things.
Likelihood Of A Trade
Assuming Bernier is able to return from his injury as planned, there are still two ifs at play.  The first is Detroit's willingness to retain money.  Considering they have plenty of cap room and no retained salary slots on the books, that one seems like a yes.  However, the second is entirely out of their control.  If Florida decides to make Chris Driedger available with Spencer Knight now signed, Driedger immediately jumps to the top of the wish list for any team looking for a goalie and at $850K, he's much more affordable than Bernier even with maximum retention.
The rental goalie market is often tricky to predict as returns have often been lower than expected in recent years on the rare occasions that one does move.  There are definitely a few teams that could benefit from his services and even if Detroit wants to re-sign Bernier, they can still take a run at that this summer in free agency.  This feels like a situation where the actual odds of him moving are lower than they should be.  If GM Steve Yzerman can get a reasonable offer, Bernier should move but a lot will depend on Florida as to whether or not that happens.
Photo courtesy of USA Today Sports Images.