The Buffalo Sabres are the focus of plenty of trade speculation these days, but much of it is centered around the forward group. Jack Eichel will continue to draw plenty of chatter until the Sabres actually put a winning team around him, Jeff Skinner was just made a health scratch despite earning more salary than nearly every other left winger in the league, and Taylor Hall is on a one-year deal that could be cashed in at the deadline.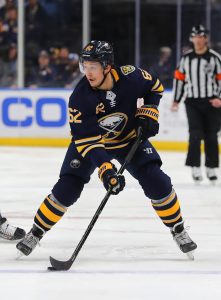 But it's not the forwards that are making headlines today. Elliotte Friedman of Sportsnet reports that Brandon Montour is available, as he also is scheduled for unrestricted free agency after signing a one-year, $3.85MM contract in the offseason.
Montour, 26, has been something of an enigma for years. Originally selected 55th overall in 2014 by the Anaheim Ducks, he quickly climbed the ranks thanks to an outstanding offensive ceiling. In 2015-16, his first full season of pro hockey, the young defenseman scored 57 points in 68 games for the San Diego Gulls. He followed it up with a near point-per-game pace the next season, before eventually getting the call to the NHL.
Once at the highest level, he continued to produce offensively, though his defensive play was still a little suspect. Montour had 32 points in his first full NHL season, including scoring five powerplay goals. It looked like he would be a pillar of the Anaheim blueline for years, even if some of the others might have to carry some of the defensive load.
Instead, Montour found himself traded to the Sabres in 2019 for a first-round pick and prospect Brendan Guhle. In Buffalo, his minutes have stayed high but the offense has dipped, and since the team is in another losing season, he seems likely to be cashed in at the deadline.
It seems very unlikely that the Sabres will be able to recoup the assets they spent on Montour, but trading him at some point this season would at least get them a little bit back. Friedman gives no inkling to where he could end up (except for a tiny connection to the Arizona Coyotes, who might be looking for rentals at the deadline), but right-handed, puck-moving defensemen are always in high demand at the deadline. If Montour came with a reasonable extension, he might be even more valuable.
Photo courtesy of USA Today Sports Images