With the trade deadline quickly approaching, we begin our closer look at some of the players who have a good chance of being on the move between now and April 12th.
Just two years ago, it looked like Buffalo had brought in a core piece to their back end.  Even though they were out of playoff contention, they shipped a late first-round pick and prospect Brendan Guhle to Anaheim to bring in Brandon Montour.  Montour, then 24, was in the midst of a career season and while he was a bit of a late-bloomer, it looked as if the Sabres had a top-four defender in place for the foreseeable future.
Since then, things have spiralled in the wrong direction.  Montour has gone from a potential core player to a non-tender candidate last offseason to one that doesn't appear to have a future with Buffalo.  He fit with the Ducks and clearly, under multiple coaches now since joining them, he doesn't fit with the Sabres and as a result, is quite likely to be dealt having been made available for a couple of weeks already.
Contract
Montour is on a one-year, $3.85MM contract and will be an unrestricted free agent this summer.  His deal does not contain any trade protection.
2020-21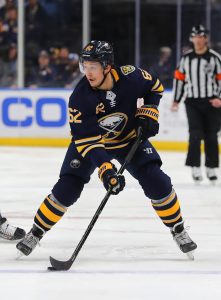 On the one hand, Montour – an offensive defenseman in Anaheim – has just one goal and four assists in 23 games this season.  That's not exactly high-level offensive production (or even average).  He's below the team average in possession stats and while this could be said about just about everyone in Buffalo's back end this season, his play in his own zone has been spotty at times.
On the other hand, Montour is still a right-shot defender that averages more than 20 minutes a game and takes a regular turn on the penalty kill.  This is not a commodity that is easy to get around the trade deadline.  His offensive downturn can also in part be explained by the fact he does not see any regular time on the man advantage.
Is Montour a true top-four defender on a contender?  Probably not but there will be teams viewing him as a third-pairing upgrade with the ability to move up in certain matchups or when injuries arise.  Despite the negativity surrounding him – and there has been plenty of it – this is still a profile of a fairly useful player and he should be viewed as such around the league.
Season Stats
23 GP, 1 goal, 4 assists, 5 points, -11 rating, 14 PIMS, 41 shots, 20:54 TOI, 47.3 CF%
Potential Suitors
The majority of the league can't afford to take on Montour's salary outright and would require some sort of offset either by retention or taking another contract back (or even both).  He's hardly the only player who will be in this situation though.
Chicago is one of the teams that can afford him due to their huge LTIR pool and considering they're seven points up on a playoff spot, adding to their group would certainly help.  They've used several young defensemen this season with varying degrees of success but there's a difference between finding playing time for someone in the regular season versus being in that spot in the playoffs.  Montour would slide in onto their third pairing and give them some insurance while still being young enough where a good showing could put him in the mix to stick around as well.
Philadelphia hasn't really replaced Matt Niskanen with their offseason signing of Erik Gustafsson not really covering that role.  A cap offset would be needed but Montour would definitely boost their third pairing and he could conceivably fit in the top four given their shallower depth on the right side.
Winnipeg has a bit more right-side depth than Philadelphia but still has a void to fill defensively.  They're in a spot where their LTIR-created cap room is fixed (it doesn't bank like regular cap space) so unlike teams that may want to wait until closer to the deadline for additional flexibility, the Jets could pull a deal quicker but would also need an offset of some sort.  Calgary also has a need for a bottom-pairing upgrade but the offset would need to be significant given their lack of cap space; someone like Derek Ryan ($3.125MM, UFA) would likely need to be involved.
In the West, the Coyotes already have five pending UFAs on the roster but Montour would at least slide in ahead of a couple of them.  They're on the outside looking in at a playoff spot but only by a handful of points so if they hang around the race over the next few weeks, they could be an option and have the cap space.  If they falter though, they'd be off the table.
Likelihood Of A Trade
In this financial environment, it's hard to say anyone costing nearly $4MM has a high chance to be dealt due to cap and budgetary restrictions.  But the odds of Montour being moved are still high.  There are always teams looking for help on the back end and the Sabres have enough LTIR flexibility with Jake McCabe and Zemgus Girgensons out for the year to be creative in terms of retaining money and/or taking back expiring contracts.  They're not going to get back what they gave up but there should be enough of a market to net GM Kevyn Adams a decent pick or prospect as the rebuilding continues in Buffalo.
Photo courtesy of USA Today Sports Images.