With the trade deadline quickly approaching, we continue our closer look at some of the players who have a good chance of being on the move between now and April 12th.
It has been an interesting six months or so for Eric Staal.  First, he was surprisingly traded to Buffalo in the middle of the offseason for what seemed like a downgrade from Minnesota's standpoint in Marcus Johansson based on their respective 2019-20 performances.  Second, he has been involved in what has been nothing short of a disastrous season for the Sabres.
At this stage of his career, it's certainly not what he signed up for and from Buffalo's perspective, carrying a 36-year-old when the team is clearly going to be extending their rebuilding plans doesn't make a lot of sense either.  Accordingly, it looks like he'll be on the move before next month's trade deadline.
Contract
Staal is in the final season of a two-year, $6.5MM contract ($3.25MM AAV) with a $3MM salary.  Per CapFriendly, his deal contains a ten-team no-trade clause.  He will be an unrestricted free agent at the end of the season.
2020-21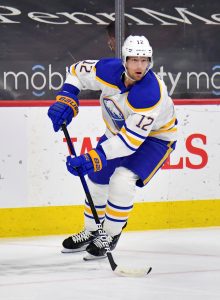 It has been an ugly year for Staal, to put it nicely.  When he was acquired, he seemed like a logical fit to provide some secondary scoring behind Jack Eichel while providing some veteran insurance for someone like Dylan Cozens to start out on the wing.  He has been in that role for most of the year but has done next to nothing offensively with just three goals.
To be fair, it has been an ugly year for just about everyone on Buffalo offensively as not a single player overachieving offensively with few living up to even modest expectations.  His power play time is down unsurprisingly and even his faceoff percentage is at the lowest rate in a decade.
Some players find themselves trade candidates based on an impressive performance that catches the eye of another team.  In Staal's case, he's on the list because there's basically nowhere to go but up.  That's a steep drop from someone who last season was a capable second-line center.
Season Stats
31 GP, 3 goals, 7 assists, 10 points, -20 rating, 8 PIMS, 55 shots, 15:26 TOI, 47.8 faceoff win percentage, 50.3 CF%
Potential Suitors
While he was a top-six player just a year ago, teams won't be viewing Staal as one now.  As a result, his best role is with a team that has an offensively-oriented third line.
In terms of best fits within the East Division, there aren't a lot of good ones.  The Islanders have cap space for a rental but have decent depth down the middle.  So does Boston although Charlie Coyle, their third-line center, has plenty of experience on the wing and could easily be shifted over.  Of course, improved depth down the middle is hardly their biggest need so Staal would only make sense if other options fall through.  Evgeni Malkin's injury could create an opening in Pittsburgh but most of their cap room is derived from Jason Zucker's LTIR and he's expected back before much longer so making the money work would be a challenge.
In the Central, Florida is a team that doesn't have the strongest center depth and would certainly benefit from adding a veteran to the mix.  They have the cap room to absorb Staal's deal without an offset although as a team that has typically been more of a budget one than a cap spender, they may still want Buffalo to either take a player back or retain on the contract.  His old team in Carolina would be a feel-good story and they have the cap space to make it happen although with Vincent Trocheck nearing a return, there isn't a pressing need for Staal either.
As for the North Division, Edmonton is known to be seeking some help down the middle – Frank Seravalli indicated as much in the latest Insider Trading for TSN (video link) – although Staal isn't a right-shot player like the Oilers are believed to be seeking.  They're a team that also would need to match money or require some retention to get a deal done.  With Vancouver's recent injuries, they could stand to add a center if they hang around the playoff battle over the next few weeks although with basically no cap room at all, making a move could be tricky.
In the West, a reunion with Minnesota makes some sense.  The Wild never really addressed their center depth after moving Staal and as someone familiar with the team and system, there's some added value you don't see with most rentals.  At the same time, he's not a huge upgrade based on his current performance and the salary cap element would be a bit challenging.
Likelihood Of A Trade
Considering Buffalo's situation, both sides would likely want a move to happen although there aren't a lot of good fits and even fewer that can afford him without matching some money.  Ultimately, Buffalo's willingness to absorb a contract or retain up to half of the contract will ultimately determine the outcome.  Right now, it's reasonable to think they'd be willing to do so which means Staal should be in another uniform by April 12th.
Photo courtesy of USA Today Sports Images.