With the trade deadline quickly approaching, we continue our closer look at some of the players who have a good chance of being on the move between now and April 12th.
For the past few years, Dmitry Kulikov's contract made it a foregone conclusion that he wouldn't be going anywhere at the trade deadline as teams didn't want a depth defenseman making more than $4MM.  But the 30-year-old isn't on that contract now and is now carrying a much more reasonable price tag.  Between that and the fact that the Devils are well out of the playoff picture, Kulikov the veteran blueliner could certainly be on the move in the coming weeks.
Contract
Kulikov is on a one-year, $1.15MM contract.  The deal does not contain any form of trade protection.
2020-21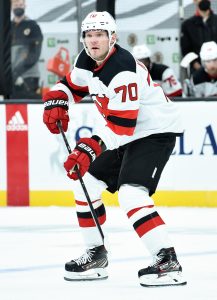 While it hasn't been a great year for New Jersey, Kulikov has had a decent season overall.  He sits fourth on New Jersey in ice time by defensemen and has split time between the second and third pairings.  He also has played heavy minutes on the penalty kill, anchoring their top unit.
From an offensive perspective, Kulikov hasn't done much.  While he has never been a top-notch point producer (his career high is 28), this has been his worst season in terms of points per game as he sits at just 0.06 (two assists in 31 contests).  While offense has never been his calling card, teams typically are expecting a bit more than that from even their stay-at-home options.
One element that may be intriguing to some teams is Kulikov's possession numbers which are the best of his career and one of the best on the Devils.  With half of a shortened season under his belt, it is a bit of a small sample size but as front offices become more analytically inclined, that's something that will work in his favor as a lot of depth defensive blueliners aren't typically on the positive side of possession.
Season Stats
31 GP, 0 goals, 2 assists, 2 points, -2 rating, 22 PIMS, 34 shots, 19:25 TOI, 54.0 CF%
Potential Suitors
While Kulikov has spent time on the second pairing with New Jersey, prospective buyers and playoff teams will likely view him as a more of a depth option, one that can play closer to 16 minutes per game.
In the East, the Islanders have some cap room with Anders Lee on LTIR and done for the year.  Clearly, their focus will be on adding a forward but assuming they don't spend all of their flexibility on that upgrade, GM Lou Lamoriello – a fan of extra defensive depth – could turn his focus to someone like Kulikov.  The Rangers and Flyers – teams tied in points but heading in opposite directions at the moment – could also stand to add some depth on the back end if they're still in the race closer to April 12th.
As for the Central, Chicago is another team with plenty of LTIR room.  While they're not necessarily in a spot where they'd be wise to spend big on rentals at the deadline, adding a capable veteran or two for a low price to give them some extra depth would be wise and Kulikov certainly fits that type of idea.
In the North Division, Winnipeg could stand to add more depth and has some familiarity with Kulikov from his time there so that can't entirely be ruled out.  Montreal is in a money-in, money-out situation but with Ben Chiarot out and Victor Mete struggling this season, there is a definite need for a short-term boost.  Calgary could use a boost on their third pairing with Nikita Nesterov scuffling offensively and they have enough cap flexibility that they may not need a salary offset.
St. Louis makes sense from the West Division with Carl Gunnarsson out for the year; Kulikov would, in theory, replace him.  The Blues will lose some of their LTIR flexibility once Colton Parayko returns although Oskar Sundqvist (ACL surgery) can be transferred there at any time.  Colorado is currently using Jacob MacDonald on an emergency loan, a role that Kulikov could certainly upgrade on.
Likelihood Of A Trade
With the Devils well outside of the playoff picture, there isn't much of a need to keep someone like Kulikov around, as much of a decent fit as he has been.  There are always teams looking for defensive depth for the stretch run and as one of the more affordable ones out there in terms of cap hit and salary, that works in New Jersey's favor.  As a result, there's a very good chance he moves with a mid-round pick coming the other way sometime in the next few weeks.
Photo courtesy of USA Today Sports Images.