With the trade deadline quickly approaching, we continue our closer look at some of the players who have a good chance of being on the move between now and April 12th.
It hasn't exactly been the year that the Columbus Blue Jackets would have hoped for. The team has struggled on offense and hasn't done a whole lot better on defense this season. Throw in some banged up goaltending and the Blue Jackets suddenly find themselves in sixth place in the Central Division with Dallas just behind them with four games in hand. That would suggest that this might be a good year to sell.
The team could find themselves ready to move on from defensive stalwart David Savard. The 30-year-old blueliner has been with the Blue Jackets for 10 years now, but while he's still quite effective, has seen his playing time dip a full minute from last season and as the defenseman's contract is ending, it might be time to move on from him.
Contract
Savard is in the final year of a five-year, $21.25MM contract he signed back in 2015. It has an AAV of $4.25MM with no trade protection.
2020-21
While Savard still is seeing top-four minutes, he has seen a decline in playing time. The blueliner is averaging 19:37 of ATOI this season, while he averaged 20:41 of ice time last season. While he averaged a minus-three in plus/minus last season, that number has gotten worse as he currently has a minus-15.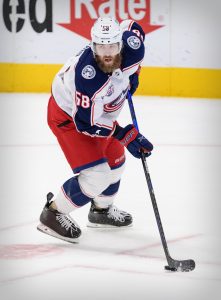 The right-shot Savard, however, does offer some solid penalty killing skills, which many playoff teams are often looking for at the deadline and would be a perfect fit for many teams in the league. He isn't an offensive threat and never will be considering his best offensive season in the last five years was a 24-point outing in 2018-19. He currently has five assists and is not on the power play.
Savard also offers some size to teams who might need it at 6-foot-2, 229 pounds and is an excellent shot blocker who can also dole out hits, again features many teams are looking for. He is also a humorous locker room presence. Savard has also looked stronger more recently and has reunited with partner Vladislav Gavrikov recently, who he played with last season.
Season Stats
34 GP, 0 goals, 5 assists, 5 points, -15 rating, 24 PIMS, 41 shots, 19:37 TOI, 43.6 CF%
Potential Suitors
Plenty of teams would be interested in Savard despite his AAV.
One team that would make sense would be the Florida Panthers. General manager Bill Zito has made a habit of picking up former Blue Jacket players and Savard might be a good fit in Florida as the team ramps up its efforts for a serious playoff run this year. While the team has some solid defense, the team can always use someone like Savard to provide much needed physicality and shot-blocking skills into their lineup.
With the lessening of the 14-day quarantine in Canada to just seven days, that could make it easier for Columbus to send Savard up North where several teams could be on the lookout for a defensive defenseman. Both the Toronto Maple Leafs and the Winnipeg Jets might make sense for Savard, although both teams are more likely to be looking for a bigger splash in Mattias Ekholm. However, Savard might make a solid consolation prize.
Even a team like Colorado or Vegas could be candidates for a low-key player such as Savard to help for an ultimate Stanley Cup run.
Likelihood Of A Trade
There is no guarantee that Savard would stay with the Blue Jackets if they elected not to trade him despite the fact that he's spent his entire career in Columbus. One other key factor is that even in sixth place, the Blue Jackets are only three points out of a playoff spot, although four teams are vying for that honor. That doesn't mean that general manager Jarmo Kekalainen is ready to trade off one of his top-four defensemen. However, with few picks in the last few drafts, the Blue Jackets should be cognizant of the fact that they still don't have a full slate of picks even this year as they are without a second-round pick, something the team might be able to pry off a team for Savard.
Photo courtesy of USA Today Sports Images.