With the trade deadline quickly approaching, we continue our closer look at some of the players who have a good chance of being on the move between now and April 12th.
For more than a decade, Alex Goligoski had been one of the more consistent secondary offensive blueliners.  From 2009-10 through 2019-20, the 35-year-old had just one year below 30 points while averaging more than 20 minutes of ice time per game.  It was reasonable to expect the same from him coming into this season.
However, that hasn't been the case at all which hasn't helped an Arizona attack that wasn't the strongest to begin with.  Now, the Coyotes find themselves out of a playoff spot with several veterans set to become unrestricted free agents.  If they wind up selling, he will be a name to keep an eye on.
Contract
Goligoski is in the final season of a five-year, $27.375MM contract ($5.475MM AAV) with a $4MM salary.  Per CapFriendly, his deal contains an eight-team no-trade clause.  He will be an unrestricted free agent at the end of the season.
2020-21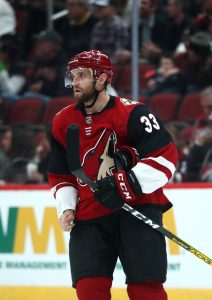 Goligoski had an assist in Arizona's season opener and since then, he has just one assist in a 30-game stretch.  This type of offensive drought is simply unprecedented for him and has certainly come at an inopportune time both in terms of trying to help his market value for free agency and his trade value for the Coyotes.
It's not all negative, however.  He has been an anchor on Arizona's top penalty killing unit, one that is well above the league average; it's that element that may be the most appealing to teams looking to upgrade on the back end.  He also has been more disciplined than usual with just four minor penalties despite logging more than 22 minutes per night so far.
Is that a great return on such a high price tag?  Certainly not but the fact remains that Goligoski is still a capable defender but this season, he has been more of a shutdown option than the two-way player he had been for so long.  Who knows, perhaps a change of scenery would help revive his offensive game as well?
Season Stats
31 GP, 0 goals, 2 assists, 2 points, -1 rating, 8 PIMS, 36 shots, 22:24 TOI, 46.6 CF%
Potential Suitors
Quite a few teams will be on the lookout for defensive upgrades although Goligoski's season and contract will have him a little lower on the wish list at this time.  However, as other options are either dealt or pulled off the market, they could pivot to him closer to the April 12th trade deadline.
In the Central, Chicago is a possible fit.  They have the cap space with Brent Seabrook (and others) on LTIR which makes them one of the few potential playoff teams that can make a move without requiring Arizona to retain money.  They've had varying degrees of success from their youngsters but if they are serious about trying to make the postseason, adding someone like Goligoski would upgrade their third pairing and penalty kill without costing much in terms of future assets.
Among East Division teams, Boston has been hit hard by the injury bug and has been going with a by-committee approach for most of the season.  Goligoski would give them a stable option on the third pairing at a minimum with the potential to move up if needed.  At this point, they're probably setting their sights higher in terms of a rental to pursue but if those don't pan out, they could pivot to Goligoski and depending on who returns between now and then, they may not need an offset as well.  A similar case can be made for Philadelphia who is believed to have interest in him if other moves don't pan out.
In the North, Winnipeg has a definite need to add to their back end, particularly on the left side.  However, they're already into LTIR and don't have enough room in there to absorb his full cap hit.  Unlike regular cap room, it doesn't accrue on a daily basis either so some sort of offset would be needed.  Montreal has a void to fill with Ben Chiarot out for six-to-eight weeks but with minimal cap space, making such a move work would be difficult.
As for the West, there isn't a great fit unless Los Angeles was to go on a bit of a run over the next few weeks to pull themselves into the race.  If that happened, they could benefit from a veteran like Goligoski on the back end and have more than enough cap space to bring him in.  If that doesn't happen though, Arizona will have to look outside the division for a trade partner.
Likelihood Of A Trade
Simply because of his contract, a Goligoski trade can't be pegged as a certainty.  There will be cheaper options to choose from (the Coyotes have several other veteran rentals with lower cap hits) and there is a possibility that by the time the dust settles, contenders opt for those lower-priced players and there isn't a fit for him.  However, Goligoski is better than quite a few of the other rentals out there even with the season he's having which is important.  A lot will depend on their willingness to retain salary and/or take a contract back to offset some of the money and if that happens, there's a better chance than not that he moves.
Photo courtesy of USA Today Sports Images.