Navigating the salary cap is one of the more important tasks for any GM.  Teams that can avoid total cap chaos by walking the tightrope of inking players to deals that match their value (or compensate for future value without breaking the bank) remain successful.  Those that don't see struggles and front office changes.
PHR will look at every NHL team and give a thorough look at their cap situation for the 2021-22 season and beyond with contract statuses as of the beginning of the year.  This will focus more on players who are regulars on the roster versus those who may find themselves shuttling between the AHL and NHL.  All cap figures are courtesy of CapFriendly.
Anaheim Ducks
Current Cap Hit: $70,352,981 (under the $81.5MM Upper Limit)
Entry-Level Contracts
D Simon Benoit ($809K this season)
D Jamie Drysdale ($925K through 2022-23)
F Trevor Zegras ($925K through 2022-23)
Potential Bonuses:
Benoit: $82.5K
Drysdale: $850K
Zegras: $850K
Total: $1.7825MM
Zegras has certainly outperformed his entry-level deal.  While they're still sheltering him a little, he's effectively Anaheim's top offensive center now and a centerpiece to build around for the future.  We've seen teams move quickly to try to sign these players to max-term contracts and it stands to reason that new GM Pat Verbeek will be doing so here.  Montreal's recent extension for Nick Suzuki (eight years at just under $8MM per season) is one that will inevitably come up in those discussions.  As for the incentives, he has a chance at reaching all four of his 'A' bonuses but other than time on ice, the other ones should come down to the wire.
Drysdale's first full NHL season has had some ups and downs but more of the former than the latter which is good for a 19-year-old blueliner.  He's another player Verbeek may want to sign to a long-term contract but unless Drysdale takes a big step forward next season, it may be difficult to find a price point where both sides are content with the risk (paying too much too soon for Anaheim and giving up on potentially higher earnings for Drysdale).  A short-term bridge deal could fall in the $4MM range while a long-term pact could be double that.  The youngster has a chance of getting two or three of his 'A' bonuses.  As for Benoit, he's logging light minutes in a depth role and players like that often sign their second contract for a fairly low AAV in exchange for one-way money.  He's a strong candidate for that type of deal.
Signed Through 2021-22, Non-Entry-Level
F Sam Carrick ($750K, UFA)
F Nicolas Deslauriers ($1MM, UFA)
F Ryan Getzlaf ($3MM, UFA)
F Ryan Kesler ($6.875MM, UFA)
D Jacob Larsson ($1.2MM, RFA)
D Hampus Lindholm ($5.206MM, UFA)
F Isac Lundestrom ($874K, RFA)
D Josh Manson ($4.1MM, UFA)
F Sonny Milano ($1.7MM, RFA)
F Rickard Rakell ($3.789MM, UFA)
F Buddy Robinson ($750K, UFA)
F Sam Steel ($874K, RFA)
Potential Bonuses:
Getzlaf: $1.5MM
Let's get Kesler out of the way first.  He's on injured reserve but is eligible for LTIR since he isn't coming back and his playing days are over.  They don't need to make that placement unless they're in need of cap space and they're not going to need that.  There has been some talk that a team already in LTIR may be interested in him to expand their LTIR pool so that's something to keep an eye on.
Getzlaf has had a nice bounce-back season.  He still isn't scoring much but his playmaking is still making him one of their better offensive contributors.  He'll be 37 in the spring and will likely be going year-to-year from here on out which will keep him eligible for incentives as he has now.  A similar contract for him in the summer is certainly reasonable.  Rakell is an interesting pending UFA when it comes to the trade deadline.  He has two 30-goal seasons under his belt but 2017-18 was the last time he scored that many times; it's also the last time he scored 20.  That makes his value a little difficult to pin down.  His career numbers say he's a scoring winger that's owed a nice raise but his more recent ones have him more of a second-line player in line for a smaller raise to around $4.5MM or so.
Despite suffering an upper-body injury that has kept him out for nearly a month, Milano already is having a career year despite his role not changing all that much.  He's eligible for salary arbitration with a $1.8MM qualifying offer.  His track record isn't the best which should limit an award but an extra million or so should be achievable.  Deslauriers is one of the last true enforcers in the league.  The need for them is dying down but he plays well enough to log a regular shift which should allow him to get a similar contract this summer.  Robinson and Carrick are serviceable role players but neither have done enough to command much more than the minimum at the NHL level.
Steel and Lundestrom both signed their qualifying offers as bridge contracts to try to prove themselves.  It has worked well for Lundestrom as he has become a regular in the middle six while playing full-time down the middle.  He isn't producing a lot so he's not going to want a long-term contract this summer but with arbitration eligibility, doubling his AAV is a realistic goal.  It hasn't worked well for Steel, however.  He hasn't produced enough to move into a more prominent role and he's not the type of player that thrives in a limited role.  He'll get a small raise but probably not much more than that.
Lindholm remains an under the radar number two defender.  His offensive numbers rarely stand out but he's no slouch at that end while being very strong defensively.   At 28, he's still young enough to command a max-term deal and with the role he plays, he can add a couple of million on his current price tag.  Manson is another significant rental on the back end.  However, he hasn't been able to duplicate the offensive output he had in 2017-18; he basically has as many points in parts of four seasons combined since then.  That will limit his market somewhat.  He's still physical, strong in his own end, and a right-shot defender so there will be plenty of interest but it would be surprising to see his price tag go much larger than $5MM.  Larsson has spent most of the season in the minors but gets a mention here as Anaheim can't clear his full contract off the books when he's with San Diego.  They may attempt to get him to sign for less than his qualifying offer to keep him around but otherwise, he's a non-tender candidate.
Signed Through 2022-23
F Max Comtois ($2.0375MM, RFA)
F Derek Grant ($1.5MM, UFA)
D Josh Mahura ($750K, RFA)
D Kevin Shattenkirk ($3.9MM, UFA)
G Anthony Stolarz ($950K, UFA)
F Troy Terry ($1.45MM, RFA)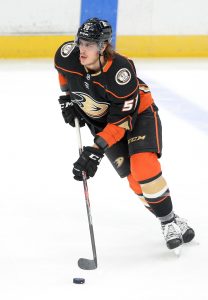 A year ago, Comtois was in the middle of a career year and led the Ducks in scoring.  It looked like he had established himself as a capable top-six power forward but the bridge deal showed some uncertainty as to whether he could play like that on a long-term basis.  That hesitance proved to be accurate as Comtois has struggled mightily this season and has gone back to more of a reserve role.  Lots can change but for now, a long-term contract in 2023 seems unlikely.  Instead, a one-year deal or a medium-term pact that buys out one or two UFA years may make more sense.  Grant is a serviceable depth center that's making too much for the role he fills.  He should be able to get another contract after this one but it should be closer to the $1MM mark.  As for Terry, he has clearly impressed this season and is Anaheim's leading scorer by a considerable margin.  All of a sudden, he has gone from a role player to a top liner and if he can keep this up, a long-term contract in the $6MM to $7MM range would become a serious option.
Shattenkirk has had a much better second season in Anaheim than his first, leading their defensemen in points while logging his usual 20 minutes per game.  He'll be 34 at the end of this deal and will be able to sign a multi-year deal without any 35+ risk.  Another three-year pact could be done around this price point with the expectation that he will need to play a bit of a lesser role by the end of it.  Mahura is a low-cost depth piece and will need to play his way into a regular spot in the lineup to have a chance to earn a bigger deal even with salary arbitration rights at that time.
Stolarz had been more of a depth goalie in the past which made it understandable that he took a low-cost two-year deal to give him some stability.  However, he has done pretty well this season and should have himself positioned for a bigger deal in 2023.  His path is somewhat similar to Laurent Brossoit who inked a contract with a $2.325MM AAV last summer.
Signed Through 2023-24
F Adam Henrique ($5.85MM, UFA)
F Max Jones ($1.295MM, RFA)
F Jakob Silfverberg ($5.25MM, UFA)
Henrique has had a nice bounce-back year after clearing waivers at one point last season.  He has adapted well to playing on the wing and has become a quality part of Anaheim's top six.  He's still not providing a great return on his cap hit and his next contract will undoubtedly be considerably less than this one but compared to how things looked last season, this is a nice step in the right direction.  The same can't be said for Silfverberg.  He's struggling to score despite heavy minutes and even his possession numbers aren't pretty.  The 31-year-old is better off as a bottom-six piece at this point and that's a pretty high price tag for someone that is best suited now to be a checker.  Jones is in the first season of a three-year bridge deal but has played just twice due to a torn pectoral muscle.  That makes this season a write-off but there's still enough time for him to outperform this deal.  He'll be owed a $1.5MM qualifier in 2024.