Navigating the salary cap is one of the more important tasks for any GM.  Teams that can avoid total cap chaos by walking the tightrope of inking players to deals that match their value (or compensate for future value without breaking the bank) remain successful.  Those that don't see struggles and front office changes.
PHR will look at every NHL team and give a thorough look at their cap situation heading for the 2021-22 season and beyond.  This will focus more on players who are regulars on the roster versus those who may find themselves shuttling between the AHL and NHL.  All cap figures are courtesy of CapFriendly.
Detroit Red Wings
Current Cap Hit: $69,670,981 (under the $81.5MM Upper Limit)
Entry-Level Contracts
F Lucas Raymond (three years, $925K)
D Moritz Seider (three years, $863K)
F Joseph Veleno (two years, $894K)
F Filip Zadina (one year, $894K)
Potential Bonuses
Raymond: $2.5MM
Seider: $850K
Veleno: $318.75K
Zadina: $850K
Raymond has been one of the top rookies in the league this season, hovering at or near the point per game mark as we approach the one-quarter mark.  Obviously, at that pace throughout his entry-level deal, he'd be bypassing the bridge deal altogether and signing a substantial long-term pact.  In the short term, he's well on his way to earning his $850K of 'A' bonuses while the 'B' ones (which aren't known publicly) will be difficult to get based on those options.  Zadina hasn't had anywhere the type of impact Raymond has despite being a high pick as well.  He's a regular but is still in the middle six and players like that typically wind up with a short-term prove-it deal; it's hard to think he'll be an exception.  On the bonus front, he might be able to land an 'A' bonus or two but maxing out is unlikely.  Veleno has been up and down in the early going this season which doesn't help his bonus chances.  He's a role player at this point and while that could change, it seems unlikely that will happen by next season so a bridge is likely for him as well.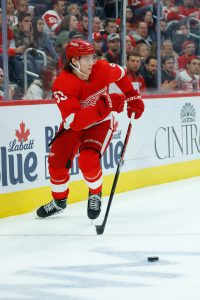 Seider's debut had long been anticipated and for good reason as he has wasted little time working his way into a significant role that sees him log significant minutes in all situations.  Offensively, he is one of the top-scoring blueliners in the league already.  A very strong rookie in his own right, he and Raymond could very well be battling it out for the Calder Trophy this season.  Seider is quite likely to reach his 'A' bonuses this season if he can stay healthy.  Looking further down the road, the 20-year-old basically feels like a lock to sign a long-term second contract that buys out some UFA years.  He is the pillar on the back end for Detroit to build around.
One Year Remaining, Non-Entry-Level
D Danny DeKeyser ($5MM, UFA)
F Robby Fabbri ($2.95MM, UFA)
F Sam Gagner ($850K, UFA)
G Thomas Greiss ($3.6MM, UFA)
D Nick Leddy ($5.5MM, UFA)
F Vladislav Namestnikov ($2MM, UFA)
F Carter Rowney ($825K, UFA)
D Marc Staal ($2MM, UFA)
D Troy Stecher ($1.7MM, UFA)
F Mitchell Stephens ($738K, UFA)
Fabbri is a particularly interesting case when it comes to his next contract.  He has been more consistent since joining Detroit after St. Louis traded him but he still has been more of a secondary scorer.  Add that to his lengthy injury history and there's a lot for him to play for this season.  A small bump into the mid-$3.5MM range is doable but he'll need a big platform year to get a sizable long-term commitment.  Namestnikov is off to a strong start offensively by his standards which is always notable in a contract year.  His last trip through the open market wasn't great and as someone that's better in a depth role, it's hard to see him getting back to the $4MM he had on his previous contract.  Gagner has been going with low-cost one-year deals for the last two seasons and landing another one of those is certainly possible if Detroit wants to keep him around.  Rowney was a late addition coming off an injury-riddled 2020-21 campaign.  He has been a depth piece this season and that could very well make him a PTO candidate next summer.  Stephens was brought in with the hope that a full-time role could help his development but that hasn't happened yet.  He's young enough to still be tendered a qualifying offer but his next contract shouldn't be for too much more than that unless his production increases when he returns from his lower-body injury.
The word that comes to mind when looking at the defensemen in this category is 'placeholder'.  Detroit took on Leddy's contract from the Islanders with an eye on flipping him closer to the trade deadline if they're out of the race.  From his perspective, his value has dipped in recent years as his production has ticked downward aside from a brief rebound last season.  He's not heading for a significant drop but a multi-year commitment in the high $4MM/low $5MM range may be his ceiling in the summer.  DeKeyser has been a fixture in Detroit's lineup for close to a decade but he's more of a role player than an impact one now.  Getting half of his current price tag might be attainable but not much more.  Staal accepted a big pay cut to stick around and he has been closer to a number six blueliner than a top-four one.  Another dip is certainly possible.  Stecher has been limited due to injuries and hasn't had a big role when he has been in but he's still fairly young (27) and as a right-shot rearguard, he will get some chances.  A small increase is realistic for him.  Everyone on this list is a viable trade candidate (pending waiving trade protection) and their fortunes could change depending on what team they wind up on.
Greiss is another of the stopgap goaltenders that Detroit has employed over the last few seasons over going after a high-priced starter.  His first season went well (his start this year, not so much) but overall, he is a capable platoon goalie.  We've seen the price tag for those goalies go up lately so if Greiss can rebound, a similar price tag next year is certainly a possibility.  He'll be eligible for bonuses on a one-year deal as he'll be 36 in January so teams may prefer to go year-to-year with him from now on.
Two Years Remaining
F Tyler Bertuzzi ($4.75MM, UFA)
F Adam Erne ($2.1MM, UFA)
F Dylan Larkin ($6.1MM, UFA)
G Alex Nedeljkovic ($3MM, UFA)
D Jordan Oesterle ($1.3MM, UFA)
F Givani Smith ($750K, RFA)
F Pius Suter ($3.25MM, UFA)
One of the risks Detroit took when they gave Larkin this deal was that it took him to UFA eligibility in his prime as he'll only be 26 when he tests the market (he qualifies for UFA status based on service time, not age).  Top-six centers are always in high demand and as a capable two-way player, he could be looking at a sizable raise even if his current point-per-game production doesn't quite hold up between now and then.  He won't approach the $10MM mark but something in the high-$7MM/low-$8MM range is definitely doable.
Bertuzzi is healthy after an injury-riddled 2020-21 campaign, one that basically tanked his case for a long-term extension.  The trade-off is that he will also hit the open market in his prime at 28 where he should be able to land that long-term contract with another million or two on the AAV.  Suter came over after a strong rookie season from Chicago where they ultimately balked at the arbitration risk that would have come with a qualifying offer.  Given his relative inexperience, he'll need to establish himself on the second line with commensurate production to have a shot at really cashing in two years from now.  Otherwise, he'll be in line for something closer to this contract in a bottom-six role.  Erne has shown flashes of offensive upside but hasn't yet been able to establish himself as a full-time top-six player.  He has, however, become a capable third-line physical winger and that alone should give him at least a small boost two years from now.  Smith is a low-cost role player whose price tag shouldn't creep too much higher than it is now unless he establishes himself as more of an impact player.
Oesterle is yet another placeholder on the back end.  He has worked his way from being a player on the fringes to being a regular heading into this season which helped him land some security but as someone that's still more of a sixth defender, his price tag shouldn't get much higher than this.
Nedeljkovic was brought over from Carolina after the Hurricanes didn't want to pay this type of price for someone with only a couple of strong NHL months under his belt.  Still, with Detroit's situation between the pipes, it was a more than reasonable move for GM Steve Yzerman and in the early going, Nedeljkovic has been decent.  If he winds up continuing to platoon over the next couple of years, his earnings upside will be capped as he'll be in that group that has recently been signing for in the mid-to-high-$3MM range so there will be a lot riding on how he performs this season and next.
Three Years Remaining
D Filip Hronek ($4.4MM, RFA)
F Michael Rasmussen ($1.46MM, RFA)
F Jakub Vrana ($5.25MM, UFA)
Vrana was quite impressive following his acquisition as part of the Anthony Mantha trade which helped him turn around his season where he had underwhelmed a bit with Washington.  Notably, the deal only bought out one year of UFA eligibility, allowing him to hit the market in his prime as well.  This season is basically a write-off due to his shoulder injury so how he performs in the next two will go a long way of showing whether or not he can become a consistent top liner.  Rasmussen has underwhelmed offensively in the early going of his career but on this contract, he won't need to produce much to provide surplus value.  As a third-line center, he's making a fair bit below market value for someone in that role and they'll have more time to determine if he will just be a role player moving forward or a long-term piece to try to build around.
Hronek is an interesting case having been healthy scratched earlier in the season.  Heading into this season, he was unquestionably Detroit's top rearguard and even with Seider's strong performance, Hronek leads the team in ATOI.  Having a number one blueliner on this type of deal with at least one more year of team control after makes him one of their most valuable assets.
Buyouts
F Justin Abdelkader ($2.3056MM in 2021-22 and 2022-23, $1.0556MM from 2023-24 through 2025-26)
D Frans Nielsen ($4.25MM in 2021-22, $500K in 2022-23)
Retained Salary Transactions
F Richard Panik ($1.375MM through 2022-23)
Best Value: Hronek
Worst Value: DeKeyser
Looking Ahead
If you're thinking there was a section missed with no one being listed as being signed for four years or longer, it wasn't missed – there just aren't any active players signed beyond three seasons; Abdelkader's buyout is currently their longest commitment.  That gives Yzerman about as blank a canvas as possible to work with over the next few seasons.
The key for the Red Wings will be ensuring that their top 'veterans' (Larkin, Bertuzzi, and Vrana) are either retained or replaced when their deals come to an end.  That group coupled with long-term pacts for Raymond and Seider should represent the core for them to really emerge from their rebuild.  With the lack of long-term commitments on their books, Detroit should be well-positioned to try to add to that group as well when the time is right.
Photo courtesy of USA Today Sports Images.