Navigating the salary cap is one of the more important tasks for any GM.  Teams that can avoid total cap chaos by walking the tightrope of inking players to deals that match their value (or compensate for future value without breaking the bank) remain successful.  Those that don't see struggles and front office changes.
PHR will look at every NHL team and give a thorough look at their cap situation for the 2021-22 season and beyond with contract statuses as of the beginning of the year.  This will focus more on players who are regulars on the roster versus those who may find themselves shuttling between the AHL and NHL.  All cap figures are courtesy of CapFriendly.
Arizona Coyotes
Current Cap Hit: $74,484,534 (under the $81.5MM Upper Limit)
Entry-Level Contracts
F Barrett Hayton ($864K this season)
D Janis Moser ($887K through 2023-24)
G Karel Vejmelka ($842.5K this season)
Potential Bonuses:
Hayton: $2.15MM
Moser: $82.5K
Vejmelka: $82.5K
Total: $2.315MM
Hayton has not lived up to his draft billing, one that felt like an overdraft at the time when he went fifth overall on the back of being a center in a draft where there weren't many centers ranked high.  He's averaging nearly 17 minutes this season but hasn't done much with them.  There's no way a long-term contract will be on the table in the summer; he'll be looking at a bridge deal and a one-year pact wouldn't be surprising at a little over his current AAV.
Moser was somewhat of a surprise second-rounder in the last draft in his third year of eligibility but he is a quality late-bloomer as he has worked his way into a regular role on Arizona's third pairing over the last couple of months.  It's a role that shouldn't make him overly pricey if he stays there over the next two seasons although with how quickly he has worked his way into the lineup, it's certainly fair to think he could still have another level in him.
Vejmelka (who was once a Nashville prospect that went unsigned) went from a candidate to battle for the backup spot to their full-fledged starter fairly quickly.  His overall numbers aren't great but he has shown enough to get a multi-year deal this summer to remain part of the tandem for the Coyotes for a little while yet.  At 25, he's already arbitration-eligible although, with a limited track record, that won't help a lot.  He should still be able to at least double his current AAV and if a third season is tacked on, a cap hit around the $2MM range is reasonable.
Signed Through 2021-22, Non-Entry-Level
F Jay Beagle ($3.2MM, UFA)
F Travis Boyd ($750K, UFA)
D Kyle Capobianco ($775K, RFA)
F Lawson Crouse ($1.533MM, RFA)
F Ryan Dzingel ($1.1MM, UFA)
F Loui Eriksson ($6MM, UFA)
F Christian Fischer ($1MM, RFA)
F Alex Galchenyuk ($750K, RFA)
G Carter Hutton ($750K, UFA)
F Dmitrij Jaskin ($3.2MM, UFA)
F Johan Larsson ($1.4MM, UFA)
D Ilya Lyubushkin ($1.35MM, UFA)
F Phil Kessel ($6.8MM, UFA)*
D Dysin Mayo ($750K, RFA)
F Riley Nash ($750K, UFA)
F Liam O'Brien ($750K, UFA)
F Antoine Roussel ($3MM, UFA)
D Anton Stralman ($5.5MM, UFA)
G Scott Wedgewood ($825K, UFA)
*-Toronto is retaining an additional $1.2MM of Kessel's salary
Yes, the overwhelming majority of Arizona's roster is only signed through this season and that's by design.  There are some notable players among the long list of fillers though.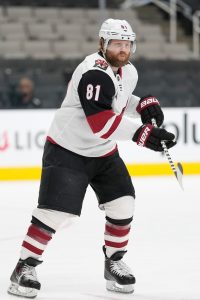 Kessel hasn't been able to score much this season – few have for the Coyotes – but he has become a better playmaker along the way.  He's a strong candidate to be moved at the deadline but with only a $1MM base salary, Arizona should be in no rush to move him as whatever contract they take to offset his AAV will undoubtedly cost more in salary dollars.  Kessel won't be able to command anywhere near his $8MM price tag on the open market but as a serviceable secondary scorer, it wouldn't be shocking to see him in the $5MM range when all is said and done.  Worth noting is that he turns 35 in October which means he isn't subject to the 35-plus classification, giving interested teams a chance to work out a multi-year deal without any risk.
Among the RFA forwards, Crouse is heading for a nice pay raise.  He has been given a much bigger role this season and has made the most of it, scoring at close to a 20-goal pace.  As a power forward with a bit of offensive touch, there has been considerable trade interest in him but if he sticks around, he's the type of player where it may not be surprising if GM Bill Armstrong tries to do a long-term deal in the high $4MM/low $5MM range.  Fischer has seen his production drop sharply from his rookie season to the point where he is more of a fourth liner instead of someone believed to be part of their long-term plans a few years ago.  His qualifying offer is just over $1.125MM but he has arbitration rights.  A non-tender isn't a guarantee but it's a possibility if they can't work out a new deal around his current price tag.
Jaskin is an interesting case – his contract made little sense based on his previous NHL history and while he produced overseas, it didn't translate to the type of top-six role anyone was hoping for.  Based on his history as an energy player, he could get a bit more than $1MM in free agency this summer but a trip back to the KHL where a bigger contract likely would be waiting for him is definitely an option as well.  Boyd hasn't had much interest in free agency in the past but his numbers this season could boost his market to the point where he can land a bigger deal and a multi-year commitment.
Many of the other UFA forwards – including the high-priced ones – are depth pieces and role players that are likely looking at something around $1MM or less in free agency.  Several of them just went through the process last offseason with low levels of interest while some of their recently acquired players should have some interest at a much lower price tag (Roussel as an energy winger and Beagle as a faceoff specialist, for example).  Those players, meanwhile, will likely be either re-signed or replaced by others willing to play for a similar amount.
On the back end, Stralman was acquired in a salary dump from Florida and had a chance to play a bigger role to rebuild some value.  He has been decent for the Coyotes but nowhere near the level of a $5.5MM player.  He'll be 36 before next season starts and is someone that may have to go year-to-year from here at a price tag closer to half of what he's making now.  Lyubushkin continues to be a physical, stay-at-home defender and the fact he's logging over 18 minutes a game will help his value.  A deal similar to Jani Hakanpaa's with Dallas (three years, $1.5MM AAV) should be attainable; while the price would be only a small increase, the security would be nice for someone that has gone year-to-year since coming to North America.
In goal, Wedgewood has helped his value since Arizona claimed him off waivers.  He's still in the lower end of backups and would be a third-string option on a lot of teams though so while he has earned a raise, it will probably be a small one.  Something around $1MM – an amount that can be buried in the minors without any residual cap charge – could be attainable and would be a nice raise for someone who has never had a one-way contract before.
Signed Through 2022-23
D Shayne Gostisbehere ($4.5MM, UFA)
F Andrew Ladd ($5.5MM, UFA)
D Conor Timmins ($850K, RFA)
Ladd was one of many salary dumps the Coyotes took on last offseason with Arizona getting three draft picks (including the one used on Moser) for their troubles.  He has been able to hold down a regular spot in the lineup but that's about all.  At this point, it's hard to see Ladd getting another contract when this one is up but if he does, it'll be very close to the league minimum.
Gostisbehere has had quite a nice bounce-back season with the Coyotes.  After being more of a depth piece with the Flyers, he has again become one of the higher-scoring defensemen in the league, ranking in a tie for 16th overall.  If he can maintain that pace for the rest of this deal, he should have a sizable market in 2023 with a shot at a small raise, something that didn't seem feasible last summer.  As for Timmins, he was a key part of the Darcy Kuemper trade but his season came to an end quite early due to a knee injury.  At this point, a one-year deal for 2023-24 seems probable unless he's able to establish himself as a go-to defender next season but with just 39 games of NHL experience, that's a tough ask.
Signed Through 2023-24
No players not on entry-level contracts are pending free agents in 2024.
Signed Through 2024-25 Or Longer
D Jakob Chychrun ($4.6MM through 2024-25)
F Clayton Keller ($7.15MM through 2027-28)
F Nick Schmaltz ($5.85MM through 2025-26)
Keller's contract seemed rather pricey for someone who had just two full seasons of NHL experience under his belt.  He is producing at a top-line rate this season but was closer to second-line production the last two years.  Still just 23, there's room for optimism that there is more room for improvement and if that happens, they can still get a solid return on this deal.  But with where they are in their rebuild though, it'll be a while before he has some top-end talent to play with.  Schmaltz hasn't been able to become a consistent scoring threat (staying healthy has been an issue the last couple of seasons) which hasn't resulted in a great return on his contract just yet.  When healthy, he is a top-six player and that AAV for a second-line center isn't crazy in terms of the cost for that role but they're counting on him to be more productive than he has been.
Chychrun, meanwhile, is on a deal that is significantly below market value.  Yes, he's having a bad season but he is still viewed as a high-end defenseman around the league and is on a contract that pays him like a number three option.  There is considerable trade interest despite a sky-high asking price but Arizona should be in no rush to move him.  Looking ahead to what his next contract could be, a strong final few seasons (with the Coyotes or somewhere else) could put him in a position to double his current AAV.
Buyouts
F Michael Grabner ($1.258MM this season)
Retained Salary Transactions
G Darcy Kuemper ($1MM this season)
D Oliver Ekman-Larsson ($990K through 2026-27)
Best Value: Chychrun
Worst Value: Ladd
Looking Ahead
The Coyotes have more than ample cap space this season and have indicated they're willing to be a clearinghouse again to help facilitate some deadline deals (as long as they're adding more draft picks and prospects, of course).  With more than $50MM in cap space for next season, they have by far the cleanest salary cap situation in the league.  Of course, with their current competitive situation, they have a very long way to go before they can get back to battling for a playoff spot so it wouldn't be surprising to see them having ample cap room for the foreseeable future.
Photo courtesy of USA Today Sports Images.