Navigating the salary cap is one of the more important tasks for any GM.  Teams that can avoid total cap chaos by walking the tightrope of inking players to deals that match their value (or compensate for future value without breaking the bank) remain successful.  Those that don't see struggles and front office changes.
PHR will look at every NHL team and give a thorough look at their cap situation heading for the 2021-22 season and beyond.  This will focus more on players who are regulars on the roster versus those who may find themselves shuttling between the AHL and NHL.  All cap figures are courtesy of CapFriendly.
Columbus Blue Jackets
Current Cap Hit: $70,831,138 (under the $81.5MM Upper Limit)
Entry-Level Contracts
F Emil Bemstrom (one year, $925K)
D Adam Boqvist (one year, $894K)
F Yegor Chinakhov (two years, $925K)
F Cole Sillinger (three years, $925K)
Potential Bonuses
Bemstrom: $850K
Boqvist: $850K
Chinakhov: $500K
Sillinger: $425K
Total: $2.625MM
Sillinger took advantage of the Blue Jackets being thin down the middle to push himself into a regular roster spot and he is the only player from this draft class to make it past the nine-game threshold to start his rookie deal.  His offensive numbers are certainly decent but it's what he does in the last half of the contract that will determine if he gets a short-term second deal or a long-term pact as a franchise fixture.  His two 'A' bonuses for this season could very well be hit, giving him a nice jump in pay.  Columbus somewhat surprisingly agreed to burn the first year of Chinakhov's deal last season without him playing a single game.  That, coupled with a quiet start to his rookie campaign, puts the 2020 first-round pick on a path for a bridge contract.  Bemstrom was a capable secondary offensive player in his rookie season and was a bit below that pace last season but has yet to play this season due to an oblique strain.  Players like that rarely get long-term pacts but he should be able to land a small raise and be closer to the $1.5MM mark in 2022-23.
Boqvist was one of the key pieces of the trade return for Seth Jones but things haven't gone as planned with his new team.  He underwhelmed early on, got hurt, wound up being a healthy scratch for a little bit, and has been up and down since returning.  While Columbus surely still views the 21-year-old as a long-term fixture, it'd be next to impossible to find a price point that both sides are content with on a contract that buys out UFA years.  A bridge deal – potentially even a one-year contract to try to restore some value – makes the most sense for Boqvist while giving both sides more time to determine whether or not he can reach his offensive ceiling.
One Year Remaining, Non-Entry-Level
D Gabriel Carlsson ($725K, RFA)
F Justin Danforth ($750K, UFA)
F Max Domi ($5.3MM, UFA)
D Scott Harrington ($1.633MM, UFA)
F Gregory Hofmann ($900K, UFA)
G Joonas Korpisalo ($2.8MM, UFA)
D Dean Kukan ($1.65MM, UFA)
F Patrik Laine ($7.5MM, UFA)
F Jack Roslovic ($1.838MM, RFA)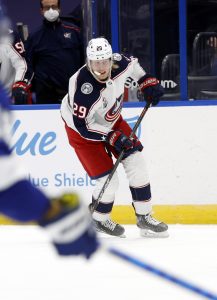 After a tough season split between Winnipeg and Columbus, Laine accepted his qualifying offer which didn't come as much of a surprise.  Doing so takes him to one year away from UFA eligibility so the time to work out a long-term contract is soon approaching.  If that doesn't happen, he'll be in trade speculation before too long.  As for how much a deal like that should cost, it's likely in the high-$8MM/low-$9MM range and whether or not it's worth paying remains in question.  Domi has a lot riding on this season after failing to produce in his first season with the Blue Jackets.  At this point, he's likely heading for a pay cut and the question will be, does he take a one-year pillow deal to try to restore some value or opt for a bit less and get some stability after bouncing around the last few years (and probably again by the trade deadline)?
Roslovic ended his holdout after being part of the Laine trade and did quite well, outproducing the others in the swap last season.  That hasn't carried over to this season where he has been more of a secondary player.  While it wouldn't be surprising to see GM Jarmo Kekalainen try to buy out some UFA time with his next contract, they shouldn't be willing to go much beyond the $3MM mark to achieve that.  Hofmann and Danforth were brought over after strong seasons overseas.  Hofmann has been okay while Danforth has had a very limited role.  Neither have really earned big raises which could have them heading back overseas or re-signing for a similar price tag.
Kukan needed to show that he was capable of holding down a full-time spot in the lineup to have a shot at getting a small raise or even a similar contract next summer.  Injuries have limited him to just two games which is going to make it hard for him to get that raise.  Something closer to $1MM seems more likely for him.  The exact same thing could be said for Harrington who, despite the three-year commitment from Columbus, hasn't been able to establish himself as more than a seventh defender.  The price tag for that is about half of what he's making now.  Carlsson has cleared waivers a couple of times but is still just 24.  A small bump is all he'd need to stick around for another year.
Get used to seeing Korpisalo's name in trade speculation over the next few months.  He is no longer the starter of the future for the Blue Jackets and with them rebuilding, it's unlikely they'd want to pay the price to extend him.  His recent performance has hurt his value but it wouldn't be surprising to see him eclipse $3MM on his next deal and he, too, might benefit from a one-year pillow contract elsewhere to try to improve his long-term value.
Two Years Remaining
D Gavin Bayreuther ($750K, UFA)
D Vladislav Gavrikov ($2.8MM, UFA)
F Gustav Nyquist ($5.5MM, UFA)
D Andrew Peeke ($788K, RFA)
F Alexandre Texier ($1.525MM, RFA)
Nyquist was supposed to come in and be a reliable top-six winger and for the first year, he was.  However, he missed all of last season due to a shoulder injury and he has gotten off to a bit of a quieter start this season as well.  As a result, his deal – which could have been argued as a slight overpayment when it was signed – now is a contract that's well above market value.  Texier has shown flashes of top-six upside but the consistency hasn't been there which made a bridge deal for him a wise move for both sides.  He'll be owed a small raise with a $1.75MM qualifying offer and if he can start to produce with more consistency, there's room for it to go up considerably from there.
Gavrikov has taken some steps forward in the early going this season, taking full advantage of his extra ice time to already surpass his point total from 2020-21 while logging nearly 21 minutes a game.  He has become a capable top-four defenseman at a price tag that is well below what one of those can get on the open market.  If he can keep this pace up through next season, he could double his current AAV.  However, expecting him to maintain that production may be a bit unrealistic and accordingly, something in the $4MM range may be more probable.  Peeke has played his way into a regular role and based on the contracts that Harrington and Kukan have, it's possible that he could double his price tag on his next deal.  Bayreuther has had a limited role when he's in the lineup and that extra spot on the depth chart should be staying at or near the minimum which is where his price tag should be as well.
Three Years Remaining
D Jake Bean ($2.333MM, RFA)
F Eric Robinson ($975K in 2021-22, $1.6MM in 2022-23 and 2023-24, UFA)
F Jakub Voracek ($8.25MM, UFA)
Voracek was acquired over the summer from Philadelphia as the Flyers looked to shake up their veteran core.  The 32-year-old has only scored once but with 17 assists in 21 games, he has been one of their top offensive forwards.  That said, that isn't a level of production worthy of that salary and at this point, it's only likely it will decline.  However, they have the cap space to be able to absorb the overpayment.  Robinson worked his way from a sparingly used depth piece to a regular in the bottom six which earned him the raise for next season.  He'll need to show that he's capable of producing double digits in goals if he's going to have a shot at a higher AAV in 2024.
Columbus thought Bean had more to bring and flipped a second-rounder to Carolina for his rights, then signed him to a deal that was above the market rate for someone with just 44 games under his belt, most of which were in a limited role.  It was a bit of a gamble by Kekalainen but it looks pretty good early on as Bean has thrived with the Blue Jackets, becoming a quality two-way blueliner.  All of a sudden, this looks like a nice bargain on their books.  He'll be owed a $2.8MM qualifying offer when this contract expires and he'll have arbitration eligibility while being a year away from unrestricted free agency.  If Bean's strong play continues, they'll need to double his current price tag at a minimum to keep him in the fold.
Four Or More Years Remaining
F Oliver Bjorkstrand ($5.4MM through 2025-26)
F Boone Jenner ($3.75MM through 2025-26)
F Sean Kuraly ($2.5MM through 2024-25)
G Elvis Merzlikins ($4MM in 2021-22, $5.4MM from 2022-23 through 2026-27)
D Zach Werenski ($5MM in 2021-22, $9.583MM from 2022-23 through 2027-28)
Bjorkstrand has quietly upped his per-game production over the last couple of seasons, a trend that has continued in the early going this year as well.  He's not a true top-line winger but he's better than a typical second-liner as well and at this price tag, that type of production makes him a bit underpaid.  Jenner hasn't come close to matching the 30 goals he scored back in 2015-16; he hasn't hit 20 since then.  However, he's an effective two-way middle-six forward who plays the wing or down the middle.  Based on his production heading into this season, he might be a bit overpaid but for the role he has in terms of being a checker, they still have received good value which is why they extended him for four years at the same rate.  He's off to quite a start this season with 11 goals in 20 games.  Kuraly's price tag is a bit high for someone who is best utilized on an above-average fourth line but his ability to win draws and kill penalties gives him some value.
The lucrative market for top defensemen was great news for Werenski who was able to nearly double his current AAV on a pricey extension of his own.  It can be debated if Werenski is truly in that elite echelon of blueliners but there's no denying how important he is to the Blue Jackets in all facets of the game.  Also, considering how much top talent has left in recent years, they're certainly justified in perhaps overpaying a little bit to ensure that he'd eschew free agency and stick around.
There is definitely some risk in the extension given to Merzlikins since he had just 63 career NHL appearances (including the playoffs) heading into the season.  However, that also allowed them to keep the price tag down as well.  If Korpisalo does wind up leaving, it will provide a pathway to a bit more playing time for Merzlikins and if he plays as well as he had early in his career, this deal will wind up being a team-friendly one.
Buyouts
F Alexander Wennberg ($442K in 2021-22 and 2022-23, $892K from 2023-24 through 2025-26)
Retained Salary Transactions
None
Best Value: Bean
Worst Value: Nyquist
Looking Ahead
Not many teams have a cleaner cap situation than Columbus.  There is ample cap room for this season and nearly $30MM in space for next year with 15 players under contract and Laine being the only restricted free agent of significance.  As some of their entry-level players expire, there are higher-priced veteran contracts coming off the books which will offset the increases their youngsters will need.
Of course, teams in this situation often have a talent void and Columbus is no exception.  But whenever the time comes for Kekalainen to try to make a run again, he'll have plenty of cap space at his disposal.
Photo courtesy of USA Today Sports Images.