Navigating the salary cap is one of the more important tasks for any GM.  Teams that can avoid total cap chaos by walking the tightrope of inking players to deals that match their value (or compensate for future value without breaking the bank) remain successful.  Those that don't see struggles and front office changes.
PHR will look at every NHL team and give a thorough look at their cap situation for the 2021-22 season and beyond.  This will focus more on players who are regulars on the roster versus those who may find themselves shuttling between the AHL and NHL.  All cap figures are courtesy of CapFriendly.
Colorado Avalanche
Current Cap Hit: $81,972,800 (over the $81.5MM Upper Limit)
Entry-Level Contracts
D Bowen Byram (two years, $894K)
F Alex Newhook (two years, $908K)
Potential Bonuses
Byram: $2.5MM
Newhook: $850K
Total: $3.35MM
Newhook got a taste of NHL action last season in a limited role but spent most of the early part of this year back in the minors.  However, he has been quite productive since being recalled and is staking a claim to a full-time spot which would give him a chance of hitting at least a couple of his 'A' bonuses at just over $212K apiece.  Even with that, however, a bridge contract seems likely in order to preserve some space for the bigger ticket expiring deals at that time.
The same reasoning is likely to be applied to Byram as well.  He is a bit more established than Newhook but his concussion trouble is going to create some hesitance on GM Joe Sakic's part to commit to a big-money, long-term contract.  If he can stay healthy for a few years, such a move would be more likely but they're not going to get to that point in 2023.  As for his bonus situation, if he's able to get cleared to return and can stay in the lineup for a while, he has a chance of meeting the four 'A' bonuses, earning $850K of his potential bonuses; the rest are unlikely.
One Year Remaining, Non-Entry-Level
F Nicolas Aube-Kubel ($1.075MM, RFA)
F Andre Burakovsky ($4.9MM, UFA)
G Pavel Francouz ($2MM, UFA)
F Darren Helm ($1MM, UFA)
D Jack Johnson ($750K, UFA)
F Nazem Kadri ($4.5MM, UFA)
G Darcy Kuemper ($3.5MM, UFA)
D Kurtis MacDermid ($875K, UFA)
D Ryan Murray ($2MM, UFA)
F Valeri Nichushkin ($2.5MM, UFA)
When Colorado acquired Burakovsky, he had shown flashes of top-six ability but he was also quite inconsistent.  The flashes are still there and they are much more frequent now as his production has risen significantly.  He isn't at a level where he can necessarily command top dollar for wingers but he could jump past the $6MM mark.  Kadri is having quite the contract year and is in the top five in league scoring.  That won't set him up to get elite center money on the open market – especially with his past – but good centers are always in high demand and short supply.  If he continues at this pace, surpassing $7MM on a long-term deal is a definite possibility.
Nichushkin has been particularly strong in limited action this season but his history since being with the Avs is that he works as a middle-six winger.  The market was a lot better for those players over the summer so a raise into the mid-to-high $3MM range should be doable for him.  Aube-Kubel and Helm could feel the squeeze of a tight cap situation as those spots will probably need to go to players making closer to the minimum next season.  Both could have a case for receiving similar money to what they're getting now but they may have to go elsewhere to do so; arbitration eligibility could make Aube-Kubel a non-tender candidate.
Murray's market didn't really materialize so he opted for a bit of a pillow situation to try to showcase his value on a good team.  It hasn't gone quite as planned as he has had a limited role when he's in the lineup and as has been the case for most of his career, staying healthy has been a challenge.  On reputation alone, he could still land somewhere near this price on a one-year deal next summer but it's hard to see a multi-year commitment heading his way unless the second half goes a lot better than the first.  MacDermid brings plenty of physicality but is best utilized in a depth role which will cap his earnings upside at a level not much higher than it is now.  As for Johnson, he has been a nice bargain pickup for the Avs.  Given his past, however, it's hard to see him going more than year-to-year at this point although he could land a small raise next summer.
The Avs paid a high price tag to get the final year of Kuemper's deal and the results have been mixed so far.  Based on his numbers with Arizona, he's someone worthy of passing $5MM per season.  With Colorado?  Not so much.  A big second half and playoff run can change things but as of right now, he's someone who could land about $1MM more with teams being hesitant to go past that with him only passing the 30-game mark twice in his career.  Francouz has yet to play an NHL game on this contract which started last season due to injury.  That doesn't bode well for his future earnings and a cheap one-year deal may be all he can manage.
Two Years Remaining
F J.T. Compher ($3.5MM, UFA)
D Erik Johnson ($6MM, UFA)
F Tyson Jost ($2MM, RFA)
F Nathan MacKinnon ($6.3MM, UFA)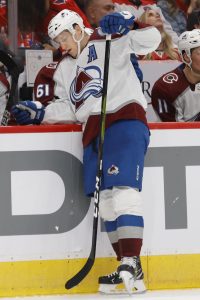 It's MacKinnon's contract situation that will make long-term commitments hard to hand out between now and then.  Over the past five years, two players have recorded more points than he has (and they both play for Edmonton).  If there's anyone that can challenge Connor McDavid for the highest AAV in NHL history, it may very well be MacKinnon.  He'll hit the open market at 28 so a max-term contract is all but a given (eight years from Colorado, seven from anyone else).  Even if he doesn't pass the $12.5MM mark, he should come close which would add upwards of $6MM to their payroll.  Until they have a sense of what they can do with their star center, Sakic should be looking at short-term options to ensure they have the flexibility to keep MacKinnon in the fold.
Compher did well in MacKinnon's absence earlier this season which bolsters his case that he's capable of being a regular top-six player.  When everyone is healthy for the Avs, however, he isn't in that situation.  Unless something changes (such as Kadri moving on and Compher moving up a notch on the depth chart), he'll be hard-pressed to get much more than what he's making now.  Jost has been a little better this season but is still underwhelming relative to his draft stock.  He's not consistent enough to be a top-six player and pure bottom-six players without a particular specialty don't often get big deals.  He's owed a $2.25MM qualifying offer in 2023 and depending on what happens with MacKinnon, that may be too rich for them.
A few years ago at the start of this contract, Johnson was seeing plenty of time on the top pairing and playing a prominent role.  Now he's 33 and missed almost all of last season due to injury.  His days of being a fixture on the top pair are over and he's more of a role player.  He's actually off to a nice start to his season, showing he has something left in the tank, albeit not at a $6MM level.  If he stays healthy, he could drop to the high-$3MM range or perhaps a bit less if someone wants to give him a longer-term contract, a risk as he'll be subject to 35+ rules (unless the contract is structured uniformly).
Three Years Remaining
D Devon Toews ($4.1MM, UFA)
A tough cap situation for the Islanders was great news for Colorado as they were able to add Toews for a pair of second-round picks and sign him to a deal that he is outperforming significantly.  He's up over a point per game this season after notching a career-best 31 last year and is logging nearly 25 minutes a night again.  As a result, Toews is providing top-pairing production while getting paid less than what some teams are paying their third blueliner.  If he continues on this trajectory, doubling his current AAV could be attainable.
Four Or More Years Remaining
D Samuel Girard ($5MM through 2026-27)
F Gabriel Landeskog (7MM through 2027-28)
D Cale Makar ($9MM through 2026-27)
F Logan O'Connor ($750K in 2021-22, $1.05MM from 2022-23 through 2024-25)
F Mikko Rantanen ($9.25MM through 2024-25)
Rantanen doesn't get as much attention as MacKinnon but he certainly isn't someone just along for the ride on that line as well; he's a high-end top liner in his own right.  He produced at a 104-point pace last season and is near that rate this year as well.  Lots can change between now and 2025 but at this point, Artemi Panarin's seven-year, $81.5MM deal appears to be attainable for him.  Landeskog was narrowly able to avoid going to the market last summer and signed what should be a deal that takes him to retirement or very close to it where he'd be going year-to-year at a much lower rate at that time.  O'Connor was quietly extended before the start of the season, a move that looks pretty good now as he is hovering around a 40-point pace at the moment.  A full year at that pace would have landed him considerably more in arbitration so this is an early extension that panned out quite well for Colorado.
Makar's deal was expected to be a big one and it lived up to expectations, setting a record for the richest second contract for a defenseman (which has since been broken). The Avalanche accepted a term less than the eight-year maximum to keep the cap hit a little lower, giving them a bit of wiggle room while allowing Makar to hit the open market still in the prime of his career where he could very well be landing another record-breaking deal in the process.  Girard has settled in nicely on Colorado's second pairing and is a reliable secondary point producer.  At 23, there is still room for improvement which will give this contract a chance to look even more team-friendly over the next few seasons.
Buyouts
None
Retained Salary Transactions
None
Best Value: MacKinnon
Worst Value: E. Johnson
Looking Ahead
With Colorado being in win-now mode, Sakic is certainly going to want to add to his roster although they'll be hard-pressed to do so without moving some salary the other way.  At a minimum, they may have to wait until closer to the trade deadline when they'll ideally be able to get out of LTIR and bank some cap space while sellers will be more willing to retain money to make a move happen.
Beyond this season, they will be hard-pressed to keep all of their notable unrestricted free agents (Kadri, Burakovsky, Kuemper, and Nichushkin) knowing that they'll need to keep long-term space for MacKinnon's next contract.  One or two could stay but the others will leave with a likely preference towards replacing them with players on one-year contracts.  Having Johnson's $6MM off the books at the same time helps as most of that money can be directed to MacKinnon so as long as Sakic doesn't paint himself into a corner next summer with too many multi-year deals, the Avalanche should be well-positioned to try to keep their superstar center, albeit with a weaker roster at that time than they have now.
Photo courtesy of USA Today Sports Images.