Navigating the salary cap is one of the more important tasks for any GM.  Teams that can avoid total cap chaos by walking the tightrope of inking players to deals that match their value (or compensate for future value without breaking the bank) remain successful.  Those that don't see struggles and front office changes.
PHR will look at every NHL team and give a thorough look at their cap situation for the 2021-22 season and beyond with contract statuses as of the beginning of the year.  This will focus more on players who are regulars on the roster versus those who may find themselves shuttling between the AHL and NHL.  All cap figures are courtesy of CapFriendly.
Boston Bruins
Current Cap Hit: $80,505,704 (under the $81.5MM Upper Limit)
Entry-Level Contracts
F Oskar Steen (one year, $809K)
G Jeremy Swayman (two years, $925K)
Potential Bonuses
Steen: $82.5K
Swayman: $125K
Total: $0.2075MM
Steen has spent a good chunk of the season in the minors but has earned a regular spot in the lineup in recent weeks.  It's his first extended stint of NHL action and a half-season of playing time won't be enough to yield a long-term deal.  A short-term pact that's around this AAV but is a one-way deal instead of two-way would make a lot of sense for both sides.
Swayman is currently in the minors but played well in the first half of the season for the Bruins before being a roster casualty.  Depending on how his bonuses are structured, that may be a number that has to be kept in mind for deadline spending with an eye on trying to stay that far under the cap.  If he's a regular next season in a similar platoon role that he had to start this one, he could push for a bridge contract that's around double his current price tag.
Signed Through 2021-22, Non-Entry-Level
F Patrice Bergeron ($6.875MM, UFA)
F Anton Blidh ($750K, UFA)
F Jake DeBrusk ($3.675MM, RFA)
F Curtis Lazar ($800K, UFA)
G Tuukka Rask ($1MM, UFA)
D Jakub Zboril ($725K, RFA)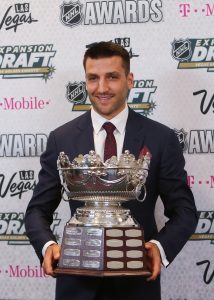 Bergeron's contract is the big one for the Bruins and GM Don Sweeney to contend with in the coming months.  He's not really slowing down offensively as he continues to produce at a top-line rate.  He's still one of the top defensive centers in the league.  He's still well-respected as their captain.  Generally, this combination can result in a contract that could push upwards of $10MM.  No one really expects that to be the case here.  Boston has had an ability to get several of their core veterans to take a little below market value to stick around and there's little reason to think they won't try that here.  Accordingly, it makes Bergeron's next deal a little tricky to peg – he could easily get considerably more on the open market and it wouldn't be entirely shocking if he took a little less, especially if he can get an extra year or two tacked on.
DeBrusk is someone who has seen his value drop substantially over the last year and a half.  His qualifying offer is $4.41MM and no one is going to pay that which means he'll be non-tendered and looking for something around the $2MM mark on a one-year deal in the hopes of rebuilding his value.  Lazar won't ever live up to his draft billing but he has established himself as a reliable fourth liner that can play center and the wing.  His market shouldn't be huge but a contract closer to the $1MM mark is doable.  Blidh should be able to get a one-way contract over the summer but with him being more of a role player than someone who's going to play every night, his cap hit should still remain near the minimum.
Zboril's injury trouble isn't helping his case and at this point, he's likely looking at another deal at or close to the minimum.  He could still become a regular on the third pairing but until that happens, the seven-figure contracts are going to be hard to come by.
Rask was true to his word, signing for just above the minimum to work within Boston's cap structure.  Is he willing to do that again?  It can't be ruled out and considering he wasn't interested in going elsewhere this season, it's fair to surmise it once again will be Boston or nothing.
Signed Through 2022-23
D Connor Clifton ($1MM, UFA)
F Nick Foligno ($3.8MM, UFA)
F Trent Frederic ($1.05MM, RFA)
F Erik Haula ($2.375MM, UFA)
D John Moore ($2.75MM, UFA)
F Tomas Nosek ($1.75MM, UFA)
F David Pastrnak ($6.67MM, UFA)
F Craig Smith ($3.1MM, UFA)
F Chris Wagner ($1.35MM, UFA)
Sweeney's ability to get veterans to take below-market contracts is really going to get tested with Pastrnak.  At the time he signed his current deal, he wasn't yet the high-scoring star he has become now.  Top-end wingers can still command significant money on the open market and it's not crazy to think Pastrnak could land another couple million or more per season on a max-term contract; he'll hit the open market at 27 in the prime of his career.
Fortunately for the Bruins, they have enough veterans on expiring contracts to help offset any increase to Pastrnak.  Foligno has had a tough season that certainly hasn't helped his value and if that continues, he'll be closer to half of what he's making now.  Smith hasn't been able to be the consistent secondary scorer they hoped he'd be based on his time with Nashville so it's hard to forecast a bump in salary for him.  At the rate he's going, he could still get close to his current price tag though.  Haula's contract seemed a little lower than expected and he has played at a similar rate compared to his last couple of seasons.  Centers are always in demand and as long as he can do well on the third line, he should generate enough interest for a small increase.  Nosek is who he is at this point, a lower-scoring third liner that does enough defensively and at the faceoff dot to make him a quality depth player.  Another contract in this range is achievable for him.  Wagner has spent the entire season in the minors but still carries a lingering $225K charge which will also be the case next year if he is waived and clears again.  Frederic has been able to hold down a spot on the fourth line but unless he can play his way into a bigger role by the end of next season, he won't be able to get much more than his $1.15MM qualifying offer.
Moore's contract hasn't worked out, plain and simple, as he has struggled to stay healthy and has had his struggles in Boston's lineup when he has had the chance to play.  At this point, he's a possible buyout candidate.  Clifton is a capable depth defender that can hold his own on the third pairing when called upon.  Those types of players are rarely in high demand but as long as he's willing to sign for a similar price, he should have a few suitors from teams looking to shore up their depth.
Signed Through 2023-24
D Derek Forbort ($3MM, UFA)
D Matt Grzelcyk ($3.688MM, UFA)
D Mike Reilly ($3MM, UFA)
Grzelcyk hasn't been able to the big step forward that the Bruins were hoping for when they signed him to this contract but he remains a capable part of their second pairing.  He chips in enough at the offensive end to still provide a good return on this contract and he should be in line for a small raise for his first test of the open market.  Forbort isn't too far removed from being a 20-minute player, a mark he has hit four times which helped him earn this contract.  With Boston, he has been a bit more of a role player so far but as a fourth or fifth defender most nights, he has provided reasonable value so far.  He'll be 32 when he gets back to free agency and if he's on the third pairing more consistently, his next contract should come in a little lower than this one.  The same could be said for Reilly who hasn't been quite as impactful as he was when he joined Boston in a late-season trade a year ago.  His production has gone closer to normal levels although his positive possession stats help offset that a little bit.  He'll need to be more like the player he was in 2020-21 to have a chance at getting a similar contract in 2024.
Signed Through 2024-25 Or Longer
D Brandon Carlo ($4.1MM through 2026-27)
F Charlie Coyle ($5.25MM through 2025-26)
F Taylor Hall ($6MM through 2024-25)
F Brad Marchand ($6.125MM through 2024-25)
D Charlie McAvoy ($4.9MM this season, $9.5MM from 2022-23 through 2029-30)
G Linus Ullmark ($5MM through 2024-25)
Marchand continues to be one of the most consistent scorers in the NHL as he's in his sixth straight season of averaging at least a point per game and is actually past the 1.25 per game mark for the fifth year in a row.  Few stars have shown that type of consistency which has made him a considerable bargain in the first half of his contract and a good chance to be that for a while yet.  Hall's first full season in Boston has been a bit of a mixed bag.  He's not the top liner he was early in his career but he's still a capable part of their second line but they may have been hoping for a bit more production in the early part of his contract.  Coyle's versatility has often come in handy with the Bruins as he has frequently split time between center and the wing but his production has dipped the last couple of years.  If he can produce at a second-line level, he can provide a decent return on this contract but the longer his output stays closer to a third-line rate, the value will decline a bit accordingly.
McAvoy has blossomed into a quality top-pairing defender and is being paid well below market value this season as a result.  That will soon change as he will become one of the top-paid blueliners in the NHL but the deal he signed has basically become the going rate for top defensemen in recent months.  Carlo isn't going to be a big point producer in the NHL, that much is clear at this point.  However, he is still a capable shutdown defender capable of logging significant minutes so he should provide a quality return on this contract despite the limited offensive numbers.
Ullmark's signing came as a bit of a surprise with Swayman in the system.  For now, he's the starter or at least the top option in their platoon.  In that role, he will provide a reasonable return.  But if Swayman eventually takes over (as many expect he will), Ullmark will become a pretty expensive insurance policy to the point where he could become a trade option if they need to free up some cap space.
Buyouts
None
Retained Salary Transactions
None
Best Value: McAvoy (this season)
Worst Value: Foligno
Looking Ahead
For the stretch run, Boston has been able to stay out of LTIR and bank some cap space so they will be well-positioned to try to add an impact player closer to the March 21st trade deadline.
From a longer-term perspective, there is a fair bit of flexibility right now with a decent stagger of contracts; as big-ticket deals like Bergeron and Pastrnak come due, there are other pending free agents that can be replaced with lower-cost options to allow them to keep the core intact.  They'll be hard-pressed to afford another high-impact player to their core group but Sweeney should be able to keep Boston's franchise fixtures around for a little while longer.
Photo courtesy of USA Today Sports Images.