With the Minnesota Wild settling with goaltender Filip Gustavsson today, the biggest name left yet to have his arbitration hearing is undoubtedly Anaheim Ducks forward Troy Terry. There are just a handful of days to go in this year's arbitration calendar, and Terry is set to have his hearing on Wednesday, August 2, meaning he'll have a contract for next season in place by this Friday at the latest. The Ducks still have franchise cornerstone center Trevor Zegras to sign for next season, although he was not eligible for arbitration.
Filings
Team: $4.5MM
Player: $8MM
Midpoint: $6.25MM
(via Sportsnet's Elliotte Friedman)
The Numbers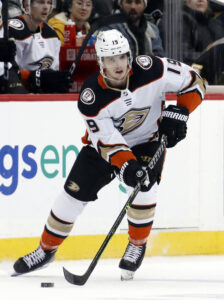 Last season proved to be a pivotal year for Troy Terry, once again demonstrating his ability to be a high-end top-six scoring forward without much help around him. He showed his breakout campaign in 2021-22 was no fluke, tying his career-high in goals and setting new career-highs in even-strength assists and average time on ice.
Set to turn 26 in September, Terry's journey has certainly not mirrored the temperate expectations Anaheim had for him when they selected him in the fifth round of the 2015 NHL Draft. He has unquestionably evolved into one of the most significant value picks of the last decade, transforming into a bonafide top-six winger after giving him plenty of time to develop at the University of Denver and in the minors with the AHL's San Diego Gulls. He's a well-rounded offensive talent and far from a liability defensively – in fact, he'd posted above-average advanced results in 2020-21 and 2021-22.
With Terry just now teetering on the edge of unrestricted free agency next offseason, there's little reason to be afraid of a setback in his abilities or production. The linearity of his development and the wide range of positive advanced indicators regarding his sustainability as a top-six scoring winger has left many Ducks fans puzzled about how arbitration may be required to get him under contract.
Arbitration isn't something the Ducks likely desire – he's only two seasons away from unrestricted free agency in 2025, and a short-term deal risks losing him for nothing at that point. At what lengths (one or two years) the Ducks and Terry filed is unclear.
2022-23 Stats: 70 GP, 23-38-61, -8 rating, 22 PIMs, 188 shots, 19:22 ATOI, 49.2 CF%
Career Stats: 274 GP, 75-101-176, -17 rating, 74 PIMs, 550 shots, 16:43 ATOI, 49.8 CF%
Potential Comparables
Comparable contracts are restricted to those signed within restricted free agency, which means UFA deals and entry-level pacts are ineligible to be used. The contracts below fit within those parameters. Player salaries also fall within the parameters of the submitted numbers by both sides of Terry's negotiation. 
Jesper Bratt (New Jersey Devils) – Despite his solid play, the seemingly most comparable case to Terry's isn't all that favorable to him. Bratt and the Devils had to get a one-year contract awarded via arbitration last season, totaling $5.45MM. At the time, Bratt had slightly more NHL experience at 307 games played but had scored 203 total points, a similar career-scoring pace to Terry. However, it's worth noting that Bratt hadn't demonstrated the consistency immediately before his arbitration hearing that Terry has – Bratt had just seven goals in the 2020-21 campaign, while Terry had scored 20-plus goals in each of the two seasons leading up to his hearing. Unfortunately for Terry, this is one of the closest comparables out there for his situation, and it's significantly lower than his midpoint of $6.25MM.
Kevin Fiala (Minnesota Wild) – This was another one-year pact dished out by an arbitrator, except it was one season before Bratt's in 2021. The deal came in at a marginally lower cap hit of $5.1MM, but Terry had better career offensive numbers at the time of signing – remember, this Fiala deal was signed before he posted back-to-back seasons above a point per game. This strikes as a low-end comparable for Terry – it would be surprising to see the arbitrator side any further toward the Ducks than this.
Projection
This is one of the more complex cases this summer to predict. It's partially because of the wide gap in filings between the two parties (leaving lots of room for error around the midpoint) but also the lack of an excellent comparable for a player with as little experience and as old as Terry, already deep into his mid-20s.
That said, things don't look promising for Terry to get anything close to his sky-high wish of $8MM. It's become clear that deals settled by an arbitrator rarely carry such an exorbitant price, and he likely doesn't have the many seasons of experience under his belt to justify a change in pace, even if things do look promising for him to continue his solid trajectory in the future.
This may be one of the first deals we predict to fall below the midpoint this summer. While both Anaheim and Terry have gone for extreme filings here, Terry's comparables are not kind, and there's little argument based on past arbitrator decisions for him to receive anything above the $6.25MM midpoint here. A deal in the $5.5MM-$6.25MM range seems much more realistic when considering the stagnant cap over the past few seasons and the lack of willingness from arbitrators to dish out deals high into the $6-8MM range.
Photo courtesy of USA Today Sports Images.