The New Jersey Devils did not experience much success this season, but that won't be laid entirely at the feet of GM Ray Shero. In fact, the team has rewarded him with a multi-year extension.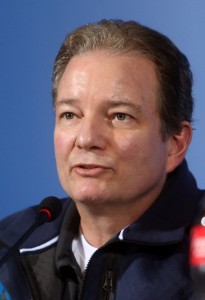 Shero, 56, was brought in to replace legendary front office executive Lou Lamoriello in 2015 and set about a slow rebuild for a once great franchise. The Devils had gone to the playoffs in 24 of 27 seasons between 1987-88 and 2011-12, winning three of the five Stanley Cup Finals appearances during that time. After missing for three consecutive seasons following the 2012 finals appearance, changes were made including the firing of head coach Peter DeBoer and hiring of Shero after the rival Pittsburgh Penguins had let him go.
Though he hasn't brought about a ton of success, the Devils did shock the NHL by making the playoffs last season with a 44-29-9 record. The team was filled with young players like 2017 first-overall pick Nico Hischier, Jesper Bratt and Will Butcher, while Taylor Hall finally broke out and won the Hart Trophy after scoring 39 goals and 93 points in just 76 games. This season saw the Devils revert to their previous struggles as Hall and others missed huge chunks of the season due to injury. The club finished closer to last place in the NHL than the playoffs at 31-41-10.
Still, there is reason to believe that Shero is building a winner. Hischier took another step forward as a legitimate first line option, and the team has six picks in the first three rounds at this June's draft. That includes a first-round pick that could very well be first overall if they find some luck tomorrow night at the draft lottery. He'll get the chance to see his plan through to the end, though there will certainly be higher stakes moving forward. The Devils have to try and find a way to convince Hall to re-sign before it is too late, as the star winger is set to become an unrestricted free agent at the end of next year. If they can find some success in 2019-20 it would certainly help the process.
Photo courtesy of USA Today Sports Images