The Seattle Kraken have made an addition to their blueline, inking former Pittsburgh Penguins defender Brian Dumoulin to a two-year, $3.15MM AAV contract.
Dumoulin is a two-time Stanley Cup champion who has been a staple of their blueline since the 2015-16 season. Dumoulin was a bit of a late bloomer in the NHL, as he first became an NHL regular at the age of 24.
Ever since his rookie season Dumoulin has been a relied-upon top-four defenseman for the Penguins, and he has been the team's leading penalty-killing defenseman for the past several years.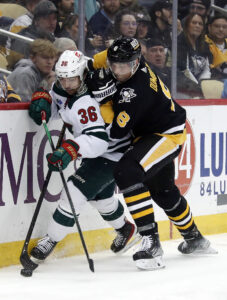 While many viewed Dumoulin as a player in decline this past season, the Kraken are clearly buying into his potential to remain a top-four defensive specialist for his age-32 and age-33 campaigns.
He'll potentially slot in next to offensive defenseman and former teammate Justin Schultz on the Kraken blueline, and will likely join Jamie Oleksiak and Adam Larsson on the Kraken penalty kill.
If Dumoulin's bad moments from late in his tenure in Pittsburgh become more regular in Seattle, this deal will end up being a poor investment.
But with Seattle looking to make a push deeper into the playoffs after winning their very first playoff series a few months ago, Dumoulin brings the type of valuable Stanley Cup experience that many executives view as worth risking on.
Photos courtesy of USA Today Sports Images