With free agency now less than a month away, many teams are already looking ahead to when it opens up.  There will be several prominent players set to hit the open market while many teams have key restricted free agents to re-sign.  While St. Louis doesn't have much to do up front, there is certainly some work that needs to be done on their back end.
Key Restricted Free Agents
D Vince Dunn – The 23-year-old was a popular pick to take another step forward offensively this season after putting up 35 points in 78 games in his sophomore year.  That didn't happen.  Instead, while Dunn was their only blueliner to play in all 71 of their regular season games, his production dipped to just nine goals and 14 assists.  Those numbers are still pretty good for a defenseman but it's also telling that his playing time was also cut to just 16:16 per night which was fifth on the team.
On the surface, a short-term deal would seem like the likely way to go.  They don't have a lot of cap room and there is a more prominent defenseman that they want to keep around.  However, if that doesn't happen, Dunn should be in line for a bigger role on the power play and with that, a boost in points would almost certainly follow which would inevitably drive up the price tag down the road when he'll have arbitration eligibility.  With that in mind, the time may be right to pursue a long-term deal although that would have to wait until free agency starts and more is known about the fate of their captain.
D Derrick Pouliot – While he spent most of this season in the minors, the 26-year-old had been a full-time NHL blueliner for the two previous years in Vancouver.  Pouliot was one of the higher-scoring defensemen in the AHL this year with 39 points in just 58 games and the limited NHL action this season negates his arbitration eligibility.  After being non-tendered in two straight years, it's certainly possible that Pouliot is brought back as insurance.
Other RFAs: D Jake Dotchin, F Austin Poganski, D Mitch Reinke, F Nolan Stevens, D Jake Walman
Key Unrestricted Free Agents
D Alex Pietrangelo – It's very rare that a defenseman of his caliber hits the open market but as things stand, it appears that where Pietrangelo is headed after word leaked that he had been advised to test free agency by the team when contract talks weren't producing any progress.  The 30-year-old is a number one defenseman and has played in all situations for St. Louis for the last decade.  It's not a matter of the Blues not wanting him back either but rather a reality of their cap situation; they just can't afford to pay him top dollar at this time.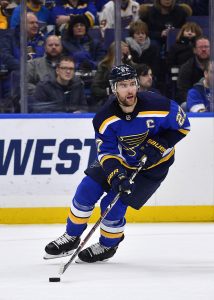 While the flattened salary cap will certainly have a substantial impact on the free agent marketplace, that shouldn't extend to Pietrangelo.  Top players are still going to get paid top dollar and he's certainly a top player.  He has had at least 48 points in each of the last four seasons while logging at least 24 minutes a night.  There should be many teams salivating at the chance to have that on their back end, even if they can't afford it on their salary cap right away.  Pietrangelo should have a chance at commanding top-five money for players at his position which would put him at an AAV of $8.25MM at a minimum (it should check in a bit higher than that).  The only way he could get an eighth year on his deal is if he signs before the market opens up, either by re-signing or doing a sign-and-trade.  Accordingly, there should be more news on his fate before too long.
F Troy Brouwer – The Blues signed him in late November to provide them with some veteran depth but while he was up with them for most of the time after that, he didn't get much playing time as he played in just 13 regular season games.  However, he got into four postseason contests and scored on his only shot.  At this point, his upside is as a 13th or 14th forward that can be trusted to play eight minutes a night so his market should be limited until closer to training camp where he may have to settle for a PTO.
Other UFAs: D Andreas Borgman, F Nick Lappin, D/F Joey LaLeggia, F Jordan Nolan, F Mike Vecchione
Projected Cap Space
While they already have 22 players under contract, St. Louis also has over $76MM in commitments for next season, per CapFriendly.  With the Upper Limit of the salary cap remaining at $81.5MM, that's enough to re-sign Dunn but nowhere near enough to keep (or replace) Pietrangelo.  Accordingly, GM Doug Armstrong will be among the many teams that will be looking to free up some cap room in the coming weeks.
Photo courtesy of USA Today Sports Images.