With free agency now less than a month away, many teams are already looking ahead to when it opens up.  There will be several prominent players set to hit the open market while many teams have key restricted free agents to re-sign.  Tampa Bay's players are certainly focused on beginning the Stanley Cup Final on Saturday but management is undoubtedly aware of some of the core players in need of new deals soon after.
Key Restricted Free Agents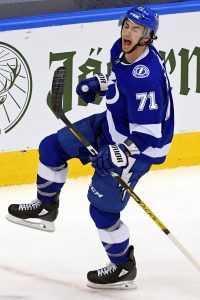 F Anthony Cirelli – Last season was his first in the NHL and while he played well, he still was a little bit under the radar.  That isn't the case now.  Despite the pandemic, he set a new career best with 44 points in 69 games while establishing himself as one of the top two-way centers in the league.  Writers around the NHL certainly noticed as he finished fourth in Selke Trophy voting.  So far in the playoffs, his production has tapered off a bit but he has logged more than 20 minutes a night while playing in a checking role.  Cirelli isn't arbitration-eligible but there will be teams that view him as a second liner and if that's the case, he could be a candidate for an offer sheet (especially with the Lightning's cap situation).
D Mikhail Sergachev – The 22-year-old hasn't had that big leap offensively since he picked up 40 points in his rookie season; he hasn't reached that mark since.  However, he has gone from being a player who had to be sheltered on the third pairing into a capable top-four defender that has shown considerable improvement in his own end.  That will undoubtedly catch the eye of any GM that wants to try an offer sheet and isn't impressed with the current trade or UFA options.  If one of those doesn't materialize (which is the likelier scenario), a short-term contract will probably be the outcome since they don't have much in the way of cap space to work with this offseason.
D Erik Cernak – He won't blow anyone away offensively by any stretch but Cernak has settled into a strong defensive role and has been an anchor on what has been one of the better penalty kills among teams that have gone relatively deep into the playoffs.  Like Cirelli and Sergachev, he isn't eligible for salary arbitration which will hurt his earnings upside a bit so a bridge contract is expected.  Even so, he should at least triple his $735K qualifying offer.
Other RFAs: F Ross Colton, F Mathieu Joseph, D Dominik Masin, F Gemel Smith, D Devante Stephens, F Mitchell Stephens, D Ben Thomas, F Carter Verhaeghe, F Alexander Volkov, F Dennis Yan
Key Unrestricted Free Agents
D Kevin Shattenkirk – While things didn't work out well for him in New York, Shattenkirk has fared much better with the Lightning.  Instead of being counted on to be an offensive catalyst as he was with the Rangers, he's in more of a supporting cast role and has made the most of it, picking up 34 points in 70 regular season games and nine more in 19 postseason contests so far.  He has done well to restore some value and while he won't come anywhere close to the $6.65MM AAV of his contract that was eventually bought out, he should check in higher than $1.75MM he played for this year.  A multi-year pact is certainly a possibility as well.
F Patrick Maroon – Gone are the days where there were teams hoping that he could be part of a top-six forward group but Maroon has shown that he can still contribute in a more limited role.  Anyone looking for grit and leadership in their bottom six should show interest in Maroon, especially if he's willing to take a deal close to the $900K he made this season.  With many teams being limited in what they can spend this offseason, he should have a longer list of suitors this time around.
D Zach Bogosian – Expectations were quite low after his deal with the Sabres was terminated but he has fit in nicely with the Lightning.  Between the regular season and playoffs, he has averaged around 18 minutes per game and has held his own.  It was risky walking away from more guaranteed money had he reported to Buffalo's AHL affiliate but had he done that, there's a good chance he wouldn't have had much interest in free agency.  He should have several suitors now so this decision is one that has certainly worked out for him.
Other UFAs: G Mike Condon, D Cameron Gaunce, G Spencer Martin, D Jan Rutta, D Luke Schenn, D Patrick Sieloff, G Scott Wedgewood
Projected Cap Space
Tampa Bay has nearly $69MM in cap commitments for next season already, per CapFriendly.  That spending only gets them a goalie, two defensemen, and seven forwards.  With an $81.5MM cap, that leaves them less than $13MM to fill out half of their roster while having two of the top young restricted free agents needing new deals.  There's no sugar coating it – they need to clear out a notable contract or two.  However, of the 10 players signed, only two don't have trade protection and those two – Brayden Point and Andrei Vasilevskiy – aren't going anywhere.  GM Julien BriseBois will have his work cut out for him when their series against Dallas comes to an end.
Photo courtesy of USA Today Sports Images.