The Hurricanes have shown interest in Maple Leafs goaltender Frederik Andersen, reports Sportsnet's Elliotte Friedman in his latest 31 Thoughts column.  It was reported last week that Andersen was among the Toronto players that were being dangled around the league as they look to reshape their roster for next season following an exit at the hands of Columbus in the Qualifying Round.
Carolina was one of the stingier defensive teams in the league this season, allowing the sixth-fewest goals in the league before the pandemic hit.  However, Petr Mrazek's numbers took a step back from his first year with the Hurricanes as his save percentage dropped from .914 to .905 while his goals against average increased 30 points from 2.39 to 2.69.  James Reimer's numbers were slightly better, checking in at .914 and 2.66, respectively.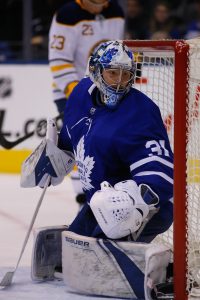 By comparison, Andersen's numbers were quite similar this season at a .909 SV% with a 2.85 GAA.  However, over his four-year tenure with Toronto, he has a .916 SV% and was able to do so without playing behind one of the top defenses in the league like Carolina has.  Accordingly, he'd represent an upgrade on Mrazek and Reimer while his contract ends following the 2020-21 season, the same time that Carolina's netminders see their deals expire.  While Andersen's $5MM price tag would be difficult to fit in under their current structure, it stands to reason that they'd move out one of their current goalies at some point in the offseason if this was to come to fruition.  Both carry cap hits of over $3MM ($3.125MM for Mrazek, $3.4MM for Reimer) so the net increase to their payroll wouldn't be too large.
But while there is a fit for the Hurricanes, there isn't as clear of one for the Maple Leafs.  Friedman notes that Toronto would only move Andersen if they could secure a goaltending upgrade and neither Mrazek nor Reimer (who was part of a goaltending carousel in Toronto not long ago) would represent one.  As a result, a deal like this could only be completed if they could either find another starter to trade for or agree to terms with one on the free agent market and there aren't many legitimate number ones that are set to become available.
As we've seen once already this offseason with the trade of winger Kasperi Kapanen to Pittsburgh, Maple Leafs GM Kyle Dubas isn't hesitant to pull the trigger when he gets the deal he likes even though the eight remaining teams in the playoffs aren't eligible to make trades at the moment.  However, this would be a move that would almost certainly have to wait until later in the offseason to have a chance at materializing.
Photo courtesy of USA Today Sports Images.