With free agency now less than a month away, many teams are already looking ahead to when it opens up.  There will be several prominent players set to hit the open market while many teams have key restricted free agents to re-sign.  Chicago has several notable young players in need of new deals as well as a long-term veteran who is hoping to stick around a little longer.
Key Restricted Free Agents
F Dominik Kubalik – No one really knew what to expect from the 25-year-old entering his first season but even the most optimistic of guesses likely wouldn't have had Kubalik getting 30 goals or finishing third in Calder Trophy voting.  But that's exactly what happened even with six forwards averaging more ice time per game than him in the regular season.  He put up front line goal totals with the playing time of a fringe second liner.  Now, both sides have to find a suitable compromise at a time where there aren't really any good comparable players out there as let's face it, rookies that come over at his age typically don't put up 30 goals.  That makes a short-term deal a more palatable scenario and with there being three years until he's eligible for free agency, it's the likeliest outcome as well.
F Dylan Strome – Strome's second season in Chicago wasn't quite as productive as his first as his output dipped from 51 points in 58 games to 38 in 58.  However, that's still a 54-point pace over a full schedule which is production equivalent to a second liner which is pretty good considering he was seemingly on the outs in Arizona just two years ago.  Even so, it feels like there is still some uncertainty surrounding his upside.  Is the number three pick in 2015 a core player that should be built around or is he expendable in the right situation?  His production so far with Chicago suggests the former but when the beginning of Strome's career gets factored in, the decision isn't so easy.  Suffice it to say, a long-term deal probably isn't in the cards, especially when he doesn't have arbitration eligibility.
F Drake Caggiula – With nine goals and six assists in 40 games, Caggiula's numbers don't stand out but when you factor in that he averaged less than 12 minutes a night, they look a bit more impressive.  He's an effective energy winger when healthy but staying in the lineup has been a challenge.  That, coupled with his $1.5MM qualifying offer, presents a tough call for GM Stan Bowman.  There's no denying that Caggiula is a useful player on their roster but with limited cap room and other notable players ahead of him needing new deals, this could be a case where they non-tender him to look for a cheaper replacement (or to try to get him to take a bit of a pay cut).
Other RFAs: F Alexandre Fortin, D Slater Koekkoek, D Ian McCoshen, G Malcolm Subban, D Joni Tuulola
Key Unrestricted Free Agent
G Corey Crawford – Having moved out Robin Lehner and Erik Gustafsson at the trade deadline, Crawford is the one and only regular NHL player that's set to hit the open market next month.  His case is a particularly interesting one.  For starters, the Blackhawks are the only organization he has been a part of since they drafted him in the second round back in 2003 and has played in 13 different NHL seasons for them.  Along the way, he became a good starter which helped him pick up a couple of Stanley Cup titles.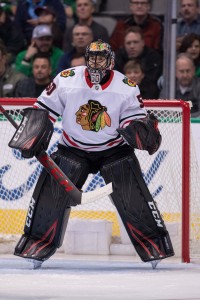 But in recent years, he hasn't been able to stay in the lineup as frequently to the point where Bowman brought in Lehner in free agency just to have another reliable option.  Crawford's year-to-year performance has varied considerably and he's coming off of a season where his numbers were decent (2.77 GAA, .917 SV%) but not near the top of the leaderboard either.  Between that and his age (35), it's hard to see him as the long-term solution.  A multi-year deal may even be tough to do and it seems likely that his next contract will come a bit cheaper than the $6MM AAV that he has played under for the past six years.
Crawford has said that he wants to stay in Chicago but that he also wants to be a starter which is a role he hasn't really exclusively held for a while.  Can they find their way to a deal to keep him around or will he leave after 17 years with the organization?
Other UFAs: F Joseph Cramarossa, D T.J. Brennan, F Anton Wedin
Projected Cap Space
At the moment, Chicago has a little over $73.5MM in commitments to 17 players, per CapFriendly.  Getting all of their impact players re-signed for the $8MM difference isn't going to happen so some trimming needs to be done, be it through a buyout, trade, or both.  While Brent Seabrook and Andrew Shaw missed significant portions of the season and didn't suit up in the bubble, both expect to be ready to start 2020-21 which takes relying on LTIR off the table for now.  Things could change in-season but for the time being, Bowman needs to free up some cap room to keep the core of his team intact.
Photo courtesy of USA Today Sports Images.