With free agency now less than a month away, many teams are already looking ahead to when it opens up.  There will be several prominent players set to hit the open market while many teams have key restricted free agents to re-sign.  Toronto has a few veterans that are likely to move on in free agency while there are a few restricted free agents of note as well.
Key Restricted Free Agents
D Travis Dermott – While the 23-year-old hasn't quite taken off offensively as he or the Maple Leafs had hoped, he has nevertheless secured a regular spot on their back end as a capable puck-mover.  He's squarely third on the depth chart among left-shot options behind Morgan Rielly and Jake Muzzin and that isn't going to change anytime soon.  That, paired up with his quiet offensive numbers and no arbitration rights, has Dermott on track for a short-term bridge contract.
F Ilya Mikheyev – One of the more sought-after players in international free agency in the 2019 offseason, Mikheyev made a strong first impression with Toronto before having his wrist sliced open by the skate blade of Jesper Bratt put a premature end to his rookie campaign.  However, he was able to return for the Qualifying Round against Columbus so he should be good to go moving forward.  He turns 26 next month and is already arbitration-eligible which makes him one of the more interesting cases.  23 points in 39 games is impressive but those are his only NHL numbers which makes finding eligible comparable players quite difficult.  This feels like a situation where Toronto would like to give him a multi-year deal and buy out some UFA eligibility but with their salary cap situation, that will be difficult.  Nevertheless, expect Mikheyev to sign for a fair bit more than his $874K qualifying offer.
F Evan Rodrigues – His stock fell quite a bit this season.  After back-to-back campaigns of 25 points or more, it looked like he had become a regular with Buffalo.  However, he fell out of favor with head coach Ralph Krueger and was dealt to Pittsburgh where playing time was harder to come by; he didn't even suit up in their early exit to Montreal.  Rodrigues was curiously part of the Kasperi Kapanen trade recently.  While it's unlikely that Toronto tenders a $2MM qualifier, they may use this time to try to see if he's willing to take a cheaper deal.
Other RFAs: F Jeremy Bracco, F Frederik Gauthier, F Denis Malgin, F Max Veronneau
Key Unrestricted Free Agents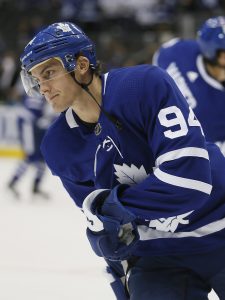 D Tyson Barrie – Sometimes, a change of scenery can bring out the best in a player and other times, it doesn't work out.  Barrie's case fits in the latter category.  A year removed from a career-best 59 points with Colorado, his inclusion in the Nazem Kadri trade looked to present a big opportunity for a new benchmark in points and a pricey contract on the open market.  Instead, he struggled early and never quite found his footing.  Overall, his 39 points (5-34-39) is still well above average for a defenseman but instead of commanding $7MM or more in free agency, he'll likely have to accept something closer to the $5.5MM he made on his most recent deal.  On the surface, Barrie feels like a candidate for a one-year pillow deal to try to restore some value and try his hand for a big contract a year from now.
D Cody Ceci – Included as salary ballast in last summer's Nikita Zaitsev deal with Ottawa, Ceci managed to log more than 20 minutes a night in ice time for the fourth straight season.  He's a right-shot defender and is only 26; he's already eligible for unrestricted status due to his seven years of NHL service time.  Typically, players with this profile should have considerable demand but Ceci is one of the more polarizing blueliners in the league.  He has more offensive upside than the eight points he put up this season but he's prone to some untimely mistakes as well.  His defenders will point to some advanced stats that paint him in a more favorable light, making a case of the eye test versus the numbers.  That might limit his suitors a little bit but he should have no issues finding another team for next season but he'll have to take a cut in pay from the $4.5MM he made this year.
F Kyle Clifford – The veteran was brought in as part of the Jack Campbell trade to give Toronto some grit for the playoffs and he did fine in that role.  There's mutual interest in a new contract but it's worth noting that Los Angeles paid down half of his $1.6MM price tag in the move.  If Clifford wants a similar contract – and he should be able to get that even in a depressed market – he will almost certainly price himself out of the range that the Maple Leafs can afford to pay.
Other UFAs: F David Clarkson, F Tyler Gaudet, D Kevin Gravel, G Kasimir Kaskisuo, F Matt Lorito, F Nathan Horton, F Miikka Salomaki, F Jason Spezza, F Garrett Wilson
Projected Cap Space
Even after clearing Kapanen's deal off the books, Toronto has about $77.25MM tied up in 20 players for next season, per CapFriendly; that amount assumes that KHL signings Alexander Barabanov and Mikko Lehtonen ultimately make the team.  With the Upper Limit remaining at $81.5MM, that leaves them enough to fill out their roster with some depth players but if they want to add another impact player, they'll have to either make another move to free up some space or acquire someone with the other team paying down part of the contract.  As a result, their current roster may not look all that much different when the puck drops on the 2020-21 season.
Photo courtesy of USA Today Sports Images.