With free agency now less than a month away, many teams are already looking ahead to when it opens up.  There will be several prominent players set to hit the open market while many teams have key restricted free agents to re-sign.  The Carolina Hurricanes already traded away the rights to one pending free agent but still have some tough decisions to make.
Key Restricted Free Agents
F Warren Foegele – The journey to the NHL wasn't smooth for the 24-year-old Foegele, who actually left the University of New Hampshire in 2015 to return to the OHL and continue his development back at the junior level. A few years later and it's clear that that was the right decision for him after two full seasons as a member of the Hurricanes. After really making a name for himself in the 2019 playoffs where he nearly registered as many points as his whole regular season, Foegele came back in 2019-20 as an integral part of the Carolina machine.
In 68 games he scored 13 times and put up 30 points despite averaging just over 12 minutes at even-strength and not touching the ice on the powerplay. That level of production won't land him a huge raise, but it should afford him a little more ice time and a bigger role moving forward. The question will be whether or not they can work out a multi-year contract or if either of the two sides would rather test arbitration.
D Haydn Fleury – It's easy to forget that Fleury was the seventh-overall pick in 2014, because to this point in his career he frankly hasn't lived up to that draft billing. Selected ahead of first-round talents like William Nylander, Nikolaj Ehlers, Dylan Larkin, and of course David Pastrnak (whose selection at 25 still haunts most of the league), Fleury has still played just 132 games in the NHL. That said, his talents did start to show themselves down the stretch for the Hurricanes, with the team even giving him a chance to play more than 20 minutes in four of his last five games before the season was canceled.
In the postseason, Fleury's role with the team was still large enough to think that they will move forward with him as a full-time member of the defense. With Joel Edmundson traded and two other defensemen set to hit unrestricted free agency, there will be minutes to go around. Like Foegele, Fleury is arbitration-eligible but still might not be able to argue for much of a raise given he played just 45 NHL games this season.
Other RFAs: F Steven Lorentz, F Clark Bishop, F Spencer Smallman, F Jacob Pritchard, D Oliwer Kaski, D Roland McKeown, D Gustav Forsling, G Callum Booth
Key Unrestricted Free Agents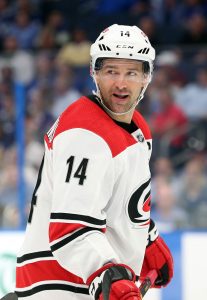 F Justin Williams – Does he come back for a 20th NHL season? It's not clear at all what Williams' plans are, but last time it took him until January to officially return to the league and it just so happens that that is when the next season is expected to start. Maybe the next few months will be enough time off for the veteran forward to get the itch again and if Carolina is willing, it seems like the only destination. Williams signed for just $700K (plus performance bonuses) this season and would likely do the same if he returns.
D Sami Vatanen – The bigger question is trade deadline acquisition Vatanen, who actually may have never suited up for Carolina had the playoffs not been delayed. The 29-year-old was injured when the Hurricanes acquired him at the deadline and tweaked it again meaning he never did actually play a regular season game for the team. That didn't stop head coach Rod Brind'Amour from using Vatanen a lot in the playoffs, but even that postseason performance seems unlikely to land him a new contract with the Hurricanes this offseason.
Carolina already has five defensemen locked up for at least $4MM per season, a number that Vatanen will likely be trying to eclipse on a multi-year deal in free agency. He's coming off a four-year contract that carried a $4.875MM AAV, and though the flat cap situation may squeeze middle-tier free agents like Vatanen, it's hard to see how the Hurricanes could really justify bringing him back without a trade of someone else.
Other UFAs: D Trevor van Riemsdyk, F Max McCormick, F Brian Gibbons, G Anton Forsberg
Projected Cap Space
Hard to justify because the Hurricanes only have about $7.8MM in cap space going into the offseason and have more pressing needs than their third pairing. James Reimer and Petr Mrazek are both heading into their final seasons under contract and the Hurricanes have been included in plenty of goaltending speculation. There is also a new deal just around the corner with budding superstar Andrei Svechnikov, who will be a restricted free agent for the first time in 2021.
Promoting youngsters like Jake Bean can provide some more flexibility because of their inexpensive entry-level contracts, but the Hurricanes may end up more involved in the trade market than free agency given their current situation.
Photos courtesy of USA Today Sports Images