With free agency now just a few weeks away, many teams are already looking ahead to when it opens up.  There will be several prominent players set to hit the open market while many teams have key restricted free agents to re-sign.  While their top performers may still be locked up, Colorado has a ton of work to do on their depth pieces.
Key Restricted Free Agents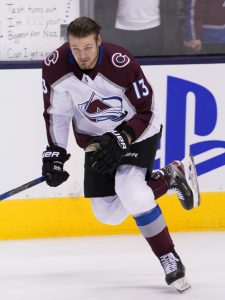 F Valeri Nichushkin – After a season that saw him score exactly zero goals in 57 games following several years in the KHL, it looked like Nichushkin's NHL career might be over after the 2018-19 campaign ended. He was bought out by the Dallas Stars in June and could have easily decided to go back to Russia and continue his career there. Not so fast, said the Avalanche, who signed Nichushkin to a one-year, $850K deal that gave him another chance in the NHL. After scoring 13 goals and 27 points in 65 games while being one of the best defensive wingers in the entire league—he finished eighth in Selke Trophy voting—the 25-year-old Russian has probably earned himself a multi-year extension with Colorado.
F Andre Burakovsky – Quick, after Nathan MacKinnon and Cale Makar, who was the leading scorer on the Avalanche this season? Gabriel Landeskog? Mikko Rantanen? Nazem Kadri? No, it was Burakovsky, whose 45 points were a career-high despite the shortened season. In just 58 games he scored 20 goals for the first time in his career, finally getting the opportunity to play big minutes and rewarding the Avalanche by fulfilling the huge potential he had shown as a young player. Importantly, Burakovsky has already played six full seasons in the NHL despite being just 25, meaning he could become an unrestricted free agent next offseason. Waiting for a one-year arbitration award would get him there, meaning the Avalanche will have to try and work out a multi-year deal in the coming weeks if they want to lock him up.
D Nikita Zadorov – For all the frustration at the fact that Zadorov still hasn't grown into that minute-munching two-way star that fans have been dreaming off since he came into the league as a teenager, he has already logged nearly 400 games in his NHL career and only turned 25 a few months ago. He'll never be the leader of the Colorado blueline, but he still represents a valuable asset that they'll have to make a decision on this summer. Like Burakovsky, Zadorov already has six NHL seasons under his belt and could use an arbitration award to get to unrestricted free agency at 26 next offseason. Unlike Burakovsky, the Avalanche might be okay with that outcome given the pipeline of defensemen they've created over the last few years.
Other RFAs: F Tyson Jost, F Vladislav Kamenev, D Ryan Graves, F A.J. Greer, F Sheldon Dries, G Hunter Miska
Key Unrestricted Free Agents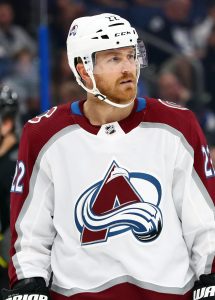 F Colin Wilson – When the 2018-19 season came to an end, the Avalanche decided that Wilson was worthy of a $2.6MM contract. They waited until July 1 to do it, but they obviously felt it was acceptable after his 12-goal, 27-point campaign. He was an option on the powerplay and a depth piece for a team that looked like they were gearing up for a real Stanley Cup run. Unfortunately, that $2.6MM resulted in just four points and nine games. Wilson suffered a (somewhat mysterious) injury in October and never returned, opening the door for other players to take his opportunities. If he's healthy, perhaps the Avalanche bring him back. But with so much firepower ahead of him on the depth chart, it might be wise for Wilson to go somewhere else to build his value back up.
F Vladislav Namestnikov – If a trade deadline pickup ends up playing just nine regular season games for your team, it usually means the transaction was a mistake. Not so with Namestnikov, who scored four goals for the Avalanche before the shutdown and then added another four in their 12-game postseason. You can bet the team is wondering what kind of a resurgence they could milk out of the 27-year-old Russian forward, given he has shown an ability to score in bunches, but there simply might not be enough to go around. If the team is set on bringing back all of their restricted free agents, Namestnikov may be better served looking for a free agent landing spot.
F Matt Nieto – What can you say about Nieto? A few years ago he was lining up beside some of the very best players on the Colorado roster, but even after being dropped out of that group has still performed relatively well. 21 points in 70 games are nothing to sneeze at, especially when it comes in just over 11 minutes of even-strength ice time a night. Nieto was Colorado's top penalty-killing forward this season and will be missed if the team is forced to let him reach free agency. There's not always enough money to go around, especially if Nieto's versatility and consistency end up drawing a crowd when the market opens.
Other UFAs: D Kevin Connauton, G Michael Hutchinson, F Jayson Megna, D Mark Alt, G Antoine Bibeau
Projected Cap Space
The $22.4MM in cap space Colorado has this offseason is a testament to the way GM Joe Sakic has built his squad, but it doesn't mean they can take endless shots at high-priced free agents. The team has to consider their own core first, with Makar and Landeskog both heading into their final season under contract. MacKinnon will be up two years after that, with Kadri due for a new deal in the middle. No, they're not in cap trouble, but they could be if they lean in and spend all of their room this offseason trying to chase a Stanley Cup right away.
Photos courtesy of USA Today Sports Images