Welcome to PHR's Big Hype Prospects series. Like the MLB Trade Rumors series of the same name, we're taking a look at the performances of top prospects from across the hockey world. We'll look at drafted prospects who are rising, others who are struggling, and prospects for the upcoming draft who are notable.
Five Big Hype Prospects
Arturs Silovs, G, Vancouver Canucks (Abbotsford Canucks, AHL)
44 GP 26-12-5 .909 sv% 2.44 GAA (regular season) 2 GP 1-1-0 .914 sv% 2.85 GAA (postseason)
Although incumbent starter Thatcher Demko is under contract until after the 2025-26 season, this past campaign Vancouver Canucks fans could not be blamed for placing some increased focus on some of their organization's younger netminders due to Demko's struggles. One of those potential "next in line" netminders is Silovs, a 2019 sixth-round pick.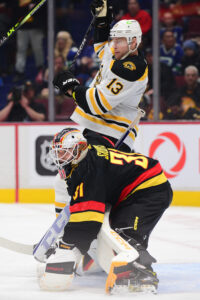 Coming from the hockey-mad country of Latvia, Silovs took a significant step forward this season. For the first time, Silovs was an undisputed starter for his pro team, playing in 44 games in Abbotsford and succeeding to the tune of a .909 save percentage.
Silovs' exceptional run of form in early February earned him his first NHL start, and although he struggled against the New York Rangers in his first game he ended his set of five NHL starts with a 3-2 record, 2.75 goals-against-average, and .908 save percentage.
Silovs showcased growth with each passing game, even ending his NHL run with a 29-save victory over the Nashville Predators that included this fantastic stop.
Silovs' best work, though, came after his club season ended and he was tapped to represent his country. Silovs was selected as Latvia's starter for the IIHF Men's World Championships, over 2014 Sochi Winter Olympics hero Kristers Gudlevskis. Given a major role in a tournament where games would be played in his home city, Riga, Silovs seized the moment.
Silovs posted a 7-3 record, 2.20 goals-against-average, and .921 save percentage in 10 tournament starts, leading Latvia to some of the biggest wins in its history and the nation's first-ever IIHF Worlds medal.
Latvia played quite a few high-intensity games against hockey powerhouse countries that brought legitimate NHL talent to the tournament, and even with the pressure of an entire country on his shoulders Silovs managed to show some immense poise. He found himself under siege in many of those games, such as in their quarterfinal against Sweden where he faced 41 shots and stopped all but one.
Silovs' performance earned him tournament MVP honors, and now he heads into the next season with significant momentum and a legitimate chance to seize the backup job behind Demko from veteran Spencer Martin.
Ryker Evans, LHD, Seattle Kraken (Coachella Valley Firebirds, AHL)
71 GP 6G 38A 44pts (regular season) 26 GP 5G 21A 26pts (postseason)
Although Seattle Kraken fans were undoubtedly disappointed to see their AHL affiliate, the Coachella Valley Firebirds, lose in overtime of Game Seven of the Calder Cup Final, the performance of Evans, arguably Seattle's top defensive prospect, has to have been extremely encouraging.
Evans, 21, was selected 35th overall by the Kraken at the 2021 draft, becoming the franchise's first-ever second-round pick. This came as a surprise to some as Evans was actually an overage talent who had gone undrafted in his first season of eligibility. But the Kraken found Evans' COVID-19 shortened 2020-21 WHL campaign to be impressive enough to warrant the investment of a high pick, and after Evans' first campaign as a professional, he is quickly vindicating the Kraken's leap of faith.
Evans had a strong regular season, posting 44 points in 71 games as one of head coach Dan Bylsma's most relied-upon defensemen. It's a major challenge for many prospects to move from junior hockey, where space is far easier to come by, to the AHL, a pro league. For offensively-focused defensemen, that challenge can be even steeper as many need to un-learn habits that worked for them against competition made up of their peers but are ineffective against seasoned pros.
There didn't appear to be much of a challenge in translating his junior scoring to the AHL for Evans, who led all AHL rookies in assists and was named to the league's all-rookie team. But even after that regular season, it's Evans' performance during the Firebirds' extended playoff run that's most impressive.
Evans played a major role on a team that nearly won an AHL title, and with the Firebirds' regular-season leading defensive scorer Brogan Rafferty's production sputtering Evans more than stepped up to fill the offensive void.
Evans' creativity and ability to make something out of nothing from the back-end proved extremely useful to the Firebirds, who boasted a netminder in Joey Daccord who made it incredibly difficult for opposing teams once his teammates bestowed him a lead in a game.
Although breakout NHL blueliner Vince Dunn is set to remain the centerpiece offensive blueliner in Seattle moving forward, it would be no shock to see Evans beat out a veteran for a role in Seattle and potentially even make his way onto the team's second-unit power play.
Jonathan Lekkerimäki, RW, Vancouver Canucks (Djurgården IF, HockeyAllsvenskan)
29 GP 3G 6A 9pts (regular season) 15GP 5G 10A 15pts (postseason)
For most of 2022-23, it seemed as though the narrative surrounding Lekkerimäki, a Vancouver Canucks 2022 first-round pick, would be that his first season after being drafted was an unequivocal disappointment. Lekkerimäki played his draft season in the SHL, and posted nine points, a strong number for such a young player.
But in his post-draft campaign, Lekkerimäki played a division below the SHL, in the HockeyAllsvenskan, thanks to Djurgården's relegation the season prior. Despite playing in three more games at a decreased competition level, Lekkerimäki posted the exact same number of points as the season before: nine.
Lekkerimäki suffered a foot injury that took him out of the lineup until the HockeyAllsvenskan playoffs, though, and it was in the postseason where Lekkerimäki really shined. Lekkerimäki re-joined the lineup against BIK Karlskoga and was instantly slotted into a top-line role next to 2022 Minnesota Wild first-rounder Liam Ohgren and two-time Stanley Cup Champion Marcus Kruger.
Lekkerimäki scored a goal in each of his first two games back and began a torrid run of form that would see him nearly push Djurgården back to the SHL, scoring 15 points in 15 games. Lekkerimäki was drafted 15th overall in 2022 on the basis of his offensive talent, with many projecting him to eventually become a difference-making NHL scorer.
Though he didn't exactly look like one for most of his time in HockeyAllsvenskan, his playoff performance serves as a reminder as to why he remains one of Vancouver's top prospects. Now with Örebro in the SHL, one of the league's better teams, he'll have a prime opportunity to put the 2022-23 regular season behind him.
Scott Perunovich, LHD, St. Louis Blues (Springfield Thunderbirds, AHL)
22GP 2G 18A 20pts (regular season) 2GP 0G 0A 0pts (postseason)
Set to turn 25 in August, Perunovich, the 2018 45th overall pick, is a bit older than most prospects featured here. But seeing as injuries have laid waste to his development in recent seasons, he doesn't have the type of experience under his belt that most second-round picks his age would usually have.
Perunovich only played in 24 total AHL games this past season, and while he played 19 games in the NHL in 2021-22 he didn't get into any NHL games in 2022-23. As a result of the impact injuries have had on his availability, Perunovich will be waivers-exempt for another season, lessening the pressure for him to make an immediate NHL impact somewhat.
Although the Blues already have Torey Krug, Nick Leddy, and Marco Scandella on the left side of their defense for next season, the minutes Perunovich did play this past season do suggest he could be ready to push one of those veterans for a role in St. Louis. Perunovich was highly productive in the regular season for the Thunderbirds, scoring 20 points in 22 games.
Although the Thunderbirds struggled immensely in the playoffs, eliminated by the Hartford Wolf Pack by a combined 13-2 score, Perunovich actually ended his season on a high note. He quarterbacked Team USA's first power-play unit at the IIHF Men's World Championships and posted eight points in 10 games. That ranked him fourth among blueliners at the tournament, and his two points in the bronze medal match against Latvia nearly gave the Americans a medal.
Perunovich's career has taken quite a hit due to injuries since he won the Hobey Baker Award in 2020, that much is undoubtable. But when he did play in 2022-23, he showed real promise, and he'll look to deliver on that promise at training camp with the Blues with the hope of earning an NHL roster spot.
Topias Vilén, LHD, New Jersey Devils (Lahti Pelicans, Liiga)
41 GP 9G 8A 17pts (regular season) 17GP 4G 5A 9pts (postseason)
Although some other New Jersey Devils defensive prospects draw quite a bit more attention, such as top draft picks Simon Nemec and Luke Hughes, Devils fans shouldn't forget about Vilén, the team's fifth-round pick at the 2021 draft. The six-foot-one left-shot Finnish blueliner has legitimately impressed overseas, though he has just one game as a professional in North America,
Vilén already has 124 games of experience in Liiga, one of the world's best leagues outside the NHL, and he made some significant strides this past season. Vilén's minutes per game shot up, going from 14:47 per game in 2021-22 to 19:26 in 2022-23, which ranked second on the Pelicans.
What makes that increase so impressive is not only the fact that Vilén is just 20 years old, it's also that the Pelicans were one of Liiga's best teams and ended up the league runner-up to Tappara Tampere.
Vilén made an impact on both ends of the ice, eating minutes in all situations and posting nine goals and 17 points. In the postseason, as the Pelicans made their deep playoff run, Vilén shined, scoring nine points and playing nearly 22 minutes in some important games, such as the team's 4-1 win over Tappara in the finals.
Although it remains to be seen if Vilén will be able to translate his success in Liiga to North America, where the game is on a smaller ice surface and typically played with more physicality, Vilén could very well be one season of AHL development away from being a legitimate consideration for an NHL call-up to New Jersey.
That's not a bad return for a late-round pick, especially for a Devils team that will soon need to have a steady pipeline of young talent on their roster playing on cheap entry-level deals thanks to the expensive contracts already on their books.
Photos courtesy of USA Today Sports Images