At this early juncture in the 2023-24 NHL season, a look at Philadelphia Flyers center Morgan Frost's stat line might raise some eyebrows. Despite putting together a breakout season of sorts in 2022-23 and being entirely healthy so far this year, Frost has played in just three total contests, tied for the fewest among Flyers skaters this season.
This has led to speculation in some parts that the Flyers might be looking to trade Frost, 24, as his six consecutive games spent as a healthy scratch would seem to indicate that he no longer held a place in the Flyers' long-term plans.
That speculation appears to not be grounded in the reality of the situation, though, according to a report from The Athletic's Kevin Kurz. (subscription link) Kurz reports from a league source that the Flyers " aren't looking to move" Frost to another team, and "haven't engaged in any serious discussions" on a Frost trade. Moreover, Kurz adds that the Flyers still view [Frost] as one of the young players they want to grow with the organization" as the team continues its rebuilding plan.
It appears that Frost's lengthy stay in the press box was more due to the newfound depth the Flyers have at the center position rather than any mistake Frost had made in the two games he played to start the season.
With Sean Couturier once again healthy, the Flyers boast a deep group of pivots that also includes veteran Scott Laughton and Noah Cates.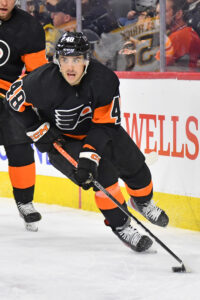 Couturier is inarguably the team's top center, but the issue for Frost has been more about Laughton and Cates. Both players scored at a comparable rate to Frost last season while also providing considerably more on the defensive side of the equation.
Laughton is a widely respected veteran with a well-known commitment to two-way hockey, while Cates was so impressive in his rookie season that he even garnered consideration on the Selke Trophy ballot.
With offseason signing Ryan Poehling offering more speed and grit than Frost could provide centering Garnet Hathaway and Nicolas Deslauriers on the Flyers' fourth line, it becomes easier to see why Frost hasn't been able to crack head coach John Tortorella's nightly lineup.
Tortorella did get Frost back into the mix for their last game, placing him in the second-line center role between Travis Konecny and Tyson Foerster. That shifted Laughton down to the fourth line and Poehling to the press box, and it'll be interesting to see whether the Flyers stick with that arrangement or choose to return Frost to healthy scratch status.
In any case, the Flyers' decent 4-4-1 start has been partly off the back of their increased depth at the center position. It's that depth — rather than any desire to make a change-of-scenery trade, according to Kurz's reporting — that has caused Frost's frequent healthy scratches so far this season.
Photos courtesy of USA Today Sports Images